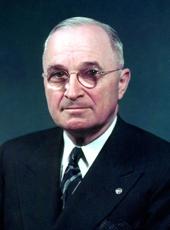 Radio Remarks Opening the Savings Bond Drive.
[Broadcast from Chicago, Ill., at 9:54 p.m.]
WE HAVE just heard the voice of the Liberty Bell in Philadelphia opening the Savings Bonds Independence Drive.
The Liberty Bell first rang out for independence in July 1776. Then, it publicly proclaimed the Declaration of Independence, and gave notice to the world that the Thirteen States of the new Union were determined to work together to achieve freedom.
The spirit of cooperation and the spirit of freedom have been essential to the development of our Nation ever since 1776. They have made us strong and prosperous. They have led to great growth in the size of our country, to a continuous improvement in our material well-being, and to ever-increasing enjoyment of personal liberty.
A government depends solely on the character of its citizens. A government of strong and free men and women is itself bound to be strong and free. That is the kind of government which we have here in this country.
Throughout our history, we have proved that each individual in this country could retain his freedom while at the same time joining in the united efforts of the Nation. Americans of succeeding generations have shown the same spirit of cooperative endeavor that motivated our Founding Fathers in clearing the wilderness, exploring the great West, developing our abundant resources, and in building up an economy where each can receive his fair share.
Our belief in freedom is just another way of saying that the strength of a nation rests with its individual citizens--working together in joint effort. Now, more than ever before, the United States must lead in the practice of genuine democracy. The whole world looks to us to emphasize the superiority of a way of life in which the individual is preeminent. Everything that we do--or fail to do--is judged more critically than it has ever been in the past. It is the personal task, then, of each American to see that we continue to prove that our form of government offers each citizen greater opportunities than any other system of government in the world today.
But today, it is not enough to preserve freedom and the spirit of cooperation only within our own borders. We must encourage those same ideals abroad. In the modern world, where one strong nation seeks to dominate all mankind, freedom will survive only if we cooperate with other freedomminded countries in building common defenses against aggression.
That is why we are keeping our military defenses strong, and why we are helping other countries develop their military, economic, and moral strength. That is why we find it necessary for the time being to spend a great deal of money on our Army, our Navy, and our Air Force, and on foreign aid programs. This is money invested in the cause of peace.
Once again we are launched upon a united effort--a drive to "save for our independence" through the purchase of United States Savings Bonds.
I know that all of you realize the importance of the savings bond program. Thirtyfour billion dollars worth of Series E savings bonds are outstanding at the present time. That is unmistakable evidence that the American people realize the importance of thrift, and appreciate the contribution which it makes to our continued independence.
The Independence Drive is a program in which all may work together to achieve personal financial independence and preserve our national freedom.
Harry S. Truman, Radio Remarks Opening the Savings Bond Drive. Online by Gerhard Peters and John T. Woolley, The American Presidency Project https://www.presidency.ucsb.edu/node/230603