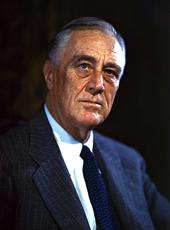 Radio Greeting to the Twenty-one American Republics
Today the Delegation of the United States to the Inter-American Conference for the Maintenance of Peace and the delegations of several other American Republics are sailing from New York for Buenos Aires, and I am taking this opportunity to wish them Godspeed and at the same time to send a word of greeting to the peoples of the twenty-one American Nations. It will be an auspicious moment, indeed, when our own representatives convene with those of the other Nations of this Hemisphere in the capital of our great Southern neighbor.
I say auspicious advisedly, for it is my thought that this will be no ordinary conference. No previous inter-American conference has assembled with the assurance which we possess today that every American Government and all of the American peoples now realize their joint responsibility for making sure that all of us on this Continent march forward in harmony and in understanding friendship along the paths of progress and of peace.
We in the New World are fortunate indeed. We must insure a continuance of our happy situation. A start has been made. Today, as never before, the Nations of the Western Hemisphere are joined together by an ever-increasing community of interests.
It is no exaggeration to say that in a world torn by conflicting demands, in a world in which democratic institutions are so seriously threatened, in a world in which freedom and human liberty itself are at stake, the Americans stand forth as a notable example of international solidarity, cooperation and mutual helpfulness.
Nevertheless, satisfactory as the international relationships on this Hemisphere may be, much is still to be done. The gains that have been made can be consolidated and constructive steps can be taken along lines heretofore untried. It seems to me that an unprecedented opportunity exists for the American Nations to cooperate in a friendly fashion to make the spirit of peace a practical and living fact.
I feel confident that on the solid foundation of inter-American friendship, equality, and unity the Conference at Buenos Aires will be able to take further steps for the maintenance of peace, thus insuring the continuance of conditions under which it will be possible, nay, inevitable, for the economic, social, cultural, and spiritual life of the Nations of this Hemisphere to reach full growth.
I hope with all my heart that the forthcoming Conference will give renewed hope and courage to the war-weary peoples of the world by demonstrating to them that the scourge of armed conflict can and will be eliminated from the Western Hemisphere.
Franklin D. Roosevelt, Radio Greeting to the Twenty-one American Republics Online by Gerhard Peters and John T. Woolley, The American Presidency Project https://www.presidency.ucsb.edu/node/208394