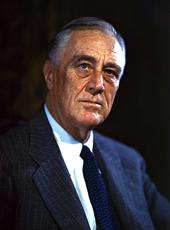 Radio Greeting to the Boy Scouts of America.
Fellow Scouts:
I am happy to receive this report from Mr. Head on the accomplishments of our organization. On this twenty-eighth birthday of the Boy Scouts of America we should be especially thankful for a youth movement which seeks merely to preserve such simple fundamentals as physical strength, mental alertness and moral straightness—a movement to support the ideals of peace.
I congratulate our leaders and especially our Scoutmasters who have made an outstanding record possible. We have increased in numbers and I am confident on the basis of what I, myself, have observed that we also are improving in the quality of Scouting. Last summer I had the opportunity to visit with thousands of you, from all parts of the country, in your great Jamboree camp here in Washington. I am really sorry that every citizen of the country did not see, as I did, the great national encampment of Scouts here along the Potomac River. I have seen no more cheering sight from the standpoint of the national future.
The theme chosen for our Boy Scout Week Observance-"Building a Stronger Generation"—is thoroughly worth while. I have always believed that scout training does help to build health for boys and young men. It encourages them to get out into the open, to develop good health habits. It helps to make them hardy and vigorous. Of course, we all recognize that "Building a Stronger Generation" involves more than good health. It involves strong character, initiative, resourcefulness and ideals of service—qualities that you practice in your scouting experiences.
But it involves, also, learning all about other people—your neighbors and their problems, the people who live in the other end of town and their problems, the people who live in the next town and their problems, those who live in the next State and their problems—in other words, the problems of every part of the United States. When you have accomplished that you will realize, also, that there are problems outside the United States which affect you and your family and friends. Thus, the ideals of scouting include not only character and service but also knowledge. They will be as real and vital to you in your manhood as they are to you today in your boyhood.
It is my conviction that, through work with our youth, we shall secure the greatest assurance of maintaining our democracy in the face of those forces which advocate forms of government not consistent with our cherished American traditions. And the strength of this youth movement will develop in exact proportion to the support accorded it by communities who are interested in preserving our democracy.
I extend to you my best wishes for the year to come. Boy Scouts today—you will be the citizens tomorrow, with a nation's keeping in your charge. I believe that you will be worthy of the trust.
Franklin D. Roosevelt, Radio Greeting to the Boy Scouts of America. Online by Gerhard Peters and John T. Woolley, The American Presidency Project https://www.presidency.ucsb.edu/node/209449