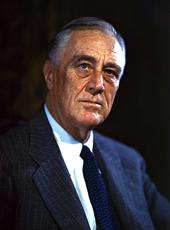 Radio Appeal for the Red Cross.
Chairman Davis and friends of the Red Cross everywhere:
I have gladly accepted the invitation to say a few words on this program launching the annual Roll Call of the American Red Cross. I join in this appeal because the President of the United States also is President of the American Red Cross. Moreover, I believe with heart and soul that all of us Americans should do everything we can to support an organization of such vital importance to our people.
Knowledge of our individual responsibility toward the national and international services of the Red Cross is always essential to the success of these ministrations of mercy. We should bear in mind that, during the Roll Call, the Red Cross does not ask us to make a mere donation. It invites us to join and to take our place in the legion of men and women of good will who make the Red Cross one of our strongest shields against forces of destruction-whether activated by nature or man. We must realize that regardless of race, creed, or color, the Red Cross deeply matters to us, as individuals, in a world darkened by conflict and misery.
The Red Cross stands upon a remarkable record of service to humanity. Founded in 1881 and chartered by Congress in 1905 as our national voluntary relief agency, the American Red Cross has played a conspicuous part in relieving the distress which has followed every national disaster. The growth of its services to the nation has been in direct proportion to the growing confidence of the American people in its ability to respond swiftly and competently to emergency situations.
The Red Cross this year is being called upon to meet an unusual number of appeals for aid from every quarter. Because our Red Cross is a member of the large family of Red Cross societies which, in time of war, join with the neutral International Red Cross in Geneva in the alleviation of suffering caused by war, the conflict in Europe has brought added responsibilities to our national organization. We of this fortunate country are already doing much, in the name of humanity, on behalf of the unfortunate victims of this unhappy conflict. I am sure you would not want it otherwise, and when the time comes for the Red Cross to ask your help to continue this work I am confident of your sympathetic response.
Equally important, however, is the year-in and year-out battle of our Red Cross to preserve life and health here at home. The psychology of hate and destruction, so rampant today, makes it too easy to forget that while war is not a human necessity, neither are the preventable deaths which harm a nation at peace. It is essential, therefore, that the Red Cross continue its efforts to reduce the number of avoidable accidents and illnesses which yearly take the lives of hundreds of thousands of Americans.
To make this possible we must keep our Red Cross prepared through memberships and contributions to meet any and all emergencies, whether at home or abroad. The annual Roll Call of the American Red Cross begins today, Armistice Day, but there can be no armistice in our war against need and human suffering.
We have been told many times that it is our Red Cross, that it is our voluntary agency for the relief and prevention of suffering of our neighbors at home and abroad—and, perhaps, of ourselves. I would like to underscore the truth of that statement. It is our Red Cross, yours and mine. It needs our warmhearted, generous, typically American support. Both as Chief Executive and as a fellow citizen I urge you to join during the Roll Call— to join now, and to do your bit.
Franklin D. Roosevelt, Radio Appeal for the Red Cross. Online by Gerhard Peters and John T. Woolley, The American Presidency Project https://www.presidency.ucsb.edu/node/210272