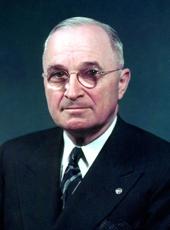 Radio and Television Address Concluding a Program by the Citizens Food Committee
[the first ever televised address from the White House]
My fellow citizens:
The food-saving program which has just been presented to you has my wholehearted support. I am confident that it will have the support of every American.
The situation in Europe is grim and forbidding as winter approaches. Despite the vigorous efforts of the European people, their crops have suffered so badly from droughts, floods, and cold that the tragedy of hunger is a stark reality.
The nations of Western Europe will soon be scraping the bottom of the food barrel. They cannot get through the coming winter and spring without help--generous help-from the United States and from other countries which have food to spare.
I know every American feels in his heart that we must help to prevent starvation and distress among our fellow men in other countries.
But more than this, the food-saving program announced tonight offers an opportunity to each of you to make a contribution to the peace. We have dedicated ourselves to the task of securing a just and a lasting peace. No matter how long and hard the way, we cannot turn aside from that goal. An essential requirement of lasting peace is the restoration of the countries of Western Europe as free self-supporting democracies. There is reason to believe that those countries will accomplish that task if we aid them through this critical winter and help them get back on their feet during the next few years. They must do most of the job themselves. They cannot do it if thousands of their people starve. We believe they can-and will--do the job if we extend to them that measure of friendly aid which marks the difference between success and failure.
Their most urgent need is food. If the peace should be lost because we failed to share our food with hungry people there would be no more tragic example in all history of a peace needlessly lost.
Another reason for conserving food is to aid in controlling inflationary spirals and in preventing undue price burdens for our people at home. Already many of our families with moderate or low incomes are being forced by high prices to lower their standard of living. Exports have some effect upon domestic prices of grain, but they do not exercise a controlling influence on food prices. Most of the upward 'pressure on prices is a result of competition among Americans for scarce goods. The success of our food-saving program will help to reduce these inflationary pressures.
Another factor that contributes to the high prices of food is gambling in grain. Grain prices naturally respond to the law of supply and demand, but they should not be subject to the greed of speculators who gamble on what may lie ahead in our commodity markets.
There is a place for legitimate trading in futures and for hedging transactions. But 90 percent of all accounts in a recent corn futures market were found to be speculative. Trading in wheat futures grew 75 percent in September compared with August. Normal trading in wheat at Chicago should amount to 3 or 4 million bushels a day. In this past September, however, trading averaged almost 30 million bushels a day. In a single month, on one exchange, almost half the year's crop was traded--bought and sold-just plain gambling.
I am instructing the Commodity Exchange Commission, which consists of the Attorney General and the Secretaries of Agriculture and Commerce, to demand of the grain exchanges that they increase their margin requirements to at least 33 1/3 percent. If the grain exchanges refuse, the Government may find it necessary to limit the amount of trading.
I say this because the cost of living in this country must not be a football to be kicked about by gamblers in grain.
The food conservation program proposed by the Citizens Food Committee will be supported by every department of the Federal Government.
Mrs. Truman has today directed that the White House follow all the measures proposed by the Citizens Food Committee. In Government restaurants and cafeterias, throughout the country, these same measures will be followed. As Commander in Chief, I have ordered that the Army, the Navy, and the Air Force shall also comply with this program.
All segments of our population must make their contribution toward saving grain.
Farmers must cooperate by reducing the amount of grain now used to feed their livestock and poultry.
Industry must reduce the volume of grain used so as to make the greatest possible saving. The distillers in this country have on hand huge stocks of distilled spirits, and it will be no hardship on them to shut down for a 60-day period. This action alone will feed millions of hungry people.
Quite apart from the responsibilities of farmers and of industry, you and I--as individual Americans--have our responsibility. You have all heard Mr. Luckman give the immediate consumer program for the people of the United States. It has my complete approval and my full support.
It is simple and straightforward. It can be understood by all. Learn it--memorize it--keep it always in mind. Here it is: One: Use no meat on Tuesdays.
Two: Use no poultry or eggs on Thursdays.
Three: Save a slice of bread every day.
Four: Public eating places will serve bread and butter only on request.
I realize that many millions of American housewives have already begun strict conservation measures. I say to those housewives, "keep up the good work" and save even more when and where you can. On the other hand, there are also many Americans who are overeating and wasting food. Unless these people cut their consumption in the ways required, they will be taking more than a fair share of the supplies available. They will be personally contributing to increased inflation at home and to the desperate scarcity of food overseas.
The battle to save food in the United States is the battle to save our own prosperity and to save the free countries of Western Europe. Our self-denial will serve us well in the years to come.
The voluntary program is the best way for us to do the job. We believe that self-control is the best control. From now on, we shall be testing at every meal the degree to which each of us is willing to exercise self-control for the good of all.
The program which has been presented to you tonight, if faithfully carried out, will save all the grain we need.
Hungry people in other countries look to the United States for help. I know that they will be strengthened and encouraged by this evidence of our friendship.
I know that they will be waiting with hope in their hearts and a fervent prayer on their lips for the response of our people to this program.
We must not fail them.
Note: The President's address, part of a special broadcast on the food conservation program, was the first of its kind ever televised from the White House. Other speakers on the program were George C. Marshall, Secretary of State; Clinton P. Anderson, Secretary of Agriculture; W. Averell Harriman, Secretary of Commerce; and Charles Luckman, Chairman of the Citizens Food Committee. The text of the remarks of the Secretaries and of Mr. Luckman was made public by the White House.
On October 6 the Citizens Food Committee announced the menus that would be served at the White House on the first two days of self-denial, as follows:
Tuesday, luncheon--grapefruit, cheese souffle, buttered peas, grilled tomatoes, chocolate pudding; dinner--clear chicken soup, broiled salmon steak, scalloped potatoes, string beans, sauteed eggplant, perfection salad, sliced peaches.
Thursday, luncheon--corn soup, peppers stuffed with rice and mushrooms, lima beans, glazed carrots, baked apples; dinner--melon balls, baked ham, baked sweet potatoes, asparagus, cauliflower, green salad, coffee mallow.
APP Note:  This was the first Presidential address to be televised from the White House.
Harry S. Truman, Radio and Television Address Concluding a Program by the Citizens Food Committee Online by Gerhard Peters and John T. Woolley, The American Presidency Project https://www.presidency.ucsb.edu/node/232383