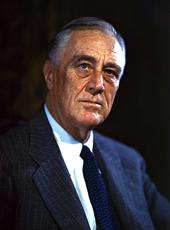 Radio Address on the Sixth Birthday Ball for Crippled Children.
I like to think that the celebrations being held from one end of the country to the other tonight are an indication of the national determination to wage unending warfare against a national peril.
We are all engaged in a campaign which, because of special circumstances, requires that our effort shall be nationwide, unified and continuous. Infantile paralysis is an enemy which neither slumbers nor sleeps. It lurks in hidden places and strikes without warning whether the victim be child, or youth, or man or woman of mature years.
I emphasize the importance of a nationwide, continuous campaign because experience tells us that epidemic diseases can be stamped out only through carefully directed work on a nationwide scale. We need, therefore, the cooperation of every state and county, every city and town, every hamlet and crossroads community in this work. Only by such cooperation has tuberculosis been brought under control in our lifetime. Only by the same concerted action will the scourge of infantile paralysis be stamped out.
I should like to say just a word about the National Foundation for Infantile Paralysis. Not yet two years old, it is a mature and efficient organization working industriously to perform its functions with but one objective—the banishment of infantile paralysis. Last year the National Foundation received all of the net proceeds of the birthday parties for its national work.
This year fifty per cent of the net proceeds of tonight's parties will go to the National Foundation for Infantile Paralysis. But the remaining fifty per cent will be spent in the communities where the money is being raised. The funds will be administered through county chapters of the National Foundation. These chapters will be composed of those chairmen who have worked so hard to make this year's drive the success we all anticipate, and those other members of the communities whose association with medicine, public health activities and other agencies give them special equipment to supervise infantile paralysis relief work in local communities.
While the county chapters extend local assistance to victims, especially those who are without funds, the National Foundation must carry on with equal persistence the work of tracking the germ of the disease to its source.
We believe that this basis of the division of funds will also afford a well balanced division of activity between the central organization and the far-flung county communities. Thus while the central organization directs the broad work of research and care and treatment, local relief will be carried out through county chapters in accord with the American principle of local self-determination.
In thanking all who have made possible the widespread celebrations being held tonight—I am informed that some twenty-five thousand events are being carried out—may I, in passing, speak of one phase of this campaign which touches me personally. I refer to the fact that these celebrations to raise funds are being held on my birthday. I consider that as only an incident and not a very important incident at that.
By this I do not mean that I am insensible of the honor which the selection of my birthday for this effort implies. I am deeply appreciative of that honor and feel in my heart a joy greater than I can express that in this year, as in previous years beginning with 1934, my birthday should be chosen as a pivotal date around which this splendid campaign should move.
The point I wish to make is that the really important thing is the work itself. For that noble work one day is as good as another. The ideal we strive for is to work every day in the task which is ours to achieve.
Again, as in previous years, I must take this means of thanking the vast army who have worked for the success of this campaign. Their very number, greater than ever will be known, precludes individual acknowledgment. My thanks go to all who have made contributions, either directly or indirectly, whether through patronage of the parties, in contributing to the March of Dimes, or aiding this great work by other means. And I desire, also, to express my heartfelt appreciation to the thousands and thousands of friends who have sent birthday greetings.
With my thanks to all of my countrymen goes from the depths of my soul a prayer that God will bless the work and the workers. The good cause must go on.
Franklin D. Roosevelt, Radio Address on the Sixth Birthday Ball for Crippled Children. Online by Gerhard Peters and John T. Woolley, The American Presidency Project https://www.presidency.ucsb.edu/node/209344