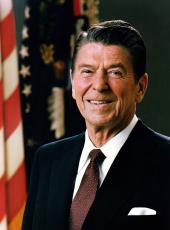 Radio Address to the Nation on Voluntarism
My fellow Americans:
Nancy and I hope you and your family are enjoying this holiday season. This is a time of two religious observances which go to the heart of America's Judeo-Christian heritage: Christmas and Hanukkah. This is also a traditional time of merriment and good cheer, a time of family and home and of Christmas trees and gift-giving. That spirit of generosity that is so evident during the holiday season is something we've tried to foster during the past 7 years of this administration. Here at the White House, we call it the Private Sector Initiative Program. You probably think of it as good, oldfashioned Americanism—neighbor helping neighbor.
One of the opportunities my current job affords me is having the access to information that gives me a broad picture of what is happening throughout our country. There is always much to improve. But I can assure you that the spirit of good will and benevolence, an aspect of our national character recognized since the early days of our Republic, remains a vibrant part of the American way of life. You may be surprised to learn, for example, that since 1980 charitable giving in the United States has increased 77 percent, from $49.08 billion to $87.22 billion in 1986. I don't think there's any better gauge for the soul of a nation or the essential goodness of a people than an accounting of their personal involvement in helping others, either through donations of money or time. And voluntarism is still a strong force in communities throughout our country.
The stories are as numerous as they are heartwarming. One of them is about an engineer from Vicksburg, Mississippi, named Bob Carver. For 5 years straight, Bob spent the holiday season driving a truck to raise money for the Salvation Army. To date, he has raised over $20,000, which has bought Christmas toys and food for the needy, sent children to summer camp, and helped pay the utility bills for the elderly. Bob uses his annual leave to haul cargo for his tractor-trailer rig, which is affectionately known as the "Santa Express." The profits go to helping others. God bless you, Bob.
Then there's Ruth Heywood, of Casa Grande, Arizona—a single woman, 74 years old, living only on her pension benefits. Even though her own financial resources are limited, she overflows with love and is dedicated to helping others. Each year she spearheads a local effort to provide the needy and the poor in spirit a festive Thanksgiving and Christmas celebration. Ruth provides the energy and the inspiration. As the holiday season approaches, she visits grocers all over town to solicit donations of food, plates, and utensils. She coordinates transportation and arranges meals to be delivered to the homebound. She also handwrites hundreds of invitations and personally gives them to the less-fortunate citizens of her community. Every year people who thought they were unloved and forgotten are shown that people do care. The people of Casa Grande are proud of Ruth. We can all be proud of her.
I recently received a letter from David Rayl of Bald Knob, Arkansas, telling me about how, with hard work and private and corporate donations, he is able to play Santa to hundreds of needy families. His yearly project makes a lot of kids happy who otherwise might face a bleak holiday. David, who teaches at a local elementary school, added in his letter, "Perhaps you're not too interested in something this small, but small things add up to big things." Well, I happen to believe that it is the small things, the little acts of love and kindness happening every day across this country, that make us a great nation. Yes, small things add up to big things. This country can be no greater than the goodness of its people.
Most of us know someone like Bob Carver, Ruth Heywood, or David Rayl. Down deep, who cannot but respect such heroes? I'd like to think there's a little of them in each and every American. Certainly, from our earliest days, we weren't waiting for the Government or depending on the bureaucracy before we helped each other. President Thomas Jefferson once wrote: "I deem it the duty of every man to devote a certain portion of his income for charitable purposes, and that it is his further duty to see it so applied as to do the most good of which it is capable."
Helping others is just our way, part of our national character. Perhaps it reflects that we as a people not only enjoy this holiday every year as time off from work but also take to heart the spiritual meaning of Christmas and Hanukkah.
Finally, Nancy and I want to wish each of you our very best wishes for the New Year. Until next week, thanks for listening, and God bless you.
Note: The President recorded his address on December 23 in the Roosevelt Room at the White House for broadcast on December 26 at 12:06 p.m.
Ronald Reagan, Radio Address to the Nation on Voluntarism Online by Gerhard Peters and John T. Woolley, The American Presidency Project https://www.presidency.ucsb.edu/node/251963