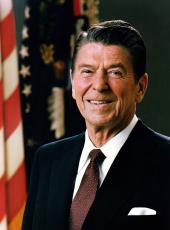 Radio Address to the Nation on Voluntarism
My fellow Americans:
As we begin this Memorial Day weekend, I'd like to take a moment to consider one of the wellsprings of our greatness as a nation: our willingness to serve each other. When the Frenchman Alexis de Tocqueville traveled across our country more than a century and a half ago, he was struck by the volunteer spirit that he encountered. "The Americans," he wrote, "make associations to found seminaries, to build inns, to construct churches, to diffuse books, to send missionaries to the ends of the Earth." In large part because of this concern for their fellow men that he saw in the American people, de Tocqueville concluded that America is great, because she is good. Today our nation remains great and good, and the spirit of private sector initiative has become a major part of American life.
Indeed, just yesterday it was my honor to sign a proclamation requested by Congress that proclaims tomorrow, May 25th, Hands Across America Day. And my family and I plan to join in the line as it passes through the White House grounds. Hands Across America represents a nationwide effort to help the poor and homeless who live in our country. Tomorrow millions will join in that ancient gesture of good will and friendship, the linking of hands, in a demonstration of concern for the less fortunate. To all those participating: Good luck. I can wish you nothing finer than the satisfaction of knowing that you've given of yourselves to help others.
In the past few years we've witnessed an unprecedented outpouring of charity and good will—a reassertion of good, old-fashioned neighborliness now that our country has regained its self-confidence. The figures tell the story. Last year alone, individuals, corporations, bequests, and foundations gave nearly $80 billion to good causes. That amount marked an all-time high and came to over $6.5 billion more than the amount donated in 1984. And according to a recent study, some 89 million Americans perform volunteer work every year. I think we're entitled to feel pretty good about that. In a way, though, the individual stories are even more impressive than the figures. This past Thursday, Nancy hosted the first international Just Say No walk here at the White House. Just Say No is an organization teaching children around the world to say no to drugs. Indeed, this week was Just Say No to Drugs Week, and the White House rally involved 2,300 youngsters from Just Say No clubs throughout our nation's Capital. As you might expect, these clubs require school officials, teachers, and especially parents to give a great deal of time. Nancy told me everyone she spoke to at the White House rally was absolutely convinced that it's truly vital.
Then there's an organization called HOPE—for Help Other People Everywhere. Founded in Northfield, Minnesota, by Verona Devney, a legal secretary who decided to help the needy by sewing and donating clothes, today HOPE distributes clothes to some 5,000 families a year. In San Antonio, Texas, Nick Monreal founded Teach the Children, and this organization has raised tens of thousands of dollars to provide school supplies to thousands of children from economically disadvantaged families. And in Philadelphia, a group called Wheels has been providing transportation for the sick and handicapped to and from hospitals and doctors' offices since 1959. There is no charge and no reliance on government funds.
One private sector initiative I find most moving is called Christmas in April. Founded by Bobby Trimble of Midland, Texas, Christmas in April organizes volunteers across the country to repair the homes of needy older and handicapped Americans. Right here in Washington, Christmas in April helped a woman named DeLois Ruffing. DeLois ran a home for the elderly that badly needed repairs. The ceiling was virtually falling down around her. With her permission, early one April day more than a dozen volunteers—attorneys, journalists, housewives, even a judge—arrived to do what was needed. Ten hours later, the plumbing and ceiling had been fixed, and the walls were gleaming. And today DeLois is a Christmas in April volunteer herself.
As these and so many other organizations prove, the generosity and character of the American people that de Tocqueville observed more than 150 years ago remain a powerful and life-giving force. So, let us reflect this Memorial Day weekend upon the unselfish millions who are improving the quality of life for all Americans in so many wonderful ways. And as always, let us remember those who gave the greatest gift of all, the gift of their lives, so that we today might live in a nation of freedom.
Until next week, thanks for listening, and God bless you.
Note: The President spoke at 12:06 p.m. from the Oval Office at the White House.
Ronald Reagan, Radio Address to the Nation on Voluntarism Online by Gerhard Peters and John T. Woolley, The American Presidency Project https://www.presidency.ucsb.edu/node/258066