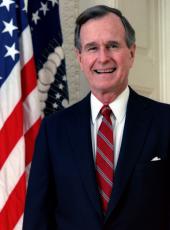 Radio Address to the Nation on Trade Reform
A lot of the reports we Americans hear on TV or the radio seem to follow the maxim "Good news is no news." Well, today I'm going to break a few rules and talk about some good news. The story is jobs, jobs created and jobs sustained because of our ability to sell our product and services abroad.
Last week, we received the latest from the economic front. All around the world, more and more people are buying American. Our exports shot up 7 percent in February to a one-month record high of almost $38 billion, closing the deficit gap by 16 percent. If there's any moral to this story, it's a reminder that if Americans want to succeed economically at home, we've got to lead economically abroad. In the past couple of weeks, I've been talking to groups around the country and to leaders from around the world. The message is simple: Expanding free trade abroad means expanding opportunity at home.
America's trade story is good news, not just for our coastal States and port towns but all across America. Here's a sampling: Colorado, about 90,000 jobs supported by trade; about 90,000 in Iowa; Arizona, 120,000 jobs; Tennessee, 150,000 jobs. America's manufacturing exports are more competitive than 10 years ago, our labor more productive. The Chicken Little hysterics of an America under siege may make better copy, but they leave out one little fact: The United States is the leading exporter in the world, bar none.
I don't mean to discount the competition. Our competitors are tough. More and more, America competes in an international marketplace where standing still means falling behind. Some want us to respond to these challenges as if they were a bad dream, just hide under the covers and hope it goes away. They may be talking tough, but they're really running scared. The problem is, they're running the wrong way. The answer isn't to build up our barriers; it's to get other countries to tear down theirs.
Two days ago, I met with the heads of Europe's Common Market. And we talked long and hard about how to bring the Uruguay round of GATT, the world trade negotiations, to a successful conclusion. Such an agreement could pump $5 trillion into the global economy over the next 10 years. The U.S. share would top $1 trillion. That's hundreds of thousands of new American jobs.
I don't plan to stop there. We're also negotiating an historic free trade agreement with Mexico and Canada. Listen to these facts: During my Presidency, 45 out of our 50 States have increased their exports with Mexico. Already over the 4 years, exports to Mexico have more than doubled, creating hundreds of thousands of jobs here at home. Clearly, with a successful agreement, we'd export more than ever before, increasing trade with Mexico by $10 billion and creating over 360,000 American jobs. And that's why a North American free trade agreement is in our interest, because it means more jobs right here.
Just this week, the United States took steps to facilitate trade in high-technology goods, an initiative made possible by the rebirth of freedom in formerly Communist lands. We relaxed trade restrictions that served us well during the cold war but no longer serve their purpose. We will eliminate requirements for thousands of export licenses, including many that affected computers, one of our strongest export earners. Trade covered by this deregulation amounts to about $2.5 billion.
The choice is simple. We can either promote protectionism or promote free trade. To my reckoning, no one ever beat the competition by cringing behind a trade barrier. You see, I have faith in free trade because I have faith in the American worker. When trade is free and fair, Americans can beat the competition fair and square.
Thank you for listening. And may God bless the United States of America.
Note: This address was recorded at 7:56 a.m. on April 24 in the Oval Office at the White House for broadcast after 9 a.m. on April 25.
George Bush, Radio Address to the Nation on Trade Reform Online by Gerhard Peters and John T. Woolley, The American Presidency Project https://www.presidency.ucsb.edu/node/266948