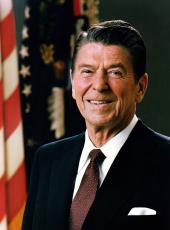 Radio Address to the Nation on the United States Supreme Court Nominations
My fellow Americans:
Shakespeare's reminder that "the world is full of ornament" and the "outward shows" are "least themselves" has always had a special relevance for the political world, but it was especially so last week here in Washington . The United States Senate began hearings on the nominations of William Rehnquist and Antonin Scalia, men I've named to the position of Chief Justice of the Supreme Court and Associate Justice of the Court. These hearings are a healthy process, mandated by the Constitution. Even though they produce a lot of outward show and ornament, they provide the American people with an opportunity to evaluate for themselves the quality of a President's appointments.
To be sure, there were many serious allegations by political opponents of Justice Rehnquist and Judge Scalia. One Democratic Senator announced he would vote against Justice Rehnquist even before the hearings started. There were dark hints about what might be found in documents Judge Rehnquist wrote while a Justice Department official many years ago. To deal with these unfounded charges, I took the unusual step of permitting the Senate committee to see the documents themselves. Of course, there was nothing there but legal analyses and other routine communications. The hysterical charges of coverup and stonewalling were revealed for what they were: political posturing. I was sorry to have to release these documents, but Supreme Court nominations are so important that I did not want my nominees to enter upon their responsibilities under any cloud. And so, I was delighted that when all was said and done our nominees emerged unscathed from last week's hearings.
Justice Rehnquist, recognized even during his early years as a brilliant mind, graduated first in his class from Stanford Law School. He clerked for the Supreme Court, an early mark of distinction in any legal career. He then returned to Arizona to practice law, coming back to Washington some years later to serve as an Assistant Attorney General in the Department of Justice. Most important, for the past 15 years he has served as a Justice of the Supreme Court with extraordinary diligence and craftsmanship. His opinions are renowned for their clarity of reasoning and precision of expression. And when his colleagues on the Supreme Court learned that I would nominate Justice Rehnquist to preside as Chief Justice, they were unanimous in expressing pleasure and approval. It's hard to imagine higher praise for anyone in the legal profession than that.
Turning to Judge Antonin Scalia, he's regarded in the legal profession as a superb jurist, a first-class intellect, and a warm and persuasive person. He has served in the Department of Justice, taught law at the University of Chicago and the University of Virginia, and served since 1982 as a judge on the U.S. Court of Appeals here in the District of Columbia. The American Bar Association gave Judge Scalia, as they gave Justice Rehnquist, their highest rating. I might add that as the father of nine children Judge Scalia holds family values in high esteem. And I was especially delighted with his nomination, because Judge Scalia is the first Italian-American in history to be named to the Supreme Court.
Beyond their undoubted legal qualifications, Justice Rehnquist and Judge Scalia embody a certain approach to the law, an approach that as your President I consider it my duty to endorse, indeed to insist upon. The background here is important. You see, during the last few election campaigns, one of the principal points I made to the American people was the need for a real change in the makeup of the Federal judiciary. I pointed out that too many judges were taking upon themselves the prerogatives of elected officials. Instead of interpreting the law according to the intent of the Constitution and the Congress, they were simply using the courts to strike down laws that displeased them politically or philosophically. I argued the need for judges who would interpret law, not make it. The people, through their elected representatives, make our laws; and the people deserve to have these laws enforced as they were written.
Of course this upsets those who disagree with me politically, and I have a lurking suspicion that politics had more than a little to do with some of the tactics used against Justice Rehnquist. But I'm confident that, mindful of their superb legal qualifications, the Senate will confirm Justice Rehnquist and Judge Scalia. And I can assure you: We will appoint more judges like them to the Federal bench. If I may quote Shakespeare again now that the political commotion of the confirmation hearings is over: "All's well that ends well."
Until next week, thanks for listening, and God bless you
Note: The President spoke at 12:06 p.m. from the Oval Office at the White House.
Ronald Reagan, Radio Address to the Nation on the United States Supreme Court Nominations Online by Gerhard Peters and John T. Woolley, The American Presidency Project https://www.presidency.ucsb.edu/node/259623