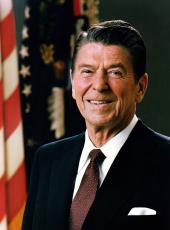 Radio Address to the Nation on the Supreme Court Nomination of Robert H. Bork and the Economic Bill of Rights
My fellow Americans:
Happy Fourth of July! Today we celebrate our country's independence and its freedom. It's a time to enjoy ourselves with friends and family, watch the fireworks, and perhaps to reflect a bit on the meaning of it all.
Certainly freedom is something I had in mind this week when I nominated Judge Robert Bork to be an Associate Justice of the Supreme Court. Judge Bork is recognized by his colleagues and peers as a brilliant legal scholar and a fair-minded jurist who believes his role is to interpret the law, not make it. He is also a highly respected teacher, having devoted 15 years as a distinguished professor at one of this nation's most prestigious law schools.
As a member of the United States Court of Appeals, Judge Bork has always heard each case with an open mind, following the law and legal precedent—not his personal preferences. In arriving at a decision, no appellate judge in America has a finer record. Not a single one of his more than 100 majority opinions has ever been reversed by the Supreme Court. To maintain the independence of the judiciary, I hope that we can keep politics out of the confirmation process and promptly schedule hearings. The American people deserve a Supreme Court with nine Justices operating at full strength. This, of course, is serious business because the Court plays such a significant role in the preservation of our way of life and the protection of our liberty.
Yesterday, I hope none of you missed the announcement I made of a new policy initiative which has a lot to do with the principles we commemorate on the Fourth of July. During a ceremony at the Jefferson Memorial here in Washington, we discussed the four basic economic freedoms: the freedom to work, the freedom to enjoy the fruits of one's labor, the freedom to own and control one's property, and the freedom to participate in a free market. Then, in the shadow of the statue of Thomas Jefferson, I presented a package of fundamental economic reforms designed to protect those freedoms: the equivalent of an economic bill of rights. We don't have time now to go into all the proposals, but I'd like to tell you about a few of the important ones.
The centerpiece is something aimed at one of our toughest domestic challenges-deficit spending. It's about time we constitutionally mandate the Federal Government to do what every American family must do, and that is balance its budget. That doesn't mean taking more out of your pocket by raising taxes. In fact, our Economic Bill of Rights suggests a balanced budget amendment should contain a provision requiring more than a mere majority vote in Congress—which is all it takes now—to raise your taxes.
Our reform also calls for full disclosure of the vital details of pending legislation. The people, as well as State and local government, have the right to know precisely how much fulfilling the will of Congress is going to cost them. Similarly, we deserve "truth in spending" from Congress. Any new legislation which calls for increased spending should indicate where the money is coming from.
And part of any reform must be reestablishing certain checks and balances set down in the Constitution by our Founding Fathers. As of late, for example, the Presidential veto, a powerful force for responsible government, has been all but emasculated by changes in the way Congress does business. It's imperative we reestablish this Presidential authority by granting to the Chief Executive of the United States the tool now used by the chief executives of 43 States in keeping spending under control. I'm talking about a line-item veto, which lets the President cut out the fat, but keep the meat of all legislation that gets to his desk.
We the people, deserve to know that our jobs, paychecks, homes, and pensions are safe from the taxers and regulators of big government. Jefferson warned us of this threat 200 years ago. Our Economic Bill of Rights is designed to protect the economic freedom of all Americans and to keep our country growing and prospering.
I hope you've heard the most recent figures which indicate that unemployment continues its steady decline—we're down to 6 percent—that prices are steady, and that the economy continues to grow. We've come a long way in the last 6 1/2 years. The economic bill of rights, the package of basic reforms I proposed yesterday, will protect the progress we've made and keep our country moving forward. On this Fourth of July let us reaffirm that together, living in freedom, there's nothing we Americans can't do.
Until next week, thanks for listening, and God bless you.
Note: The President spoke at 12:06 p.m. from Camp David, MD.
Ronald Reagan, Radio Address to the Nation on the Supreme Court Nomination of Robert H. Bork and the Economic Bill of Rights Online by Gerhard Peters and John T. Woolley, The American Presidency Project https://www.presidency.ucsb.edu/node/253238