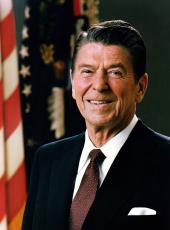 Radio Address to the Nation on the State of the Union
My fellow Americans:
In 3 days I'll be going up to the Capitol to fulfill my responsibility of reporting to the Congress on the State of the Union. So, I'm spending this weekend finishing up some last minute work on my speech—dotting the i's and crossing the t's and taking time to look back and to reflect on the days and months ahead.
A piece of history trivia for you: After Washington and Adams, Thomas Jefferson discontinued the practice of delivering an annual State of the Union Address. He began a long custom of delivering written messages. It wasn't until 1913 that President Woodrow Wilson returned to the House Chamber to deliver a speech. Wilson felt a President could do a better job reading his message than a clerk could. He said, "I'm very glad to have this opportunity to address the two Houses directly and to verify for myself that the President is a person, not a mere department of the government hailing Congress from some isolated island of jealous power—that he is a human being trying to cooperate with other human beings in a common service." Cooperate in a common service—I guess that pretty much says it all.
This will be my fifth State of the Union Address. It's almost getting to be old hat. In each address I've been mindful of one unchanging fact: I may be a Republican President, and be mighty proud of it, but I need the help of Republicans and Democrats in the Congress if we're going to solve the serious problems confronting our nation. I think back to 1981—to the terrible economy, the inflation and interest rates, the sense that, both home and abroad, everything had gone haywire and was slipping out of control. And I remember the first thing I did was to ask the Congress to pass an economic recovery program—one that would not be my program, but our program. By "our" I meant not just those of us who serve here in Washington but we, the American people. And so it was.

We came together as a nation. All of us cooperated to rescue a country in distress and bring America back. So, now we look ahead again with high hopes that we can build on our success and work in bipartisan spirit to make 1986 the year of opportunities for America. A year of opportunities to create a future of unlimited opportunity; a year to unite for full employment from Harlem to Hawaii so that every American who seeks work can find work; to build a floor of security beneath every family, but no ceiling of opportunity above any American's head; to act now so that our children can truly look forward to inheriting a land freed from runaway debt, prices, crime, and drugs; and, yes, freed from the terror of nuclear attack.
We know the challenges we must meet. We must make sure that government no longer stands as a roadblock to a stronger and smarter economy—an economy that becomes more sophisticated technologically in both our new and traditional industries, so we can compete successfully with our trading partners. We need to make sure that the weight of taxes and education, health and retirement costs, doesn't crush those who will lead America into the 21st century with their risk-taking and hard work. And we need to do all that's required of us to keep America secure.
In this storm-tossed world of terrorists and totalitarians, America must always champion freedom, for freedom is the one tide that will lead us to the safe and open harbor of peace. So let us join hands, Republicans and Democrats, and go forward together vowing not to flinch from the difficult but wise decisions that await us: to get government spending under control; to make our system a model for greater simplicity, fairness, and growth; and to prepare America for a prosperous future in a world that is free and at peace.
This year marks the 199th anniversary of Shays' Rebellion, sparked by, among other grievances, a high land tax that weighed down on working people. Shays, a farmer and a veteran of the Revolution, had fought for the independence and freedom of our country. Shays' protest was put down forcefully, but it helped lead to the adoption of the United States Constitution, a blueprint for freedom giving each of us the right to help direct the course of our government to fight against injustice, if you will, without having to lead an armed revolution. Our future can be as heroic and as exciting as we will it to be. Each day brings new opportunities for great dreams and great feats. Let's begin now—united, confident, and determined to get the job done.
Until next week, thanks for listening, and God bless you.
Note: The President spoke at 12:06 p.m. from the Oval Office at the White House.
Ronald Reagan, Radio Address to the Nation on the State of the Union Online by Gerhard Peters and John T. Woolley, The American Presidency Project https://www.presidency.ucsb.edu/node/259239