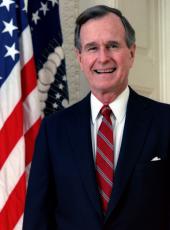 Radio Address to the Nation on the Results of the Presidential Election
Way back in 1945, Winston Churchill was defeated at the polls. He said, "I have been given the Order of the Boot." That is the exact same position in which I find myself today.
I admit, this is not the position I would have preferred, but it is a judgment I honor. Having known the sweet taste of popular favor, I can more readily accept the sour taste of defeat, because it is seasoned for me by my deep devotion to the political system under which this Nation has thrived for two centuries.
I realize that defeat can be divisive. I want the Republican Party to be as constructive on the outside of executive power as it has been for 12 years on the inside. There must be no finger pointing, no playing the blame game. New ideas will flourish, and that is good. But as for what has passed, I can only say that it was my administration, my campaign. I captained the team, and I take full responsibility for the loss. No one else is responsible. I am responsible.
I hope history will record the Bush administration has served America well. I am proud of my Cabinet and my staff. America has led the world through an age of global transition. We have made the world safer for our kids. And I believe the real fruits of our global victory are yet to be tasted.
I'm also proud of my campaign team. They put together a tenacious, spirited effort in a difficult year. When you win, your errors are obscured; when you lose, your errors are magnified. I suspect history will take the edge off both interpretations. One thing I know for sure: My supporters should go out with their heads held high.
One final thought. As I campaigned across this Nation, I had the opportunity to talk to many people. I felt the anxiety that accompanies a time of change, but I could also see every day, in ways large and small, the resiliency of the American spirit.
Ours is a nation that has shed the blood of war and cried the tears of depression. We have stretched the limits of human imagination and seen the technologically miraculous become almost mundane. Always, always, our advantage has been our spirit, a constant confidence, a sense that in America the only things not yet accomplished are the things that have not yet been tried. President-elect Clinton needs all Americans to unite behind him so he can move our Nation forward. But more than that, he will need to draw upon this unique American spirit.
There are no magic outside solutions to our problems. The real answers lie within us. We need more than a philosophy of entitlement. We need to all pitch in, lend a hand, and do our part to help forge a brighter future for this country.
On January 20th, Barbara and I will head back to Texas. For us there will be no more elections, no more politics. But we will rededicate ourselves to serving others because, after all, that is the secret of this unique American spirit. With this spirit, we can realize the golden opportunities before us and make sure that our new day, like every American day, is filled with hope and promise.
Thanks for listening. And God bless the United States of America.
Note: This address was recorded at 3:52 p.m. on November 6 in the conference room at Laurel Lodge, Camp David, MD, for broadcast after 9 a.m. on November 7.
George Bush, Radio Address to the Nation on the Results of the Presidential Election Online by Gerhard Peters and John T. Woolley, The American Presidency Project https://www.presidency.ucsb.edu/node/267649