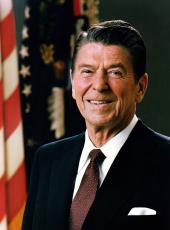 Radio Address to the Nation on the Resignation of Secretary of the Interior James G. Watt
My fellow Americans:
There's a change of management over at the Department of Interior. James Watt has resigned, and Judge William Clark has taken his place.
When Jim became Secretary of Interior he told me of the things that needed doing, the things that had to be set straight. He also told me that if and when he did them, he'd probably have to resign in 18 months. Sometimes the one who straightens out a situation uses up so many brownie points he or she is no longer the best one to carry out the duties of day-to-day management. Jim understood this. But he also realized what had to be done, and he did it for more than 30 months, not 18.
Now, with the change in management, it's time to take inventory. The Federal Government owns some 730 million acres-about one-third of the total land area of the United States. The Department of Interior has jurisdiction over most of that, including our national parks, wildlife refuges, wilderness lands, wetlands, and coastal barriers. Not included in those 730 million acres are our offshore coastal waters, the Outer Continental Shelf, which is also Interior's responsibility. And I've asked Bill Clark to review policy, personnel, and process at the Department of the Interior.
Our national parks are the envy of the world, but in 1981 they were a little frayed at the edges. Since 1978 funds for upkeep and restoration had been cut in half. Jim Watt directed a billion-dollar improvement and restoration program. This 5-year effort is the largest commitment to restoration and improvement of the park system that has ever been made.
You, of course, are aware of the economic crunch we've been facing. Yet, even so, Secretary Watt set out to increase protection for fragile and important conservation lands. In 1982 he proposed that 188 areas along our gulf and Atlantic coasts be designated as undeveloped coastal areas. And that proposal became the basis for the historic Coastal Barrier Resources Act. This act covers dunes, marshes, and other coastal formations from Maine to Texas—lands that provide irreplaceable feeding and nesting grounds for hundreds of species of waterfowl and fish. And, under Secretary Watt, we've added substantial acreage to our parks and wildlife refuges and some 15,000 acres to our wilderness areas.
Interior is also in charge of preserving historic sites and structures. In the economic recovery program we launched in 1981 we gave a 25-percent tax credit for private sector restoration of historic structures. The result has been private investment in historic preservation five times as great as in the preceding 4 years. Secretary Watt has explored other ways to involve the private sector in historic preservation. And one of the efforts we're all proudest of is the campaign to restore Ellis Island and that grand lady in New York Harbor, the Statue of Liberty. This campaign is being led by Lee Iacocca, the chairman of Chrysler, and is being financed almost entirely by private contributions.
Preservation of endangered species is also a responsibility of the Department, and the approval and review of plans to bring about recovery of endangered plant and animal species has nearly tripled in the 30 months of Secretary Jim Watt. From the very first, Jim pledged to the Governors of our 50 States that the Department would be a good neighbor, that they would be included in land planning, and that small tracts of isolated Federal lands would be made available to communities needing land for hospitals, schools, parks, or housing. He also stated that isolated small tracts would be sold to farmers and ranchers.
An example of what I'm talking about is a strip of land i mile long and only 2 to 20 feet wide that was recently sold. I think you can imagine how these efforts must have erased some problems private landowners had with clouded title to their property.
Of course, all this was distorted and led to protests that he was selling national parks and wilderness. What he actually did was sell, in 1982, 55 tracts that totaled only 1,300 acres, and this year, 228 tracts totaling a little over 10,000 acres. The largest parcel was 640 acres; that's i square mile. None of it was park, wildlife refuge, wilderness, or Indian trust lands. They are not for sale. And not one acre of national parkland was leased for oil drilling or mining, contrary to what you may have read or heard.
When territories were becoming States, they were promised title to Federal lands within their borders, some lands to be used for public education. But as more and more Western States joined the Union, there began to be a delay; in fact, a permanent delay in turning over these lands. Jim Watt promised the Governors that if they'd identify lands they had a right to claim under their statehood acts, we'd make the Federal Government honest. The Governors responded, and as a result, by the end of this year more land will have been delivered to the States to support their school systems than at any time since 1969.
Changes have been made in the management of forest lands which are eligible for multiple use. Those lands will provide lumber on a sustained-yield basis. This will benefit Americans who cherish the dream of owning their own home.
We've made giant strides in implementing a national water policy which recognizes State primacy in managing water resources. People must be a part of our planning, and people need a reliable, safe drinking water supply, water for generating power, and water for irrigation.
Since I've mentioned energy, let me touch on that for a minute. It's estimated that 85 percent of the fuel we need to keep the wheels of industry turning is on Federal-owned property, including the Outer Continental Shelf. Efforts to increase the supply of energy have been carried out in full compliance with environmental stipulations. We can and will have an increased energy supply with an enhanced environment.
James G. Watt has served this nation well. And I'm sure William Clark will do the same.

Till next week, thanks for listening, and God bless you.
Note: The President signed the bill into law in a ceremony in the Roosevelt Room at the White House.
As enacted, H.R. 3222 is Public Law 98166, approved November 28.
Ronald Reagan, Radio Address to the Nation on the Resignation of Secretary of the Interior James G. Watt Online by Gerhard Peters and John T. Woolley, The American Presidency Project https://www.presidency.ucsb.edu/node/261940