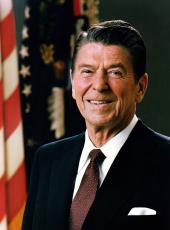 Radio Address to the Nation on the Resignation of Howard Baker as Chief of Staff to the President and the Administration's Agenda
My fellow Americans:
This Fourth of July weekend, we Americans will, as we do each year at this time, raise Old Glory a little higher, cheer fireworks, and remember the blessing we share as citizens of this great and free land. And as we celebrate our independence and pause to give thanks for our liberty, let us also remember that the freedoms we cherish are never more than a generation away from extinction. It's up to each of us to preserve, protect, and defend America's precious heritage. Some Americans have done just that on the battlefield; but all of us can do it each and every day. We can vote at election time. We can volunteer to help political campaigns for the candidates of our choice, as well as volunteer for work that's needed around our community. And we can simply raise our children well, do our jobs well, and live in God's light.
One man who has contributed more than his share to our country left government service this week. For a year and a half, Howard Baker has been my Chief of Staff here at the White House. He's served with great distinction, helping me guide important legislation through Congress, as well as helping me at the summits with Mr. Gorbachev in Washington and Moscow. Serving with distinction is nothing new for Howard Baker. He did it for almost two decades in the United States Senate, the last 4 years as majority leader. I know I'll miss him around the White House. So, Howard, good luck to you and your lovely wife, Joy.
In the months ahead I'll be helped by a new Chief of Staff, Kenneth Duberstein. It won't be a big change for Ken. He's moving from his old office, where he's worked as the number two man on my staff and as Howard's partner since early last year, to the one next door. And that's good, because we won't have time just to settle in.
Yes, we have a lot of work to do and a big agenda that we got down to business on this week. On Friday, with Members of Congress looking on, I signed the Medicare Catastrophic Coverage Act into law. At the ceremony, I noted that almost a year and a half ago I had said we should remove a financial specter facing our older Americans: the fear of an illness requiring acute care so expensive that it can result in having to choose between bankruptcy and death. Shortly after that, our administration submitted a bill to Congress to help free the elderly from the fear of catastrophic illness. Now a version of that bill is law. As I said Friday, we still must face challenges if this law, as Congress finally enacted it, is to work; but we can all be grateful that a burden has been lifted from the shoulders and minds of the elderly all over America.
By the way, as I signed the Catastrophic Coverage Act into law, I couldn't help thinking how much we Americans have done in the last few years. Today our economy is strong and growing. Our belief in peace through strength, which we kept despite many protests in Congress and elsewhere, is paying off. The first treaty ever to eliminate an entire class of U.S. and Soviet nuclear missiles has been signed. And there is, all the way around, a new realism in our relations with the Soviet bloc.
But despite these accomplishments, I believe our eyes should be on the future and the accomplishments we have still to achieve. For example, congressional approval of the free trade agreement that we negotiated with Canada will help the entire North American economy grow and create vast numbers of new jobs well into the next century. Throughout our history, whenever trade barriers have been lowered in North America, we've had a blooming of economic growth. We owe it to our children to cultivate for another time of flowering and approve this agreement.
We also owe it to our children to put the illegal drug trade out of business. That's why when I visited Toronto recently for the economic summit of the major industrial nations, I was particularly pleased by one action the summit nations took. It's called the Bush initiative. For it, thank Vice President Bush and Canada's Prime Minister Brian Mulroney. Not long ago, these two leaders decided that the best new place to hit the drug trade was in its most vulnerable spot: money laundering. Now that's what all the major industrial nations are going to do.

Yes, our nation's agenda is full, whether it's keeping our defenses strong or cutting unnecessary spending; getting Congress to pass a welfare reform bill that requires work; and trade legislation that will open, not close, markets; or helping freedom fighters around the world. But that's what democracy is all about—a big agenda, America's agenda, for all of us to work on together, to build a bright tomorrow for our blessed land. Here at the White House, our sleeves are rolled up, and we're hard at work on our agenda for the future.
So, happy Fourth of July! And until next week, thanks for listening, and God bless you.
Note: The President spoke at 12:06 p.m. from Camp David, MD.
Ronald Reagan, Radio Address to the Nation on the Resignation of Howard Baker as Chief of Staff to the President and the Administration's Agenda Online by Gerhard Peters and John T. Woolley, The American Presidency Project https://www.presidency.ucsb.edu/node/255546