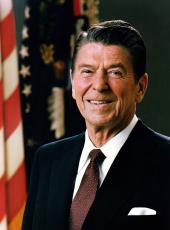 Radio Address to the Nation on the President's Trip to Mexico
My fellow Americans:
Today I am meeting with Mexican President De la Madrid in Mazatlan, Mexico, so I've prerecorded this radio talk. Over these last 7 years, maintaining a constructive and friendly relationship with our neighbors to the south has been one of the highest priorities of our administration. As we review what has transpired, there is every reason to be pleased.
The leaders of our two nations are aware that good relations and cooperation between us are invaluable to both our peoples. And that's why the meetings between our top leadership have been frequent and our talks at those meetings comprehensive. My meeting today with President De la Madrid will cover a number of issues—from economic concerns, to our mutual commitment to fight drug traffickers, to the security challenges facing the hemisphere.
Mexico is our fourth largest trading partner and we, correspondingly, are Mexico's largest trading partner. Our commercial ties are strong and of great benefit to people on both sides of the border. We've worked hard to make it that way. Last November we signed a new framework understanding that underscored our special trade and investment relationship. During our meetings in Mazatlan, President De la Madrid and I will reaffirm our commitment to take advantage of every opportunity to strengthen the commercial ties between our peoples.
One thing that cannot be overemphasized is that a healthy and expanding Mexican economy is in the interest of the United States. We want Mexico to grow and prosper. And that's why we've done our best and will continue to do our best to help find solutions to the vexing problems of Mexico's international debt. Innovative, market-based methods of managing this burden are being explored, such as Mexico's offer to exchange debt for long-term bonds.
At the same time, we've been working with our Mexican counterparts on such things as a new textile accord, a telecommunications agreement—which will be signed in Mazatlan today—and a new civil aviation agreement, which is in the final stages of negotiations. I hope that one day all of this will be seen as the initial steps leading toward an historic freeing of commerce and trade throughout the continent.
We're just now beginning to tap the unmeasurable potential between Mexico and the United States. This can certainly be seen in the Immigration Reform and Control Act, passed by Congress in 1986. This law offers protections for more than a million undocumented immigrants living in the United States, many of whom are from Mexico. It provides a means for them to find legal employment in our country and to participate openly and freely in our society. Population movement and employment are subjects being examined closely by joint U.S. and Mexican commissions. A study of the issues and frank dialog between us is essential, and I am gratified by the responsible long-term approach the Mexican Government is taking in this sensitive area.
We have found that there are honest and concerned officials on both sides of the border who are dedicated to the same ideals. Nowhere is that more clear than in the battle against drug traffickers. American and Mexican policemen and law enforcement officials have lost their lives in this fight. We've been allies with brave individuals, men and women of integrity who are putting their lives on the line against this evil and the corruption and bloodshed that follows in its trail.
I might add that each and every one of us can make a contribution to winning this war against drugs. First, by refusing to use illegal drugs ourselves and, second, by helping others to get off drugs—and the traffickers would go out of business if people quit buying illegal drugs. That's the real solution, and it's up to each and every one of us to be a part of the solution.
Finally, my talks with President De la Madrid will also cover the security threat to this hemisphere. Since 1980 we've witnessed an impressive expansion of democracy throughout the Americas. However, this progress cannot be taken for granted. The establishment of totalitarian regimes, supported by Cuba and the Soviet Union, is a threat to stability and freedom. Nowhere is that threat more acute than in Central America. I would hope that the United States and Mexico will find common interest in opposing any such totalitarian threat.
The peoples and Governments of United States and Mexico are and ought to be friends. Our national interests dictate it; our peoples demand it. It is in this spirit that I meet today with President De la Madrid. I will pass on to the people of Mexico your very best wishes.

Until next week, thanks for listening and God bless you.
Note: The President's address was recorded at 11:45 a.m. on February 11 in the Oval Office at the White House. It was broadcast at 12:06 p.m. on February 15.
Ronald Reagan, Radio Address to the Nation on the President's Trip to Mexico Online by Gerhard Peters and John T. Woolley, The American Presidency Project https://www.presidency.ucsb.edu/node/253421