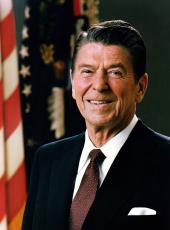 Radio Address to the Nation on the President's Trip to Indonesia and Japan
My fellow Americans:
Today Nancy and I are heading west across the wide Pacific on one of the longest overseas journeys of my Presidency. The first leg of the trip will take me to Indonesia, where I'll be meeting with the leader of that country, President Soeharto, a longtime friend of the United States.
President Soeharto and I first met when I traveled to his country in December of 1973. At the time I was Governor of California. Later, in 1982, President Soeharto paid us the honor of a state visit to the White House. President Soeharto has been a most responsible influence in world affairs and a force for the economic progress of his people at home. He and his government have guided Indonesia to self-sufficiency in rice production and to a respected level of financial creditworthiness. Indonesia is a richly diverse nation with over 160 million people on islands stretching over 3,000 miles. The people there have made significant economic strides over the last decade. I'm grateful to have this opportunity to meet and discuss with President Soeharto the many areas of mutual concern to the United States and Indonesia.
While in Indonesia, I will also be meeting with the six foreign ministers of ASEAN, the Association of South East Asian Nations. President Soeharto has played a personal role in the success of this effective and admirable organization. ASEAN is composed of six nations—Indonesia, Malaysia, Singapore, the Philippines, Thailand, and Brunei— which in so many ways symbolize the dynamic change taking place in the Pacific Basin. Collectively, ASEAN nations are our country's fifth largest trading partner. In 1985 our trade with them reached $23 1/2 billion. We share democratic values and an energetic pursuit of commerce. We share a commitment to free markets, free trade, and free people.
The ASEAN nations are not only our trading partners but also our good and trusted friends. During my trip, I'll be emphasizing to our ASEAN friends and to the others with whom I'll meet that the United States is a Pacific power. We expect to continue playing a constructive role in shaping the future of this vibrant and vital part of the world. My discussions with the foreign ministers of ASEAN will cover a wide range of economic and security issues. One item on the agenda is Cambodia. ASEAN has demonstrated exemplary responsibility and leadership concerning the Vietnamese invasion and continuing occupation of this country. America, along with our ASEAN friends, believes that Vietnam should withdraw its forces from Cambodia and permit the Cambodian people to determine their own destiny. Vietnam has spurned any and all reasonable ASEAN requests for a negotiated settlement of the problem. The United States has made it clear that it's ready to participate constructively in an overall settlement. The Communist government of Vietnam, however, to the detriment of their own national interest, remains intransigent. What we and our ASEAN friends are seeking is a stable, free, and prosperous Pacific Basin. We want to build an environment in which people can work, produce, and trade together, enriching everyone's life in the process.
One of the initiatives associated with our trip concerns a threat to the well-being of every nation, an evil undermining the family and tearing at the fabric of this society. I am, of course, talking about the scourge of drug abuse. Nancy has made the fight against drug abuse her own. She'll be traveling with me to Indonesia, but from there, while I move on to the Tokyo Economic Summit, Nancy will go to Malaysia and Thailand, where she will meet with people involved in drug abuse prevention and rehabilitation programs. These countries share our commitment to end the pain and suffering inflicted by drug addiction. I'm very proud of the work that Nancy's doing to this end. All caring people in every country should unite to fight this menace.
While Nancy is in Malaysia and Thailand, I will meet in Tokyo with the leaders of seven industrialized democratic nations. There is a variety of subjects, areas of mutual interest and concern to discuss. Our catch words will be "freedom" and "cooperation." Today the prospects for the Western World are brighter than in many years. As I fly across the expanses of the Pacific in Air Force One, I go knowing that the winds of freedom are blowing. Totalitarian nations, with their centralized planning and bureaucratic controls, are going nowhere. The free world, as is especially evident on the Pacific rim, is moving at an accelerated pace into a new era of opportunity and progress. These are exciting times to be alive, to be free, and to be an American.
Until next week when I'll be speaking to you from Tokyo, thanks for listening, and God bless you.
Note: The President's remarks were recorded on April 25 in Los Angeles, CA, for broadcast at 12:06 p.m. on April 26.
Ronald Reagan, Radio Address to the Nation on the President's Trip to Indonesia and Japan Online by Gerhard Peters and John T. Woolley, The American Presidency Project https://www.presidency.ucsb.edu/node/258546