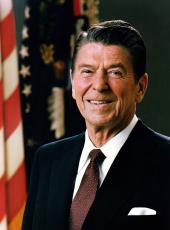 Radio Address to the Nation on the President's Meeting With Foreign Minister Eduard Shevardnadze of the Soviet Union
My fellow Americans:
During the past week we've been working hard to advance the Middle East peace process and to try to improve U.S.-Soviet relations. I met with our good friend President Mubarak of Egypt, and I'll be holding discussions this coming week with another longtime friend of the United States, King Hussein of Jordan. I hope to talk to you more about the Middle East next week.
But today let me speak about our efforts to build a more constructive and stable long-term relationship with the Soviet Union. Both Secretary Shultz and I met with the new Soviet Foreign Minister Eduard Shevardnadze this past week. These meetings covered a broad global agenda, including the four major areas of the U.S.–Soviet dialog: human rights, regional and bilateral issues, and security and arms control matters. They enabled us to discuss at the most senior levels the key issues facing our two nations. I told the Foreign Minister I'm hopeful about my upcoming meeting with General Secretary Gorbachev, and I put forward some new ideas as well as my plans and expectations for that meeting. The Soviet Foreign Minister indicated that Mr. Gorbachev also is looking forward to these discussions. Furthermore, we agreed to set up a series of senior level discussions between our experts in preparation for the Geneva meeting.
Let's be clear, however, that success will not come from one meeting. It must come from a genuine, long-term effort by the leadership of the Soviet Union as well as ourselves. The differences between us are fundamental in political systems, values, and ideology as well as in the way we conduct our relations with other countries. The United States must and will be forthright and firm in explaining and defending our interests and those of our allies. I went over with Mr. Shevardnadze Soviet actions in various parts of the world which we feel undermine the prospects for a stable peace, and I discussed with him the need for the Soviet Union to work with us seriously to reduce offensive nuclear arms. These weapons exist today, and there's no reason why real reductions cannot begin promptly.
Finally, I emphasized the need for a more productive Soviet response to our efforts in Geneva to begin a U.S.-Soviet dialog now on how to fashion a more stable future for all humanity if the research in strategic defense technologies, which both the U.S. and the U.S.S.R. are conducting, bears fruit. Mr. Shevardnadze indicated that the Soviet negotiators will present a counterproposal in Geneva to the initiatives we've taken there. We welcome this. It is important that the counterproposal address our concerns about reductions and stability just as we've sought to address Soviet concerns. And we hope it'll be free of preconditions and other obstacles to progress. We're ready for tough but fair negotiating. You, the people, can distinguish diplomatic progress from mere propaganda designed to influence public opinion in the democracies.
All too often in the past, political and public opinion, and sometimes government policy as well, have taken on extreme views of the U.S.-Soviet relationship. We have witnessed sometimes a near euphoria over a supposed coming together, at other times a feeling that the U.S. and the U.S.S.R. may somehow be at the brink of conflict. By holding to the firm and steady course we set out on 5 years ago, we've shown that there is no longer any reason for such abrupt swings in assessing this relationship. Our differences are indeed profound, and it is inevitable that our two countries will have opposing views on many key issues. But we've intensified our bilateral dialog and taken measures, such as the recent upgrading of the crisis hotline, to ensure fast and reliable communications between our leaders at all times.
Above all, I emphasized to the Foreign Minister, and will do so with Mr. Gorbachev, that the overriding responsibility of the leaders of our two countries is to work for peaceful relations between us. So, what we're engaged in is a long-term process to solve problems where they're solvable, bridge differences where they can be bridged, and recognize those areas where there are no realistic solutions, and, where they're lacking, manage our differences in a way that protects Western freedoms and preserves the peace. The United States stands ready to accomplish this. Much more must be done, but the process is underway, and we will take further steps to show our readiness to do our part. With equal determination by the Soviets, progress can be made. We will judge the results as Soviet actions unfold in each of the four key areas of our relations. And I will be reporting to you further as preparations for the November meeting proceed.
Until next week, thanks for listening, and God bless you.
Note: The President spoke at 12:06 p.m. from the Oval Office at the White House.
Ronald Reagan, Radio Address to the Nation on the President's Meeting With Foreign Minister Eduard Shevardnadze of the Soviet Union Online by Gerhard Peters and John T. Woolley, The American Presidency Project https://www.presidency.ucsb.edu/node/258523