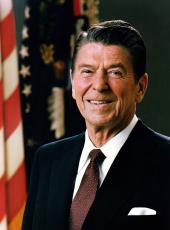 Radio Address to the Nation on the Presidential Campaign
My fellow Americans:
When I set out on this campaign, I said this election would offer one of the clearest choices in 50 years. One major element in that choice is simply this: whether America will continue to champion the great, driving idea for your future—economic growth through individual opportunity—or whether our nation will return to the past and stifle that growth.
We're determined to keep the mighty engine of this nation revved up to build a future of lasting economic growth without inflation that reaches every American from the Bronx to Birmingham to San Francisco Bay. All that we've done and all that we mean to do is to make our free country freer still, to bring to each of you greater opportunities to build that stronger future.
We believe opportunity is the true engine of progress, the captain of great endeavors. And that's why we asked you in 1981 to give America a new beginning—why we fought for and won a 25-percent tax rate reduction for everyone; tax indexing to keep inflation from pushing you into higher tax brackets; estate tax reductions for family farms and small businesses; a reduction in the marriage penalty tax; an increase in the child care tax credit; deregulation of banking, allowing a higher rate of return for small savers and new incentives for IRA's and Keogh contributions.
These incentives are sweeping fresh winds of progress across America. Along with restraints on government spending and regulating, they're bringing America the strongest surge of economic growth, jobs, business investment, and spendable income since the 1950's.
We're no longer talking about promises, but about progress. But while that progress is a welcome change from the past, it won't be good enough until everyone can share it. So, when people ask, "Where do we go from here?", my answer is, "Forward, with more opportunity for more growth for all Americans."
We're seeing proof that rewarding people who work and invest and save to get ahead is creating stronger growth and, in turn, helping still more people to find jobs and build a better life. So, we want to take this idea of incentives a big step further. We want to enact an historic simplification of our tax system, make the system more fair, easier to understand, so we can bring everybody's income tax rates further down, not up.
Next, we want to put the power of incentives to work in distressed areas of our cities and countryside. We want to establish enterprise zones where taxes and regulations would be cut for anyone starting up or expanding a business. Imagine ghettos across America with people off welfare working to support their families. Imagine their families living in more secure neighborhoods with less crime, feeling hopeful again about their future. Enterprise zones can do this for America.
To make a free country freer still, we want to ensure that those who produce our food and fiber have markets for their products. We've made a good start. Already, we've ended the last administration's disastrous grain embargo, restored grain sales to the Soviets with over 23 million metric tons sold in the last year, given them the go-ahead this week to buy up to 10 million tons more, and reached an agreement with Japan to virtually double our beef exports over the next 4 years.
So, you have a clear choice in 1984. To every American we offer new opportunity, lower tax rates, more jobs, rising take-home pay, and a brighter future for everyone. My opponent offers the biggest single tax increase in our history, $85 billion per year, he says, but really much more if his promises are fully funded. All told, his tax increase could amount to an additional tax of $1,800 per household, a giant stop sign that would bring America's economic growth and your opportunities for the future screeching to a halt. His plan would take us back to the worst misery index of the past. Ours would enable all of us to go forward together and build new opportunity for the future.
We're really talking about two different worlds. They see America wringing her hands; we see America raising her hands. They see America divided by envy, each of us challenging our neighbor's success; we see America inspired by opportunity, each of us challenging the best in ourselves. We believe in knowing when opportunity knocks; they seem determined only to knock opportunity.
I think Americans are saying: Don't hold us back. Give us a chance and watch how high we fly. And that's just what we want to help you do.
Till next week, thanks for listening, and God bless you.
Note: The President spoke at 12:06 p.m. from the Oval Office at the White House.
Ronald Reagan, Radio Address to the Nation on the Presidential Campaign Online by Gerhard Peters and John T. Woolley, The American Presidency Project https://www.presidency.ucsb.edu/node/261375