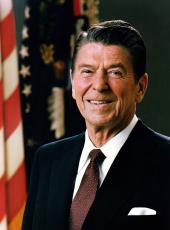 Radio Address to the Nation on the Observance of Armed Forces Day
My fellow Americans:
Each year we set aside a special day to pay special tribute to our men and women in uniform. Today is Armed Forces Day and, on behalf of a grateful nation, I would like to offer them our thanks and appreciation.
Their job is unusually difficult not only because it involves hardship and danger, or because it requires long periods away from families and loved ones, or even because it may demand the giving of one's life in defense of our nation. The difficulty of the military profession grows out of all of these, plus the fact that our service men and women are always faced with several of the most fundamental questions we ask as individuals and as a nation—the questions of war and peace and the use of force in the world.
Americans have asked these questions again and again for more than 200 years. They're still debating them today. Perhaps the reason these questions persist is because there are no easy answers. The answers lie in seeming paradoxes, underlying truths that may appear contradictory on the surface.
The most fundamental paradox is that if we're never to use force, we must be prepared to use it and to use it successfully. We Americans don't want war and we don't start fights. We don't maintain a strong military force to conquer or coerce others. The purpose of our military is simple and straightforward: We want to prevent war by deterring others from the aggression that causes war. If our efforts are successful, we will have peace and never be forced into battle. There will never be a need to fire a single shot. That's the paradox of deterrence.
The men and women in our Armed Forces also live with a second paradox. They spend their entire time in service training to fight and preparing for a war which we and they pray will never come. As individuals, these men and women want peace as much as we do as a nation. In fact, they want it even more, because they understand that war is not the romantic heroism we read about in novels or see in the movies, but the stark truth of suffering and sacrifice and the slain promise of youth.
Our service men and women know firsthand the horrors of war and the blessings of peace, but they also know that just wanting peace is not enough to guarantee that peace will be sustained. As George Washington said, "To be prepared for war is one of the most effectual ways of preserving peace."
Today, Americans are again asking important questions about war and peace. Many have been debating two very important questions: How could we prevent nuclear war, and how could we reduce American and Soviet nuclear arsenals?
The answers to these questions are not found in simple slogans, but again, in paradoxes. To prevent nuclear war, we must have the capability to deter nuclear war. This means we must keep our strategic forces strong enough to balance those of the Soviet Union.
It must be absolutely clear to the Soviets that they would have no conceivable advantage in threatening or starting a nuclear war. In seeking to reduce American and Soviet nuclear arsenals, we must convince the Soviet Union that it is in our mutual interest to agree to significant, mutual arms reductions. And to do that, we cannot allow the current nuclear imbalance to continue. We must show the Soviets that we're determined to spend what it takes to deter war. Once they understand that, we have a real chance of successfully reaching arms reduction agreements.
Last month I sent to the Congress a proposal to modernize our intercontinental ballistic missile force. By building the MX Peacekeeper and small, single warhead missiles, we will not only preserve our ability to protect the peace, we will also demonstrate that any Soviet quest for nuclear superiority will not work, that it is in everyone's interest to end the arms race and to agree to mutual arms reductions.
There's a direct relationship between modernization programs, like the MX Peacekeeper, and the twin objectives of deterrence and arms control. The MX and other modernization measures will help us to achieve our fundamental goal, and that is to strengthen the peace by seeking arms reduction agreements that make for more security and stability by reducing overall force levels while permitting the modernization of our forces needed for a credible deterrent.
I know that the paradox of peace through a credible military posture may be difficult for some people to accept. Some even argue that if we really wanted to reduce nuclear weapons we should simply stop building them ourselves. That argument makes about as much sense as saying that the way to prevent fires is to close down the fire department. It ignores one of the most basic lessons of history, a lesson that was learned by bitter experience and passed down to us by previous generations.
Tyrants are tempted by weakness, and peace and freedom can only be preserved by strength. So, let us resolve today, as we honor the brave men and women who serve in our Armed Forces, to give them the support they need to protect our cherished liberties and preserve the peace for ourselves and our children.
Till next week, thanks for listening, and God bless you.
Note: The President taped his radio address in the Diplomatic Reception Room at the White House on Friday, May 20, for broadcast on May 21. The transcript of the address was released by the Office of the Press Secretary on May 21.
Ronald Reagan, Radio Address to the Nation on the Observance of Armed Forces Day Online by Gerhard Peters and John T. Woolley, The American Presidency Project https://www.presidency.ucsb.edu/node/262309