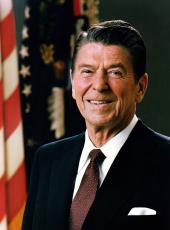 Radio Address to the Nation on the Federal Judiciary
My fellow Americans:
This week Chief Justice Warren Burger stepped down from the Supreme Court to devote his time fully to the upcoming bicentennial celebrations of our Constitution. It is fitting that Justice Burger's distinguished career of service to country and the law will be capped by honoring the legal document that's the very foundation of our Republic. Today all America salutes Justice Burger and thanks him for his devotion to this country.
I have nominated Justice Rehnquist, whose distinguished service on the Court is also widely recognized, as the next Chief Justice. He's been a consistent model of fairness and an articulate spokesman for straightforward interpretations of the Constitution. And I've selected Judge Antonin Scalia, one of our most gifted legal minds, to fill the vacancy. Two men better qualified for their positions would be hard to find, and I hope the Senate will move quickly to confirm their nominations. Justice Rehnquist and Judge Scalia are representative of the high caliber of our Federal court appointments. I have considered it a primary duty to appoint men and women, such as Sandra Day O'Connor, of proven abilities and the finest character to the Federal courts. And I think we have a proud record to show for it.
In fact, during the campaigns of 1980 and '84, I spoke often of the distressing loss of faith by the American people in their criminal justice system. It seemed to many of us that the scales of justice had become seriously unbalanced, making it difficult to arrest criminals and harder and harder to convict them. Let me give you an example: Two narcotics agents in California had a warrant to search the home of a couple they suspected were pushing heroin. They didn't find anything at first, and were just about to give up, when one of the agents, on a hunch, went back to the baby's crib. There, stashed inside the baby's diapers, was the heroin. But in a hearing for possession, the judge threw the case out of court on the grounds that the baby's constitutional rights had been violated. So, on the crime issue and a whole host of other issues, we've sought to appoint judges who look at the law as something to be honored, respected, and interpreted according to legislative intent, not whim or ideology. One other basic principle guides us: We nominate only those with high qualifications.
Our selection for the Court of Appeals, Daniel A. Manion, is such a nominee. He has substantial litigation experience and a reputation for integrity; even opponents from his days in the Indiana Senate attest to his character and ability. And the American Bar Association has declared him fully qualified to be a Federal judge. Nevertheless, partisanship in the Senate has pushed fair play by the boards, which is why I've sent a letter to the Senate expressing my strong opinion about the prerogative of the President to make qualified appointments to the Federal judiciary and what I feel has been the partisan use of the confirmation process. Some are doing just about everything they can think of to prevent Daniel Manion's confirmation. Believe it or not, they've even tried to make a major issue of a few typographical errors in several of his briefs and the fact that he practices law in .a small town.
Dan Manion is a fine lawyer. Father Theodore Hesburgh, the president of Notre Dame, where Dan Manion was an undergraduate, has strongly endorsed his nomination. I know him to be a person who has the ability and determination to become the kind of judge the American people want in the Federal courts; one who believes in the rule of law, who reveres the Constitution, and whose sense of fairness and justice is above reproach. Let's be honest. The real objection to Dan Manion is that he doesn't conform to the liberal ideology of some Senators. In fact, one Senator blurted out as much in the confirmation hearing. "I think you're a decent and honorable man," he said to Dan Manion, "but I do not think I can vote for you because of your political views." Well, I believe the Senate should consider only a nominee's qualifications and character, not his political views.
Now, I would welcome a national debate on those political views and how we're going to keep up the attack on this nation's crime problem. In the meantime, however, I intend to keep right on appointing tough, responsible judges to the courts. And I would hope that the Senate would get to work and confirm Daniel Manion to the U.S. Court of Appeals. It's the right thing to do. He's the kind of judge American people want, and I think they know it.
Until next week, thanks for listening. God bless you.
Note: The President spoke at 12:06 p.m. from Camp David MD.
Ronald Reagan, Radio Address to the Nation on the Federal Judiciary Online by Gerhard Peters and John T. Woolley, The American Presidency Project https://www.presidency.ucsb.edu/node/258964