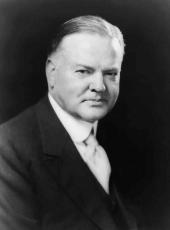 Radio Address to the Nation on the Campaign for Community Funds for Relief.
THE PURPOSE of this appeal this evening is to summon again the great heart of the American people. We must make our material provision for the support of our charitable and character-building institutions. We must provide to the utmost extent for the local community support to the increased distress over the country.
I take profound pride in the fact that my countrymen have accepted the responsibility, each in his own community, to meet this need. That is the only way to meet it effectively--in the neighborhood itself, where the need is known.
The normal burden has been easily met in the past, and in the past 2 years we have responded to the unusual burden.
This personal sense of obligation, and the desire to give, have added to these community funds a wealth of human sympathy that has meant much indeed to those who have received aid from them. Not only have their material needs been supplied but a friendly hand has added a precious warmth besides.
I have confident faith that the overwhelming majority of our people will not allow themselves to be tempted into doing less than their uttermost to a cause so charged with civic duty and so rich in appeal to every generous instinct of their hearts.
For the past two winters, this campaign for community funds for relief was carried on by committees which I have organized specifically for that purpose. This year the National Association of Community Chests has taken the responsibility of organizing the work of voluntary giving in every community. They represent the cooperation of all these agencies. The funds they gather will be disbursed in relief through these existing agencies upon an agreed division of the work. Thus the appeal for funds is centered locally in the one group, in order to simplify and expedite their collection.
In closing let me say that no richer blessing can fill your own hearts than the consciousness on some bleak winter's evening that your generosity has lighted a fire upon some family's hearth that otherwise would be black and cold and has spread some family table with food where otherwise children would be wanting. I wish my last word to you to be the word "give."
Note: The President spoke at 6:30 p.m. from the White House as part of a program opening a series of nationwide broadcasts on behalf of the Welfare and Relief Mobilization of 1932, a national effort to raise funds for unemployment and other forms of economic relief.
The National Broadcasting Company and the Columbia Broadcasting System radio networks carried the address.
Herbert Hoover, Radio Address to the Nation on the Campaign for Community Funds for Relief. Online by Gerhard Peters and John T. Woolley, The American Presidency Project https://www.presidency.ucsb.edu/node/207860