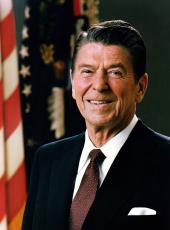 Radio Address to the Nation on the Budget Deficit, Central America, and Lebanon
My fellow Americans:
As you know, last Sunday I announced my candidacy for reelection to this office. I asked for your support to help finish what we began 3 years ago—getting government spending firmly under control, encouraging growth in our economy, and strengthening peace so we can provide opportunities for the liberty and happiness of our citizens today and for millions still unborn.
I wasn't surprised that my announcement set off some pretty sharp rhetoric from the other side, but I'd like to think that with some good will and common sense Republicans and Democrats could rise above election-year politics for the good of our country. Certainly there are important areas-and three come immediately to mind-where we could and should be working together.
For example, I believe there's basis for agreement on a down payment on projected budget deficits. I think we could reduce projected deficits by at least $100 billion over the next 3 years. So, frankly, I was a bit puzzled why those new converts to concern about looming deficits held back on joining a bipartisan working group.
Now, I understand they will be prepared to meet next week. I urge them to approach the negotiations in the same spirit as we will. Let's try to put the partisan issues aside. I repeat that all issues can be on the table for discussion. But, obviously, we cannot compromise the principles of our tax program without compromising our economic recovery and America's future.
I simply can't agree to increase taxes on families already pinching pennies to pay their bills. We want to reduce the deficit, not the recovery. And it would be foolhardy, indeed, to compromise America's defense rebuilding program just as we're beginning to restore the credibility that was so recklessly squandered.
Yet this does not mean that there aren't areas in which to find bipartisan agreement. We could focus on the less contentious spending cuts still pending before the Congress. These could be combined with measures to close certain tax loopholes that the Treasury Department has indicated it believes worthy of support.
If we focus on what we might agree on, we can get something done for the people. And the Grace commission has come up with some 2,500 recommendations for reducing wasteful government spending. We should examine them together.
Uniting to promote democracy, peace, and prosperity in the troubled region of Central America is a second area where Republicans and Democrats should work together. Last July 1 appointed 12 distinguished Americans to the National Bipartisan Commission on Central America and asked former Secretary of State Henry Kissinger to serve as its Chairman. Three weeks ago, the members of that Commission delivered to me their report on the crisis confronting our Latin neighbors. Their recommendations are the basis of legislation that I will soon present to the Congress.
I should point out that the late Senator Henry Jackson first proposed the idea of the Bipartisan Commission on Central America, and he served until his death as one of its senior counselors. All his life, Scoop said what he believed and stuck to it. He believed in freedom, dignity for the individual, and a strong America. And he believed Republicans and Democrats should leave politics at the water's edge on important questions of national security. Senator Jackson's wisdom is the guiding spirit of our legislation. It offers a balance of political, economic, diplomatic, and security initiatives that can bring stability and a better life to our neighbors and ultimately greater security to our own country. This plan deserves the bipartisan support of the Congress. We have a responsibility to act.
Continued support for the peace process in the Middle East is a third critical area where Republicans and Democrats must rise above politics. We're working closely with Lebanon's President Gemayel to find a political solution. Support for his government is broadening among the different groups. And just as important, our efforts to strengthen the Lebanese Army and its ability to keep the peace are making sure and steady progress.
Yes, the situation in Lebanon is difficult, frustrating, and dangerous. But that is no reason to turn our backs on friends and to cut and run. If we do, we'll be sending one signal to terrorists everywhere: They can gain by waging war against innocent people.
The men and women who patrol our streets here at home also face great dangers every day. But the greatest danger of all would be to yank those police officers off the streets and to leave our neighborhoods and families at the mercy of criminals. If we're to be secure in our homes and in the world, we must stand together against those who threaten us. This is a time for unity, not partisan politics.
Till next week, thanks for listening, and God bless you.
Note: The President spoke at 12:06 p.m. from Camp David, MD.
Ronald Reagan, Radio Address to the Nation on the Budget Deficit, Central America, and Lebanon Online by Gerhard Peters and John T. Woolley, The American Presidency Project https://www.presidency.ucsb.edu/node/260580