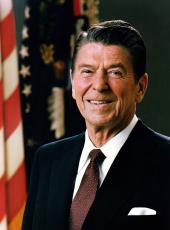 Radio Address to the Nation on the American National Red Cross
My fellow Americans:
As I speak to you today, I am flying across the ocean to Geneva, Switzerland, on a mission for peace. As you know, I'll be meeting with General Secretary Gorbachev of the Soviet Union. Those meetings may occupy the news for the next few days, but right now I want to talk to you about something closer to home—the American Red Cross.
Actually, the Red Cross was founded in Geneva over a hundred years ago to care for the victims of war. Then Clara Barton, who became known as the "Angel of the Battlefield" during our Civil War, brought the idea to the United States and expanded it to include disaster relief during peacetime. One way or another the Red Cross has touched most of our lives. Last year close to 1 1/2 million volunteers worked for the Red Cross, with many millions more giving blood and participating in their programs for young people. It was with the Red Cross, in fact, that I received training for one of my first jobs—as a lifeguard. And today I'm proud to serve as this noble organization's honorary chairman.
This year has been unprecedented in the history of Red Cross disaster relief efforts, and their resources have been stretched to the limit. In addition to helping our neighbors around the world—in famine-stricken Africa, after the devastating earthquake in Mexico City, and most recently with the eruption of a volcano in Colombia—well, Red Cross has had its work cut out for it here at home, too. A series of natural disasters has struck the United States since last July 1st. Several of them you probably know by name: Bob, Danny, Elena, Gloria, and Juan. But in addition to these hurricanes, there have been other disasters: fires, evacuations, the Puerto Rican mudslides, and the floods in Virginia, West Virginia, Maryland, and Pennsylvania, which were extremely destructive and have added enormously to the burden of Red Cross relief efforts.
Still, each time disaster struck, the Red Cross volunteers were there. I'm sure that for those people whom the storms made homeless a hot meal, a Red Cross blanket, a soft bed, and a warm smile helped get them through the nightmare and take that first step on the difficult road to rebuilding their lives. I guess the only good thing to come out of natural disasters like these are the stories of self-sacrifice and downright heroism, and so often those heroes turn out to be Red Cross volunteers.
That was the case recently in West Virginia when some volunteers heard a dog barking inside a flooded house. By the time they got there, the water was already rising past the windows. Inside, a man was struggling to save his furniture from the water and had no idea the peril he was in. He was blind and may not have been evacuated if the Red Cross hadn't come to save both him and his dog. Then there was a family in West Virginia marooned in their home; the only way food and supplies could reach them was by a Red Cross boat. And there were the volunteers who dove into a rushing torrent to save a mother and her children just before they got swept away by the current.
The Red Cross is always there for us; now we need to be there for them. You may be surprised to know that, as big as it is, the Red Cross receives no government funding; it is entirely dependent on private contributions for support. Just since the beginning of July, the Red Cross has spent a record $48 million responding to emergencies, and they are quite simply running out of funds. So, they are launching an emergency disaster relief campaign, and they've set a fund-raising goal of $20 million. It's now time for all of us to volunteer for the volunteers, to give to those who've given so much of themselves. In recent years we've witnessed a resurgence in the great American spirit of neighbor helping neighbor. Now more of you are volunteering your time and contributing money to charity than any time in our nation's past. We've seen Americans unite to help feed the hungry around the world, provide emergency assistance to disaster victims in foreign lands, and we've seen one of the largest private sector initiatives in history raise funds to restore our great Statue of Liberty. Well, today I ask your help so that others may be helped. Please contact the Red Cross chapter nearest you and ask what you can do to give them a hand.
Till next week, thanks for listening, and God bless you.
Note: The President's remarks were recorded at 1:30 p.m. on November 15 in the Diplomatic Reception Room at the White House for broadcast at 12:06 p.m. on November 16.
Ronald Reagan, Radio Address to the Nation on the American National Red Cross Online by Gerhard Peters and John T. Woolley, The American Presidency Project https://www.presidency.ucsb.edu/node/258985