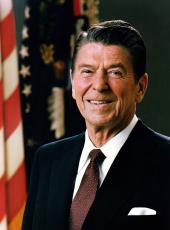 Radio Address to the Nation on the American Family
My fellow Americans:
This is a very special time of year for us, a time for family reunions and for celebrating together the blessings of God and the promises He has given us. From Thanksgiving to Hanukkah, which our Jewish community is now celebrating, to Christmas in 3 weeks' time, this is a season of hope and of love.
Certainly one of the greatest blessings for people everywhere is the family itself. The American Family Institute recently dedicated its book of essays, "The Family in the Modern World," to Maria Victoria Walesa, daughter of Danuta and Lech Walesa, to whose christening came 7,000 Poles expressing their belief that the family remains the foundation of freedom. And, of course, they're right. It's in the family where we learn to think for ourselves, care for others, and acquire the values of self-reliance, integrity, responsibility, and compassion.
Families stand at the center of society, so building our future must begin by preserving family values. Tragically, too many in Washington has been asking us to swallow a whopper: namely, that bigger government is the greatest force for fairness and progress. But this so-called solution has given most of us a bad case of financial indigestion. How can families survive when big government's powers to tax, inflate, and regulate absorb their wealth, usurp their rights, and crush their spirit? Was there compassion for a working family in 21 1/2- percent interest rates, 12 1/2-percent inflation, and taxes soaring out of sight? Consider the cost of childrearing. It now takes $85,000 to raise a child to age 18, and family incomes haven't kept up. During the 1970's real wages actually declined over 2 percent. Consider taxes. In 1948 the tax on the average two-child family was just $9. Today it is $2,900.
As economic and social pressures have increased, the bonds that bind families together have come under strain. For example, three times as many families are headed by single parents today as in 1960. Many single parents make heroic sacrifices and deserve all our support. But there is no question that many well-intentioned Great Society-type programs contributed to family breakups, welfare dependency, and a large increase in births out of wedlock. In the 1970's the number of single mothers rose from 8 to 13 percent among whites and from 31 to a tragic 47 percent among blacks. Too often their children grow up poor, malnourished, and lacking in motivation. It's a path to social and health problems, low school performance, unemployment, and delinquency.
If we strengthen families, we'll help reduce poverty and the whole range of other social problems.
We can begin by reducing the economic burdens of inflation and taxes, and we're doing this. Since 1980 inflation has been chopped by three-fourths. Taxes have been cut for every family that earns a living, and we've increased the tax credit for child care. Yesterday we learned that our growing economy reduced unemployment to 8.2 percent last month. The payroll employment figure went up by 370,000 jobs.
At the same time, new policies are helping our neediest families move from dependence to independence. Our new job training law will train over a million needy and unemployed Americans each year for productive jobs. I should add that our enterprise zones proposal would stimulate new businesses, bringing jobs and hope to some of the most destitute areas of the country. The Senate has adopted this proposal. But after 2 years of delay, the House Democratic leadership only recently agreed to hold its first hearing on the legislation. This is a jobs bill America needs. And come January, we expect action.
We're moving forward on many other fronts. We've made prevention of drug abuse among youth a top priority. We'll soon announce a national missing children's center to help find and rescue children who've been abducted and exploited. We're working with States and local communities to increase the adoption of special-needs children. More children with permanent homes mean fewer children with permanent problems.
We're also stiffening the enforcement of child support from absent parents. And we're trying hard to improve education through more discipline, a return to the basics, and through reforms like tuition tax credits to help hard-working parents.
In coming months, we'll propose new ways to help families stay together, remain independent, and cope with the pressures of modern life. A cornerstone of our efforts must be assisting families to support themselves. As Franklin Roosevelt said almost 50 years ago, "Self-help and self-control are the essence of the American tradition."
In Washington everyone looks out for special interest groups. Well, I think families are pretty special. And with your help, we'll continue looking out for their interests.
Till next week, thanks for listening, and God bless you.
Note: The President spoke at 12:06 p.m. from Camp David, Md.
Ronald Reagan, Radio Address to the Nation on the American Family Online by Gerhard Peters and John T. Woolley, The American Presidency Project https://www.presidency.ucsb.edu/node/262025