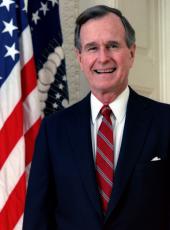 Radio Address to the Nation on the Agenda for American Renewal
This week I laid out my Agenda for American Renewal, a comprehensive set of answers to the most important question Americans are asking these days: What kind of America will our kids grow up in? My agenda offers the promise of a renewed America, an America with a $10 trillion economy by early in the next century. With that kind of dynamic growth we can address our problems here at home and guarantee that America will remain not just a military superpower but an export superpower and an economic superpower.
Today one out of every six manufacturing jobs is tied to exports. So first, I offer a strategic trade policy, including new free trade agreements with the emerging democracies of Eastern Europe. By increasing trade we increase American jobs. It's as simple as that.
If we want America to compete with other nations, we have to change our schools. Through my America 2000 program we are already reinventing education in almost 2,000 towns and cities. And I want to give scholarships to low- and middle-income students so that parents can choose where their kids go to school, whether public schools, private schools, or religious schools.
Even with new schools, graduates are going to need good jobs. So the third part of my agenda is to sharpen our businesses' competitive edge. That means cutting taxes and regulations on small business. It also means doing away with the crazy lawsuits that strike fear into the hearts of every business man or woman. Get this: American businesses and consumers now spend up to $200 billion each year just on direct costs to lawyers. I don't want to see an America where only lawyers get rich. I want to see an America where workers can get rich.
The fourth part of my agenda is extremely important: to promote economic security for all working people. For example, I have a program to control health care costs, to allow you to take your coverage from job to job, and to make health care available to almost 30 million Americans who simply can't afford it today.
In the 21st century we will need the talents of everyone, regardless of whether you were born in city or suburb. And that's agenda item number five: opportunity for all Americans. It means reforming our welfare system. Already we've given States authority to experiment with programs that don't just give people a check but reward work and personal responsibility.
The final part of my agenda is especially important: "rightsizing" Government. I believe the Federal Government today is too big and spends too much of your money. My opponent wants to raise taxes and raise spending. I put forth almost $300 billion in specific cuts in spending over the next 5 years. I want to use the savings to reduce taxes and get this economy moving, and get the deficit off our children's shoulders.
This is my Agenda for American Renewal. Parts of it are already underway; parts of it are new. I will fight for this agenda with the new Congress and its 150 expected new Members. If Congress balks, I will work with Governors, mayors, teachers, community leaders to keep my agenda moving forward.
My opponent has reached into the medicine cabinet and offered the same tired old prescription: more Government and bigger Government. My agenda for America offers new solutions, solutions that give power to you, not Government. This is the way we will create a $10 trillion economy. This is the way we can match the peace we've achieved around the world with peace of mind here at home.
Thank you for listening.
Note: This address was recorded at 9:50 a.m. on September 10 in the Oval Office at the White House for broadcast after 9 a.m. on September 12.
George Bush, Radio Address to the Nation on the Agenda for American Renewal Online by Gerhard Peters and John T. Woolley, The American Presidency Project https://www.presidency.ucsb.edu/node/267578