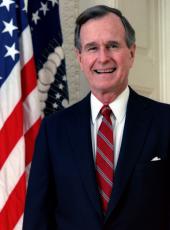 Radio Address to the Nation on Job Training 2000
This past week I spent some time in the town of Fraser, Michigan. I met with workers at a major machine tool factory and talked with them and local business leaders about a program I call Job Training 2000. Thursday, I was in Allentown, Pennsylvania, in the Lehigh Valley, one of the first communities to take up our America 2000 crusade to revolutionize this Nation's schools.
In Michigan and in Pennsylvania, I announced specific proposals, legislative initiatives aimed at helping people with two of the real building blocks of opportunity: advancing their education and sharpening their job skills. If acted on by Congress, these initiatives will make a real impact on the way people live, not just in Fraser and in Allentown but all across America.
Let me start with a concept I call the "lifetime education and training account," a package of grants and a line of credit worth $25,000 to every eligible American to use to further their education or acquire new job skills to make the most of their abilities. It's a new way of thinking about an old idea known as student aid. And it's based on this simple fact: Education does not end with graduation.
How will this lifetime education account help real families? Think of a single mother struggling to balance her responsibility for her family and for her job against her own hopes for the future. Her dream is to set aside one night a week and take one college course at a time. But money's tight, and under present Federal rules as a part-time student she doesn't qualify for the grant or loan that would help pay tuition. That just doesn't make sense. Here's a woman willing to work hard to better herself, stopped short by a program that works against her. With our lifetime line of credit, all that would change. The woman would be able to go to school, bring that distant dream another day closer. When Government can help people help themselves, that's the kind of Government we need.
And the other proposal I announced was a new apprenticeship initiative, a companion program to our Job Training 2000. To see what kind of difference this initiative can make, take that same family, the working mother I mentioned earlier, this time with a 17-year-old son, a senior in high school. He's made the decision that it's time for him to enter the working world, to help out by bringing home a paycheck. Right now, he faces a tough choice, juggling school and a job. He's trying to do both, and both are suffering. He doesn't want to close the door on college, but he's feeling pressure to drop out.
Our "Youth Apprentice Act" can help that young man stay in school, keep his job, and keep his options open. It will let him sit down with his school and his employer, put together a course of study and a job schedule that will keep him on track for graduation. And later on, if that young man wants to change careers or go to college, he's got a skill certificate to show future employers and a diploma that really means something.
Each one of these initiatives begins with the same question: What can Government do to open the doors of opportunity to every American? As the President, I've made it my mission to preserve and advance three legacies close to all our hearts: a world at peace, an economy with good jobs, a Nation of strong families. The initiatives I've talked about today can help Americans make those legacies their own.
Thank you for listening today. And as so many of you celebrate Passover or prepare for Easter Sunday, may God bless the United States of America.
Note: This address was recorded at 8 a.m. on April 16 in the Cabinet Room at the White House for broadcast after 9 a.m. on April 18.
George Bush, Radio Address to the Nation on Job Training 2000 Online by Gerhard Peters and John T. Woolley, The American Presidency Project https://www.presidency.ucsb.edu/node/266761