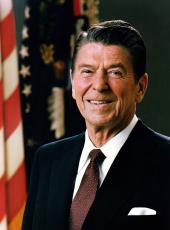 Radio Address to the Nation on International Stability
My fellow Americans:
As you know, Nancy and I were in New York City this week to help mark the 40th anniversary of the United Nations. I remember well that summer in 1945 when, out of the great devastation of World War II, the United Nations was born.
Well, this week also marks another important anniversary. Just 2 years ago, the United States came to the rescue of democracy and of hundreds of American students in Grenada. All of us can be proud of the swift response of our country, together with Grenada's democratic Caribbean neighbors to the SOS from Grenada's Governor General Paul Scoon. He appealed for our help to restore order in his country, threatened by the machinery of dictatorship. The scores of Communist-bloc advisers that we found on the island, not to mention the supplies of Soviet arms and files of secret treaties with Communist states, showed the world what the people of Grenada had learned firsthand how Communist revolutionaries can hijack an entire country. Today Grenada is free, and we're helping rebuild their economy. Their democratically elected leader, Herbert Blaize, told me there's more to be done, but "thanks to America, we will make it work."
Well, the deep desire to be free moves people everywhere to resist oppression, from Afghanistan to Cambodia, Angola, Ethiopia, and Nicaragua. Make no mistake, the attempt to impose repressive dictatorships subordinated to Soviet objectives is a fundamental source of tension in many regions of the world. This is why our support for struggling resistance forces shall not cease, why in my address to the U.N. I proposed a three-part initiative to resolve regional conflicts: First, negotiations among warring parties to end the violence and to bring about the democratic reforms and respect for human rights essential for national reconciliation. Second, once progress is made by those directly involved, the United States and the Soviet Union should negotiate the elimination of all foreign military presence and flow of outside arms. Third, when progress is made through negotiations to end the violence, to bring about democratic reforms and to eliminate the foreign military presence, the United States will ask other nations to join in supporting economic recovery and reconstruction.
When I meet with General Secretary Gorbachev in Geneva, I intend to make our regional peace initiative a key part of our discussions. How can we discuss the goal of a more peaceful and civilized world without discussing those places where peace is being violated and innocent people are being killed? Does the Soviet Union share our conviction that true peace must rest on the right of all people to choose their destiny, to grow and develop free from coercion and fear? Well, we shall see in Geneva. Secretary of State Shultz will be taking up these and other issues on his forthcoming trip to Moscow.
We Americans are practical. We seek practical solutions to problems that seemed intractable, from achieving the universal immunization of children to finding new ways to protect civilization against missile attack. Talking about a safer world is not good enough; we must make it happen. I had detailed discussions with some of our allied leaders this past week. Our conversations convinced me more than ever that we are on the right track. We're negotiating hard with the Soviet Union on reducing offensive nuclear weapons. We have proposals on the table for deep reductions and are examining their counterproposal. We're also determined to move ahead on research and testing of our Strategic Defense Initiative to see whether an effective nonnuclear defense against a nuclear attack is feasible.
Finally, we're combating the deadly menace of international terror. Our action weeks ago to apprehend the Palestinian hijackers was not our last. We're working with all peace-loving nations to create a united front against terrorism, and we're fighting the international narcotics traffickers poisoning our youth. The First Lady's drug conference at the United Nations, which Nancy hosted this week, bringing together 31 first ladies from around the world, will raise global awareness and hopefully touch the conscience of the world.
This has been an important week. We have held high our banner for personal freedom, human progress, and global peace. Now we must go forward to do what is not only practical and beneficial but what is right and just.

Until next week, thanks for listening.
Note: The President spoke at 12:06 p.m. from Camp David, MD.
Ronald Reagan, Radio Address to the Nation on International Stability Online by Gerhard Peters and John T. Woolley, The American Presidency Project https://www.presidency.ucsb.edu/node/259378