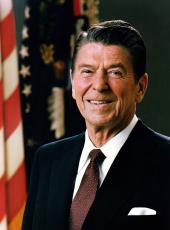 Radio Address to the Nation on Employment Programs
My fellow Americans:
Today I'd like to talk about jobs for our people. Now, without sounding too much like I'm giving a lecture, there are two basic types of unemployment—cyclical and structural.
Cyclical unemployment results from changes in the business cycle, the ups and downs of the overall economy. Almost half of our current unemployment program [problem] is cyclical—the direct result of the recession. The best cure for cyclical unemployment is to get the economy moving again, and our economic program is doing just that.
Recently, the figures for industrial production, housing starts and sales and new orders for manufactured durable goods have all been good news. Just this week the index of leading economic indicators, a harbinger of what's to come, registered the biggest single jump in 33 years. This improving economy will assist those who suffer from cyclical unemployment as business picks up and workers are called back to stores, factories, offices, and construction sites around the country.
As you know, the unemployment rate dropped in January and then held to that level in February. I've said before, unemployment always lags behind the rest of the recovery. But the rate will be heading downward. The other economic indicators are too encouraging for it to hold out much longer.
We here in Washington can ease the transition for the cyclically unemployed with short-term help. We can move up job opportunities by accelerating certain government projects and aiding those in deep distress. The Congress and I are working out our differences on such legislation right now, and I would hope it could be on my desk for signature within the next week.
Now, the other kind of unemployment is structural. Structural unemployment is not the result of temporary slumps in the economy. It is caused by deep and lasting changes in science, technology, competitiveness, and skills. The structurally unemployed are those who don't have the skills demanded in today's workplace. Generally, we're talking about the long-term unemployed-the displaced workers from declining industries and the young who lack work training and experience.
I know this is pretty dry stuff, but I think it's important to explain because structural unemployment is a problem that will be with us for some time. And, remember, that behind those dry terms are people—black teenagers who desperately want a first job and older workers grappling with the adjustment of losing their life's work.
Up until now, no one has successfully addressed structural unemployment on a national scale. But next week, I will send the Congress a proposal that brings some important new approaches to the problem. We want to provide incentives for businesses to hire the long-term unemployed.
Under our proposal, a worker who's been unemployed for an extended period could convert the unemployment benefits he receives into job vouchers which would entitle his new employer to a tax credit. The overwhelming majority of those who've been unemployed for long periods would gladly trade their benefits for a job, if they could only find one. What they're looking for is an opportunity to become productive again. This voucher system gives them a better chance to do just that.
We also want to increase by about 10-fold to $240 million the funding for that part of the Job Training Partnership Act that helps displaced workers. This program will offer matching grants to the States for retraining, job search, and relocation assistance to displaced workers. And we also propose allowing States to use up to 2 percent of their unemployment insurance tax revenues-that could mean an estimated $374 million of additional funds—for reemployment assistance.
And, of course, I'm asking the Congress for over $3 billion for those programs that last year replaced the ineffective CETA program, where only 18 percent of the money was actually used for training the unskilled.
That old cliche that you can't get a job until you have experience and you can't get experience until you have a job really is true for too many young people, especially our minority young people, among whom the unemployment rate is a staggering 45 percent for black teenagers. One of the main reasons many youngsters have difficulty finding jobs, especially their first job, is the minimum wage. Employers simply aren't willing to pay this set wage rate to youth with no work experience. So, to help young people find jobs, I propose a youth opportunity wage at $2.5 per hour, 25 percent below the regular minimum rate of $3.35.
Young people, of course, don't have to accept this amount, and I know many will be able to command the regular minimum wage. But this new wage will allow youngsters who don't have any experience to make a start in the workplace. What we're trying to do is get them some experience so they can move up the payscale.
Some people have feared that as a result of the new youth wage, businesses would replace adults with young people. Well, we've taken precautions so that won't happen. First of all, the youth wage will only be available during the summer months, when kids are out of school. And second, we will add provisions that absolutely prohibit businesses from displacing current workers by hiring young people at a lesser wage.
The American economy is on the mend. And one of the reasons is that we've finally begun to correct some of the past errors of government that brought on inflation, high interest rates, and recession. But as the economy mends, government can help to ease the painful transition for many of our people. The proposals I've outlined today do this by assisting the unemployed in finding the training, the help, and the jobs they desire and deserve.
Until next week, thanks for listening. God bless you.
Note: The President's remarks were taped at 4:15 p.m. in the St. Francis' Hotel library in San Francisco, Calif, on March 4 for broadcast at 12:06 p.m. e.s.t. on March 5.
Ronald Reagan, Radio Address to the Nation on Employment Programs Online by Gerhard Peters and John T. Woolley, The American Presidency Project https://www.presidency.ucsb.edu/node/262800