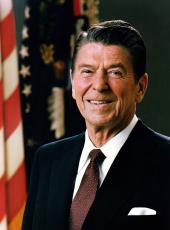 Radio Address to the Nation on Education and Drug Abuse
My fellow Americans:
Labor Day weekend is behind us, another summer is almost past, and soon the leaves will start turning colors. But perhaps the surest sign of fall is the sight of young people heading off for their first days of school. This fall I'm glad to say the schools that our children are returning to are in many ways the best they've been in years-markedly better and still improving. Five years ago there was a widespread feeling in our country that our schools were not doing their job. That's why, in the first few months of this administration, we established a National Commission on Excellence in Education to assess the condition of American education.
Sure enough, the Commission reported back that the instincts of the American people were right: Our schools were in serious trouble. They were doing so poorly, the Commission said, that if a foreign nation had done to our schools what we'd stood by and let happen, we would have considered it an act of war. That warning touched off a wave of reforms that swept through nearly every town, school district, and State capital in the country—a grassroots movement for education reform that generated more enthusiasm and more action than any amount of dollars or directives from Washington ever could have. And, as usually happens when the American people pull together, your efforts are paying off. Test scores show that students in 35 States have improved their educational performances—progress, to be sure. And education reform is proceeding full speed ahead.
Just 2 weeks ago the Nation's Governors met to offer their own proposals for carrying education reform into the nineties. Among other proposals, the Governors suggested that parents have more choice where their children go to school. If one school doesn't do the job right, let them send their children to a school that does. The Governors call their report, "Time for Results"—and with no-nonsense proposals like these, you can bet they'll get results in the years to come. I think we can all expect to see a lot more action in our State capitals, right where it belongs. Let me also call attention to "First Lessons," Secretary [of Education] Bennett's fine, new report on our nation's elementary schools. With this kind of useful information, parents and teachers will be able to continue their progress in the task of fixing our schools.
As our young people return to school this year, I'd like to close with a special message on something that is fundamental to success in school and throughout life—and that is staying drug free. Over the summer, we've witnessed a growing national awareness of the waste and tragedy that always lies just one step behind drug use. When it comes to young people using drugs that tragedy is especially great. There's no better time than now—and no better place than our schools—for all Americans to stand up, get involved, and do something about drugs.
Later this month, Nancy and Secretary Bennett will introduce a handbook for communities to use to rid schools of drugs. Just as surely as it will require the diligence of parents, teachers, and principals, beating drugs in our schools will require the involvement of neighbors, community groups, law enforcement officials, churches, and synagogues. Everyone will have to get involved. But most importantly, beating drugs will require the courage and conviction of our young people themselves. To those students who are listening today, I'd like to offer a special message: It may be a while ago now, but I can remember how tough it is sometimes being young, and when I was a kid, we didn't have all the temptations and distractions of this modern society. I know that sometimes it takes all the courage you can muster to "just say no," to go with your conscience, what you know is right, rather than with the pack. But that effort is worth it. Don't get caught up in drugs.
America has a big and exciting future, an open future of expanding possibilities your parents never even dreamt of—and you can be a part of it. Like they said at the end of the movie "Back to the Future": "Where we're going, we don't need roads," just an eager heart and a clear mind. America needs you open, alert, and drug free to help make that future happen. So, I'm going to ask you a favor: Say no to drugs, and tell your friends to say no, too. Saying no isn't just important for you, it's a great opportunity for you to do something for your country. Each time you say no to drugs, you'll be helping America beat one of the most serious challenges we've ever faced. And believe me, you'll be a hero in my book.
Until next week, thanks for listening, and God bless you.
Note: The President spoke at 9:06 a.m. from his ranch in Santa Barbara County, CA.
Ronald Reagan, Radio Address to the Nation on Education and Drug Abuse Online by Gerhard Peters and John T. Woolley, The American Presidency Project https://www.presidency.ucsb.edu/node/260055