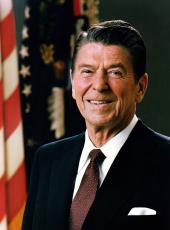 Radio Address to the Nation on Economic Growth and the Situation in Nicaragua
My fellow Americans:
Seven years ago, as a newly elected President, I traveled to Canada for my first economic summit with the leaders of the other major industrial democracies. Tomorrow I will attend my eighth and final economic summit, and it's remarkable to think how much things have changed.
When I took office, unemployment was climbing, inflation was soaring, Federal spending was out of control, and interest rates had topped 20 percent. The economic mess we faced was clear. And it was also clear that without a recovery in the United States there was little chance for the world economy to get back on its feet. The world stood, as one foreign leader put it, in the "trough of the recession," faced with the "twin evils of inflation and unemployment." It was, as another head of government said at the time, "one of the most difficult periods of the Western industrial countries." The question was what to do.
And that was when we presented a bold new program of cutting tax rates and excessive regulation, opening world markets, and letting the private sector lead the way to economic recovery. Today we're in the longest peacetime economic expansion on record. We have created nearly 17 million jobs in the last 5 1/2 years. That's twice as many new jobs as the other six summit countries combined, and those countries have a working-age population that's over 60 percent larger than the United States.
But our own prosperity is only part of our achievement. We have also led the world toward a remarkable consensus: that economic freedom, not state planning and intervention, holds the key to growth and development. Yes, the other industrial democracies have joined us on this path. But it goes further than that. From India to Argentina, from Africa to China and even in the Soviet Union, the shackles of state economic domination are beginning to loosen. So, in winning this battle of ideas, we're helping to enrich and liberate the working people and entrepreneurs of the entire world.
And at the Toronto summit, we're going to work together to make sure that this great "venture to progress" continues. That means further opening the international marketplace and increasing the coordination of our policies. That means bringing the newly industrialized countries into the full and mature place in the world trading system that they have earned. And it also means working together, however, to put an end to one type of trade: illegal drug trafficking. So, these topics and others, such as the rebuilding of Afghanistan and the Philippines, international debt, and agricultural subsidies—these will be on the Toronto agenda.
But before I travel across our northern border to Canada, I'd like to talk for a minute about a situation south of our border, in Central America. This is a problem that's close to home and that demands our strong attention.
Back on February 3d this year, the Congress, by just an 8-vote margin, took a dangerous gamble with our national security and the prospects for democracy in Central America. You see, on that day the House of Representatives voted down my request to continue effective support for the Nicaraguan freedom fighters. The opponents of aid argued that they were giving peace a chance by unilaterally disarming the freedom fighters. But today the Nicaraguan talks are at an impasse, the victim of the Sandinistas' bad faith and Congress' bad judgment. The leaders of the resistance who courageously went to Managua to seek concrete democratic freedoms were instead subjected to lies, abuse, harassment, and threats of physical harm by the Communist government. Costa Rican President Arias said that the democratization that was required of Nicaragua "has not happened," citing Sandinista "intransigence." The Sandinistas have proved repeatedly that they will not democratize without pressure. As they've shown at Contadora, Manzanillo, San Jose, Esquipulas, and Sapoa: Peace talks for them are just political theater, a way to weaken the democratic resistance while consolidating their militant Communist regime.
I've warned that if we fail in Nicaragua we could one day face a Communist Central America spreading subversion northward and southward. As I said in 1984, this would pose "the threat that 100 million people from Panama to the open border of our South could come under the control of pro-Soviet regimes." That is why we must work for a free Nicaragua. Even the Washington Post, in an editorial last Sunday, urged one key faction of House Democrats to "stop chasing ghosts and playing political games." We can still secure peace and freedom in Central America, but time is growing short, and the stakes ever larger. If we fail to act in time, the American people will demand to know why.
Until next week, thanks for listening, and God bless you.
Note: The President spoke at 12:06 p.m. from the Oval Office at the White House.
Ronald Reagan, Radio Address to the Nation on Economic Growth and the Situation in Nicaragua Online by Gerhard Peters and John T. Woolley, The American Presidency Project https://www.presidency.ucsb.edu/node/254825