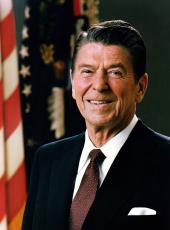 Radio Address to the Nation on Economic Growth
My fellow Americans:
I hope you're relaxed and in a cool place, because I want to start this Saturday afternoon off talking about a hot topic: the economy. To begin with, the most recent statistics show that the economy grew much faster in 1985 and the beginning of this year than we previously thought. Gross national product figures for real growth in '85 were revised up almost a full point, and growth in the first quarter of '86 was a strong 3.8 percent. Now, that's pretty good, especially compared to the performance of some of our major trading partners, such as Germany and Japan, which actually saw their gross national products shrink in the first quarter.
The news on inflation continues to be even better than our hopes. Consumer prices actually fell during the first half of this year, giving us the lowest rate of inflation in more than 30 years. All this adds up to an economic expansion which is stronger than we originally thought and is now one of the longest peacetime expansions in half a century.
In many other ways, too, our economy is showing itself strong and ready for more growth. Sales are up. Real disposable income—that's the part of your paycheck you get to keep after taxes—is up a hefty 7.2 percent. Housing investment is up. Interest rates are falling. And the stock market is up an incredible 30 percent in just 1 year. Those people in the market are investing in a big way in America's future. As lower oil prices work their way through the economy and as the lower dollar improves U.S. sales abroad, things will look even better.
But not all the news was as good as we'd hoped: Some of the figures indicate slower second quarter growth than expected. Now, you won't be surprised to hear that the doom and gloom artists, who said this current expansion could never happen, have been painting dark pictures and saying that our expansion may be over. Well, believe me, they couldn't be more off the mark. The figure they point to is last quarter's real gross national product growth rate of plus 1.1 percent. And although this figure will almost certainly be revised, just as the previous figures were, there's no gain-saying that it's lower than we wished.
The fact is, there are some temporary factors that slowed the growth in our economy for a short time. Part of the problem is the slow and even negative growth I mentioned earlier in our major industrialized trading partners. If they're growing slower than we are, they simply can't afford to buy as much from us, and that hurts our economy, too. Also, important industries in some regions of the country are struggling with special problems. I'm thinking especially of oil, agriculture, steel, and textiles. The workers and families in those troubled industries are always on my mind, and that's all the more reason I'm determined to keep this economy moving, creating jobs and opportunity, so as to ease as much as possible those sometimes unavoidable adjustments.
But some of the slower growth we saw last quarter was actually the result of some very good news on the horizon, and that's the tax reform bill. The uncertainty that was an unavoidable part of the legislative process on the Hill [bill] has likely caused some businesses to hesitate with their investment and other economic decisions. When the tax bill is finalized and businessmen and venture capitalists know the new ground rules, then we can expect business to really start moving. Some people, too, are probably postponing realizing income until the more favorable rates of tax reform come into effect. To give an example: If you heard there was a department store sale on Saturday, would you rush to the store on Friday and make a lot of purchases, or would you wait till Saturday? Well, likewise, our economy is waiting for tax reform's lower rates. In that sense, this temporary, slower growth we're experiencing is a sign of anticipation about the future and better times to come.
When we came into office on a hot summer day—well, we didn't come into office on a hot summer day—the economy had about as much energy as a hound dog on a hot summer day. Some people said that we'd never get it on its feet again. Well, we cut tax rates nearly 25 percent across the board and squashed inflation, and we let loose one of the longest peacetime expansions ever. Our robust economy has created over 10 million jobs since the recovery began—more than Western Europe and Japan combined. Imagine, then, the effect of tax reform's dramatic tax rate cuts, coming as they will on top of an economy that is fit and healthy and ready for action.
So, don't pay too much attention to those gloom artists. America's economy is strong, our future bright. With tax reform lighting our heels in the coming year, well, it will give new meaning to the phrase: You ain't seen nothin' yet!
Until next week, thanks for listening, and God bless you.
Note: The President spoke at 12:06 p.m. from Camp David, MD.
Ronald Reagan, Radio Address to the Nation on Economic Growth Online by Gerhard Peters and John T. Woolley, The American Presidency Project https://www.presidency.ucsb.edu/node/259243