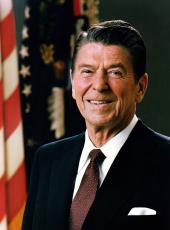 Radio Address to the Nation on Armed Forces Day
My fellow Americans:
You may have heard me say before that one of the things I like most about my job as President is visiting and talking with our young men and women in uniform. I've met them all over the world—at our Army outposts along the demilitarized zone in South Korea, on board the U.S.S. Constellation, in the hangars of Tempelhof Air Base in West Berlin, at Parris Island in South Carolina, and at the Coast Guard Academy a few days ago. And everywhere, I've seen that their commanders are right: They're the best we've ever had. I mention this because today is Armed Forces Day. Yes, this is the day for all of us to salute the soldiers, sailors, marines, and aviators who stand sentry on the frontiers of freedom all over the world. We say thanks to the patriots who, whether under the midnight star or the noonday Sun, are always alert so that America's peace and liberty will always be safe.
Seven years ago, when we came to Washington, we found that our armed forces had been badly neglected. We found airplanes that could not fly and ships that could not sail for lack of trained people and spare parts. The military couldn't recruit enough good people or hold on to those they had. Today that's changed. The men and women in the services are well-trained and well-equipped. Almost all new recruits have a high school diploma. Never before in peacetime have we had a military that is as well-prepared.
Just last month, the world saw what those who serve America on freedom's front-what they can do when the chips are down. I'm speaking of the story of the U.S.S. Samuel B. Roberts, a guided-missile frigate and part of our task force to help protect passage through international waters in the Persian Gulf. The Roberts was on patrol when it hit a submerged mine. The mine blew a huge hole in the ship's hull, sent a fireball shooting up the exhaust stack and 150 feet in the air, and almost tore the Roberts in half. Luckily, no one was killed. Some might have said that she was doomed—head for the life rafts. Well, that's not what the men of the Roberts said. They were determined to show what they could do. Acting fast, they held the Roberts together with bolts and wire, took care of their injured, escaped the mine field, and with the help of other Navy ships got safely to harbor. The captain [Comdr. Paul X. Rinn] summed up the spirit and determination of the entire crew when he closed his report saying of the Roberts: "We saved her, we'll fix her, and we'll fight again." And he signed off with their motto, "No higher honor." That's the spirit, skill, and dedication that has been rebuilt in all our armed services today. "No higher honor" could be the motto of every American in uniform.
Yesterday, to show the Nation's gratitude again, I signed into law three bills expanding veterans' benefits in education, job training, health care, and other areas. The men and women on duty today should know that we'll still be behind them when their service is done. They also deserve to know that, like them, we're all doing our part to keep the peace. This week I was pleased that the Senate began floor debate on the Intermediate-Range Nuclear Forces, or INF, treaty. This treaty has had a thorough and useful examination in committee. Now the Senate can join with me and show both our allies and adversaries that it, too, wants to help build a brighter peace and better world. I hope the Senate will provide its consent to ratification of the INF treaty in time to bring it into force during my meetings with the General Secretary in Moscow.
On this Armed Forces Day, let's also remember the important role the armed services have been playing in supporting law enforcement agencies in the fight against drugs. I asked the Secretary of Defense this week to find even more ways to use military resources against drug smugglers. I also called for a joint task force—executive branch and Congress—to draw up a unified plan to fight drugs. I hope the leaders of Congress agree with me that the campaign against illegal drugs must not be hostage to headline seeking and partisan politics.
This week we had another sign of America's strength, its economic strength, which undergirds all of our national security efforts. Trade figures came out for March. America exported in March more than ever before. Against this background of good news on trade, I am going to veto the ill-advised trade bill Congress has sent me. Once my veto is sustained, we'll work hard to get a responsible trade bill, one that will strengthen, not weaken, our economy.
One last thought for Armed Forces Day and every day: If you see someone in uniform, would you go up, shake their hand, and thank them.
Until next week, thanks for listening, and God bless you.
Note: The President spoke at 12:06 p.m. from the Oval Office at the White House.
Ronald Reagan, Radio Address to the Nation on Armed Forces Day Online by Gerhard Peters and John T. Woolley, The American Presidency Project https://www.presidency.ucsb.edu/node/253845