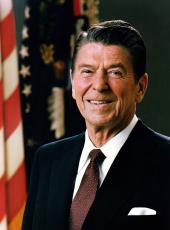 Radio Address to the Nation on Administration Goals
My fellow Americans:
A few days ago, when I arrived in the House Chamber for the State of the Union Address, I also hand delivered a formal legislative message. Today I thought I would share with you some of our goals and objectives for this Congress.
In the State of the Union Address, I spoke of our quest for excellence, especially in education. To achieve this, I've suggested to Congress that we target our Federal resources on the neediest schools and youngsters, that we set a goal of dramatically raising the literacy levels in America by the year 2000, and that we permit greater flexibility and innovation in federally funded, bilingual education programs.

Education, of course, is not just schooling, and it is not just for the young. We'll be proposing to Congress a new program to help workers displaced by the rapid changes going on in our economy. Our billion-dollar effort will provide the education and training needed to help an estimated 700,000 additional workers each year restructure their lives to keep them and America competitive in world markets. For less fortunate families, we're also proposing a new emphasis on employment and training through a program we call Greater Opportunities through Work, or GROW for short. Complementary to that, we are asking that $800 million be spent for improving the skills of children from welfare families, giving these youngsters a road map to a life out of poverty.
To keep our country on the cutting edge of change, I am proposing to Congress that we double the budget of the National Science Foundation over the next 5 years and that we establish a number of new science and technology centers based at U.S. universities, centers that would reflect a partnership in basic research between government, business, and the academic community. Since 1981 our budgetary support for basic research has grown 47 percent in real terms. We are committed to keeping our country leading the way in the era of science and technology. Meeting the competitive challenges of today and tomorrow won't be easy. Vice President Bush, who led the deregulation drive early in the administration, is taking a fresh look to see what can be done, from a competitiveness standpoint, to clear away unnecessary Federal regulation and paperwork burdens. One thing that will help is coming to grips with the costly liability insurance spiral. Legislation to do that, while still providing the necessary protections for consumer and health safety, will soon be proposed.
One of our greatest challenges is to accomplish our goals while still reducing the level of deficit spending that so threatens our future. Now is the time for discipline and restraint in the halls of power. You might remember, in the State of the Union I asked Congress for a line-item veto, ratification of a balanced budget amendment, and reform of the budget process. If we're to put our fiscal house in order—and that's essential—it requires fundamental, structural change. And I'm willing to work with Congress to get it done.
One of our priorities, one of the top, continues to be the fight against drug abuse. There've been claims that we've backed off our commitment this year. Nothing could be further from the truth. With all due respect to those who suggest otherwise, our commitment to the battle against drugs is stronger than ever. Since 1981 the funds budgeted for this effort have been tripled, and some of the funds already appropriated will actually be spent next year. So, even though next year's antidrug budget request is a bit lower, more funds will actually be spent in the battle than ever before.
On another point, you should also be aware that the amount spent on education in America has increased every year of our administration. Instead of taxing it away from local people and giving it back to them along with Federal guidelines and controls, we've left that revenue in local coffers and in your hands, so you the people, working with your local school boards, can determine how your children will be educated. As for higher education, the Federal Government will be spending less, but with the changes we've proposed, fewer dollars are needed to help the same number of students.
The changes we've made in these last 6 years have kept us on a steady course, have maintained the peace, and promoted healthy growth in our economy. The state of the Union is good, and together we're going to keep it that way.
Until next week, thanks for listening, and God bless you.
Note: The President spoke at 12:06 p.m. from the Oval Office at the White House.
Ronald Reagan, Radio Address to the Nation on Administration Goals Online by Gerhard Peters and John T. Woolley, The American Presidency Project https://www.presidency.ucsb.edu/node/252901