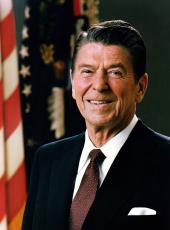 Radio Address to the Nation on Administration and Congressional Goals
My fellow Americans:
Last Saturday I spoke to you about the congressional budget process, how it had completely broken down and was in urgent need of reform. As I said then, there are many in Congress, on both sides of the aisle, who agree that something must be done, and done now, to prevent this out-of-control budget process from further threatening the economic well-being of our nation. Well, this week I want to talk about how a similar bipartisan consensus is forming in Congress around many other issues—both domestic and international—holding out the hope of significant progress in the months ahead. So, let's take a moment to look at our broader agenda and see just where we stand.
One of the most troubling issues facing our country is drugs. But it's a problem that, working together, I know we can lick. I must say, I couldn't have been more heartened than during this fall's campaign. Wherever I went, the rallies were thronged with young people. So, before I got into the substance of my speech, I'd usually start off with a message to them from Nancy. I would say, "When it comes to drugs, please—for yourselves, for your families, for your future, and for your country—just say no." And it was a marvelous thing. Almost all the time, by the time I got to the end, those hundreds of young people were on their feet calling out loudly along with me, "Just say no!" America is united today as never before in its recognition that illegal drugs are evil—pure and simple—a threat to our children and our nation that simply cannot be tolerated.
Well, I'm glad to say that both parties in Congress were able to cooperate and act quickly in confronting this problem. While we'd hoped that the final drug bill would include stiffer penalties—including the death penalty—for the pushers who prey upon our nation's youth, this bill still represents a major step forward, including stiffer law enforcement and improved efforts at antidrug education and treatment.
Another example of cooperation is the bipartisan consensus that formed around tax reform. Last month I signed a bill that will give us the most modern tax code and the lowest marginal individual tax rates of any major industrialized country. It will make America more productive, more competitive abroad, and more prosperous at home. Eighty percent of the American people will pay a top Federal income tax rate of only 15 percent or less. Families will get a long overdue tax break, and millions of poor will be dropped from the tax rolls altogether. It's no exaggeration when I call tax reform simultaneously the best jobs creation bill, the best antipoverty legislation, and the best profamily legislation the U.S. Congress has ever produced. Having come so far, we cannot let ourselves slide back into the past. We must strengthen the consensus that tax hikes on the American people are simply out of the question. It is Congress's responsibility to cut the Federal budget and leave the family budget alone.
A third area of cooperation—in many ways the most important—has been on the grave threat of Communist subversion in our hemisphere. This year many Senators and Congressmen on both sides of the aisle joined us in supporting military assistance to the brave freedom fighters in Nicaragua. I believe we're beginning to see the recreation of the fundamental bipartisan consensus on national security issues that guided this nation through much of the postwar era. Nothing could be more important than this: When it comes to America's national security, politics must stop at the water's edge. America must remain united in spirit and strong in purpose. We must resist together the threat to our security and freedom posed by an aggressive, Soviet-sponsored regime on the American mainland.
So, I'm looking forward to working with the 100th Congress. Together, there is much we can accomplish. At the same time, let me make it clear that America cannot retreat from its basic commitments, and where I see backsliding, I will not hesitate to use my constitutional veto power to keep America strong and secure and moving forward. My hope is that in the 100th Congress we will strengthen the consensus we have achieved on these issues of progrowth tax cuts, spending reductions, and protecting our national security in Central America. And I hope we can make up for lost time in other areas, especially the urgent task of budget reform, so we can keep America moving forward on the track of peace, progress, and prosperity.
Until next week, thanks for listening, and God bless you.
Note: The President spoke at 12:06 p.m. from Camp David, MD.
Ronald Reagan, Radio Address to the Nation on Administration and Congressional Goals Online by Gerhard Peters and John T. Woolley, The American Presidency Project https://www.presidency.ucsb.edu/node/258152