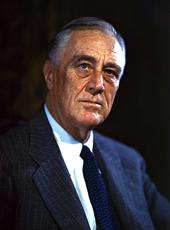 Radio Address to the Forum on Current Events.
To you who are attending this Forum on Current Events, I again extend my good wishes and my congratulations on its success.
I am speaking from the railroad train in Cleveland on my way home after a two weeks' trip to the Coast and back, and it is, therefore, natural perhaps that my thoughts at this moment run to travel.
I do not want to detract in any way from the value of a Forum when I say that no human being can possibly get a complete picture or a rounded conception of any national problem without traveling through the country and talking with people in every walk of life in every section of the Nation.
The professor and student in a university, the newspaper editor and the reporter, the man in public life and his local constituent, can and do learn greatly by much reading, much study and much discussion, especially if the reading, the study and the discussion cover all sides of any given question. But the result of it all is almost inevitably tinged with provincialism or narrowness if it is not supplemented by "field work." By "field work" I mean not merely personal observation of the actual practice involving the immediate problem in the home town, but also observation in a field which covers the entire nation.
I knew a man once who, after graduation from college with a Bachelor of Arts Degree, kept right on by taking a degree in Science, a degree in Law, a degree in Medicine and several graduate degrees in other subjects. When I knew him he was forty-five years old and had been at college for more than a quarter of a century. He was a walking encyclopedia but had never been outside of his home town, and he was about the most bigoted, narrow-minded, unsophisticated and generally impossible person I have ever met.
It is unfortunately true that in respect to public affairs and national problems, the excellently educated man and woman form the least worthwhile opinions, for the simple reason that they have enough education to make them think that they know it all, whereas actually their point of view is based on associations with others who, in their geographical outlook, are about one inch wide.
That is why, in the utmost good humor, I hope that in the days to come our educated and thoughtful citizens will make some special efforts to know their own country better.
A distinguished editor of the Tribune once suggested that young men should go West. I would amend this by suggesting that men and women, old and young, should go not only to the West of Horace Greeley, but all the way to the Coast—should go South and North and East.
And in their travels, may I repeat a suggestion which I once gave to a young man in New York who thought he knew it all. I said, "Take a second-hand car, put on a flannel shirt, drive out to the Coast by the northern route and come back by the southern route. Don't stop anywhere where you have to pay more than $2.00 for your room and bath. Don't talk to your banking friends or your Chamber of Commerce friends, but specialize on the gasoline station man, the small restaurant keeper and farmers you meet by the wayside and your fellow automobile travelers."
The Forum is a grand institution. We ought to have more of them, but they ought to be supplemented by an intensive drive to get people to know their own country better. It is a grand country and we can all be proud of it.
Franklin D. Roosevelt, Radio Address to the Forum on Current Events. Online by Gerhard Peters and John T. Woolley, The American Presidency Project https://www.presidency.ucsb.edu/node/208845