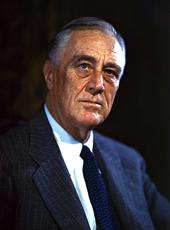 Radio Address at Thanksgiving Dinner, Warm Springs Foundation, Warm Springs, Georgia.
We, the several hundred members of the Warm Springs' family, old and young, are gathered here again for our annual Thanksgiving dinner.
But, before we attack the turkey, I want to say a few words, not only to you but to many other people in every part of the country—on this day of national thanksgiving.
First about Warm Springs itself. The physical picture draws nearer to completion each year. The ramshackle old buildings of twelve years ago have been either completely modernized or replaced by new fire proof structures; and when I got here the other day I was delighted to see the new schoolhouse and the new Medical Center rising above the ground.
I am glad we are to have a schoolhouse because we know that it is of the utmost importance to have the education of the mind keeping pace with the re-education of the muscles.
Then, too, medical science has made such great strides in the past ten or twelve years that the treatment of the aftereffects of infantile paralysis calls for many new forms of hospital care in addition to the water exercises and swimming of the older days.
Today we have the tradition of work well done. We have also the same ideal of continuing progress, backed up by determination and courage, what we call the spirit of Warm Springs. We are looking forward to the time when we can take care of at least two hundred patients at all times—or, in other words, treatment for about four hundred patients 'in any given year.
Several years ago we expanded the work of Warm Springs by helping communities throughout the country to raise money for. the care of their own infantile paralysis cases, and, through their generosity, to give financial help to the cause of research into the origin of the disease. Last year we took a further step by establishing the National Foundation for Infantile Paralysis; and after January 30, 1939, we hope to have permanent Chapters of this National Foundation in all of the more than three thousand counties that make up the United States.
At this time of the Birthday Celebration half of all the funds raised in each county will be retained in trust for the Chapters for local use and the other half of the fund raised will go to the National Foundation for the national fight against infantile paralysis.
This Thanksgiving Day we have much to be thankful for. I wish that all who hear my voice could be with us and see this gathering of old and young in the big dining room at Warm Springs. We are thinking not of ourselves alone but of tens of thousands of other children and grownups and wishing for them that they may be having an equally happy Thanksgiving-lots of turkey and lots of fixin's.
I have had many telegrams today—Thanksgiving telegrams and there is one that I want to read to you from an old friend who has helped Warm Springs in the past very greatly, Eddie Cantor, the actor and comedian, and he gives me a thought that I think we all are thinking of:
May you and yours have a happy Thanksgiving. I am thankful that I can live in a country where our leaders sit down on Thanksgiving Day to carve up a turkey instead of a Nation.
Now we shall have the blessing said and after that we shall go to it.
I am very glad that you are glad that I am here. You are not gladder than I am to be with you members of the Warm Springs family after a lapse of two previous Thanksgivings, when I could not be here.
I think these parties get better each year that goes by. I am always thinking about the future—all of us are. Tonight as I sat here I could not help but think—and I was talking to Bobbie about it [boy seated next to the President]—regarding our problem. When we get up to two hundred patients here at one time, this dining room, which is only a very few years old, will have to be enlarged. Just think of that! We were wondering just which way we would push it. Of course, it cannot go that way [pointing] because that will interfere with what is going to be in time the loveliest campus of any college in the land, and I like to think of this as sort of a college which we all, old and young, attend.
At the same time, when I come to these Thanksgiving parties I think of the past. I think of the early years at Warm Springs a long time ago— fourteen years ago, when I first came. Fourteen years to me seems a very short time, but think of the people in this room who were not born fourteen years ago.
When I came down this year I learned of the death of two very old friends of mine, Mr. Persons and Mr. Colbert. A great many of you did not know them, and yet I remember a September of 1924, when I turned up here and occupied the only cottage, with one exception, that was open. The hotel was closed. Everything was closed and most everything was falling to pieces. Most of the roofs leaked and when you went to bed at night it sounded like thunder, because the squirrels were rolling nuts overhead. In those days it was pretty hard foraging for food. We did not have any wonderful store to go to as you have now. It was hard to get wood and food, and sometimes you had to travel ten miles to get a chicken for supper.
There were two people who were neighbors of ours, Mr. Persons and Mr. Colbert, and almost every evening someone would knock on the door and then their heads .would come around the door and say: "Do you need some kindling-wood? Can I get you some eggs tomorrow?"
They were that kind of neighbors, and we are going to miss them a good deal.
You know this place would not have been possible if it had not been for that kind of reception and hospitality that I received. I was all alone down here. Some of our neighbors had lived down here around Warm Springs all their lives. They were the kind of people who extended the kind of hospitality that made me want to come back, and that is why the following spring I came back, and the influx of people began to arrive.
That is when Fred Botts was carried off the train—yes, he was a man in those days! And we thought he was going to look like a skeleton, or die of tuberculosis before night. We did not have any doctor down here and I acted as doctor. I did not know what to do and so I fed him cream. It put flesh on him. We got him in the pool and he was scared to death, and in about a week he began to walk in the pool, and that is one of the things we discovered, that people can walk in water when they cannot walk along on land. And that, you all know, has been increasing year by year.
The following year two more people came down. You have all heard, and most of you have known, our dear Dr. Hubbard, who left us this year. He and Miss Mahoney—and I saw Miss Mahoney this past summer when I was out in Los Angeles, and she wanted me to give her affectionate regards to the Warm Springs family. . . .
I am not going to make any more speech. All I can tell you is that I hope to be back again at the end of March or be ginning of April, 1939, and most assuredly, unless something unforeseen turns up, I shall be back with you a year from now.
It was been a wonderful evening, and each year I think that these parties get better and better, and now, carrying out a custom of twelve years, I am going over to the door and I hope you will all come by and shake hands.
Franklin D. Roosevelt, Radio Address at Thanksgiving Dinner, Warm Springs Foundation, Warm Springs, Georgia. Online by Gerhard Peters and John T. Woolley, The American Presidency Project https://www.presidency.ucsb.edu/node/209373