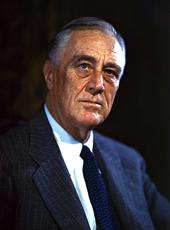 Radio Address to San Francisco Governors' Conference.
I send my greetings across many States to the Conference of Governors assembled tonight. I wish I could meet with you and renew old and pleasant associations, created during the four years during which I was one of you. I like to recall that I was a member of the Executive Committee of the Conference of Governors and that I attended all four meetings during my term of office as Governor of New York. I found then, and subsequent observation has confirmed my belief, that the Governors' Conference is a vital and necessary organization.
I take this occasion to assure you of my deep appreciation of the cooperative spirit which you have recently shown in your resolution addressed to me. We are all engaged in the business of lifting this country from economic chaos and I congratulate you on the efforts that you are making.
I feel that one of the great problems before us is to adjust the balance between mutual State and Federal undertakings—to determine the joint responsibilities of many great tasks. I think we are making progress in this direction. There are many problems that extend beyond the power of single States. I can use as illustrations two which happen to be in the foreground in Washington at this moment.
The problem of oil production, for example, must be viewed and measured from the standpoint of the national total of production and of consumption. But, in coming to grips with the problem of limitation, the States have a function to perform—which is of great importance. I am happy that the oil-producing. States are cooperating with each other and with the Federal Government in this matter.
Another problem is a consideration of a wider and more effective use of the land over wide areas in such natural units as the Tennessee or the Arkansas or the Missouri or the upper Mississippi valleys. Here are problems where the individual State and regional groups of States and the Federal Government may well find possibilities of fruitful cooperation.
I extend to you a very personal note of greeting. I am more than pleased with the contacts which I have had with the Governors of the forty-eight sovereign States since I have been President. I have maintained a constant and active interchange of ideas with many of you. We have communicated by mail and telephone and more particularly by personal conferences at the White House. I hope that these contacts will continue and increase in number and importance. I hope, furthermore, that during the coming winter I may have the pleasure of meeting with you here in Washington once more, and I take this occasion to extend to you a cordial invitation for such a meeting during the coming winter.
Let us look forward to this gathering in the hope that it will mark further solid accomplishments by all of us in the direction of national recovery. It is a major purpose of my Administration to strengthen the bonds between State and Federal executive authorities, to the great common ends to which we are all devoted.
My warm greetings to you all, old associates and new friends.
Franklin D. Roosevelt, Radio Address to San Francisco Governors' Conference. Online by Gerhard Peters and John T. Woolley, The American Presidency Project https://www.presidency.ucsb.edu/node/208797