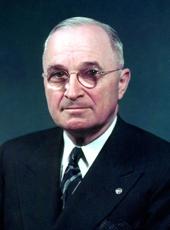 Radio Address Opening the Savings Bond Campaign.
[ Broadcast from the White House at 10:30 p.m. ]
My fellow Americans:
I am speaking to you tonight about something that each of us--as individuals--can do to contribute to the winning of the peace. That is the purchase of United States savings bonds.
Any workable program for world peace must depend upon a sound, strong, and expanding American economy. When we buy savings bonds we contribute directly to the strength of our economy, upon which so much depends.
By investing in savings bonds we are fighting inflation, which is still our greatest economic danger. At the same time, we are building toward the economic security of ourselves and our families. At such a time as this, all of us can serve both ourselves and our country by saving all we can against the day when we can spend our dollars to better advantage.
Our economic system, which has given us the greatest productive power and the highest standard of living in the world, is based upon individual enterprise, industry, and thrift. We need these qualities at all times in order to prosper. Under present world conditions we need them more than ever before.
Tomorrow, April 15th, the Nation launches its Security Loan campaign. As your President, I ask each of you to back the Security Loan to the limit by buying extra savings bonds, by signing up for the Payroll Savings plan where you work or the Bond-a-Month plan where you bank, and by volunteering to help sell bonds to others.
This is the most important campaign for United States savings bonds we have had since 1945. It calls for everything we can put into it. It calls for volunteer work in every community, freely and patriotically given. It requires enough volunteers to talk to every American where he works or where he lives. The experience of all the war loan drives has proved that if Americans who can buy bonds are asked personally to buy them, and told the personal and national reasons for buying them, the goal will be reached.
Last Thursday the city of Sandusky and Erie County, Ohio, began a week's campaign to sell their share of Security Loan bonds in advance of the national campaign. Sandusky and Erie County wanted to be the first in the Nation to do the job and show the country how well it can be done if everybody pitches in. Volunteers set out to visit every factory, office, farm, and home in Erie County. The newspapers and radio stations and every civic, fraternal, veterans, women's, and farm organization backed them up. I am happy to be able to tell you that Sandusky and Erie County oversubscribed their goal by 25 percent in 1 week.
What Sandusky and Erie County have done in 1 week, every community and county in the United States can do, beginning tomorrow. How well you do the job in your community will depend upon the number and the spirit of the volunteers who tackle it.
This is a call to the Minute Men and Women to rally again to build up the defenses of our national economy. For, as the slogan of the Security Loan puts it: "America's Security is Your Security."
This campaign presents to us a responsibility and an opportunity. Every dollar that a family puts into savings bonds now will be a dollar building for the family's security. It will be a dollar fighting against inflation and high prices. It will be a dollar working to win the peace.
Harry S. Truman, Radio Address Opening the Savings Bond Campaign. Online by Gerhard Peters and John T. Woolley, The American Presidency Project https://www.presidency.ucsb.edu/node/229281