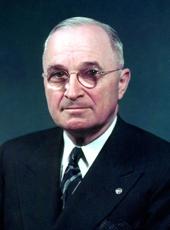 Radio Address Opening the Annual Campaigns for the Community Chest and the United Service Organizations.
[Delivered from the White House at 10:30 p.m.]
My fellow citizens:
Tonight, although I am speaking to the whole Nation, I am thinking of my hometown, and I hope as you listen each one of you will think of your hometown. I speak for the American community, and for two great organizations that grew out of it and are a part of it: the Community Chest and the United Service Organizations.
The Community Chest inspires all citizens to work together and give together for the health and happiness of the whole community. And the USO is one of the most notable examples in our day of a generous community spirit which goes beyond hometown boundaries--a spirit which brings the universal hometown touch to millions of service men and women who are far from home.
During these next few weeks, in cities and towns all over this country, more than a million volunteers--men and women--will ask their fellow citizens to give generously to a great project--that of raising $170,000,000 by voluntary gifts, to maintain the work of Community Chest Red Feather health and welfare services.
We must continue to provide neighborhood services and neighborhood hospitality to our home folks still away from home. Our people still engaged in the "unfinished business" of the war need the USO. That is why, at the urgent request of General Eisenhower, Admiral Nimitz, General Bradley, and the service men and women themselves, I have personally asked the USO to continue its work through 1947.
Picture to yourself the folks served by the USO. There is your hometown veteran, lying in the hospital with a fractured spine, or having his face remodeled to remove the effects of a Jap or Nazi shell, or learning to use artificial arms or legs. USO Camp Shows come to his bedside regularly with entertainment and cheer. There are more than 200,000 men like him in Army, Navy, and Veterans hospitals.
There is the young soldier, just inducted, not very sure of himself. He needs a place to relax, to have good, honest fun; a place where he can meet the kind of men and women you would want him to meet at home. The USO provides that place.
There are the service men and women overseas, longing for the little things that mean home. There are soldiers and sailors on pass or furlough, who need lodgings or a snack to eat between trains. There are service wives and families, traveling to meet their loved ones. Those are the people you help when you give to the USO.
I like the campaign slogan this year: Everybody Gives, Everybody Benefits. It marks a significant change in our thinking about the word "charity." Today our contributions to the Community Chest are not alms given by the wealthy few to the poor. This Government, through its public welfare program, has long since accepted its responsibility to see that no citizen need face hunger, unemployment, or a destitute old age.
The word "charity" has regained its old, true meaning--that of good will toward one's fellowman; of brotherhood, of mutual help, of love. Our Community Chest contributions will go to the needy only in the sense that we are all "needy" at some time, in some way. Children need the shelter of home and loving care; boys and girls need healthful outlets for young energies; old age needs comfort and kindness. Everyone may at some time need Red Feather services. Their presence in your community means that your needs and those of your neighbors will be met.
There is another important thing that we need. We need to demonstrate to ourselves and to the world that unity and good will are not just words; that they really work. In your own hometown the success of the Community Chest campaigns is convincing proof that they do. Here you will find the very elements of unity toward which the United Nations are even now patiently striving. In your Community Chest campaign you will find people of all religious creeds, all political parties and racial backgrounds, in all walks of life, united in a common purpose. Here indeed people find common ground. They forget the many small things that divide them; they remember the one great thing that unites them: their common humanity.
As President of the United States, I urge prompt, wholehearted, and universal support of your local Community Chest and USO campaigns. Let us set the rest of the world an example in community cooperation. Let us all give, and give generously, in response to these two great appeals.
Harry S. Truman, Radio Address Opening the Annual Campaigns for the Community Chest and the United Service Organizations. Online by Gerhard Peters and John T. Woolley, The American Presidency Project https://www.presidency.ucsb.edu/node/232122