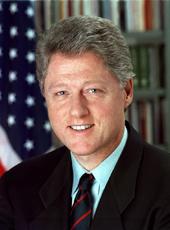 Radio Address to Midwest Flood Victims
This is President Clinton. Although I'm in Japan at a meeting of our economic allies, I'm deeply concerned about the disaster hitting many of you in the Midwest. As the waters continue to rise, I'm keeping in touch through Vice President Gore and Federal officials in Washington. My direction to them is simple, urgent, and clear: All Federal agencies delivering services to you must coordinate their actions. Teamwork is the order of the day.
I want the services you need to be delivered responsibly, efficiently, and without delay. And most of all, I want you to be treated the way every American would ask to be treated if they were on the receiving end of this disaster, with compassion and effectiveness as neighbors and friends.
When I was Governor of Arkansas, I worked with farmers in my State through a number of natural disasters, including very serious floods. What I saw in Iowa last weekend when I was there with Secretary Espy were conditions as bad as I've ever seen. That's why I'm determined to have a Federal response that rises to the occasion and deals effectively with the problems you're facing.
Before I left for Japan, I asked Vice President Gore to monitor actively the efforts to deal with this disaster. With his leadership and the hard work of a number of dedicated Federal officials, relief and response efforts are already underway. We're organizing the appropriate Federal agencies to ensure that they work together as a team. The Federal Emergency Management Agency, FEMA, is working around the clock, cooperating with each of the affected States and managing our coordinated response. FEMA personnel are in five States now, assisting State governments with preparedness and recovery efforts. And FEMA's in close coordination with other States.
Where disasters are declared, FEMA will set up facilities called "disaster application centers" to provide a speedy and efficient one-stop process for recovery. It's also providing an 800 number for victims of the flooding which allows for rapid application for aid by telephone. The Department of Transportation is monitoring the conditions of barge traffic and damage to highways. The Army Corps of Engineers and the National Guard are out fortifying levees and flood walls, providing security and traffic control and simply doing their best to stop or alleviate water damage wherever they can. The Department of Agriculture is making shelter available, helping farmers with their loan obligations, and working to alleviate crop losses and losses farmers experience when they can't plant their crops. The Emergency Broadcast System is being used throughout the region to provide notifications of flash floods, evacuations, and tornadoes.
Efforts are being made now to remove debris in Minnesota, to provide sandbags in Iowa and Illinois, to guard against public health problems, and to provide potable water where needed. I've asked our Budget Director, Leon Panetta, to begin assembling a funding bill that will provide emergency assistance to the region. We'll be working with Congress early next week to get this process underway. We'll ask for Federal funds on an emergency basis to help pay for crop losses and damage to homes, businesses, and public property.
Times of turmoil and trouble bring out the best in Americans. This flood has been no exception. Members of the Red Cross and the Salvation Army are doing what these organizations have always done, bringing comfort to people of your region who have had their lives turned upside down by this flood. National Guard personnel have been mobilizing, filling sandbags and providing assistance wherever they can. Some of them have canceled vacations to come home and help the people of their communities, strangers and friends alike. These are good people, and I'm thankful to them for all they're doing.
In closing, let me ask each of you to take heart and have faith. As hard as these times are, you know that the waters will soon recede and the work of recovery will begin. The people who grow our food and the communities that surround and support you are central to the American way of life. Just as we depend upon you for the harvest, you can depend upon us for support at this critical moment in your lives. For that is the American way.
Thanks for listening, and God bless you all.
NOTE: The President spoke at 11:06 p.m. from the Okura Hotel in Tokyo for broadcast in the United States.
William J. Clinton, Radio Address to Midwest Flood Victims Online by Gerhard Peters and John T. Woolley, The American Presidency Project https://www.presidency.ucsb.edu/node/219616