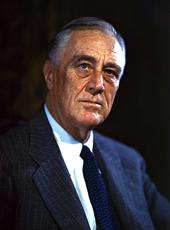 Radio Address on Maryland Tercentenary Celebration.
Governor Ritchie, my friends of Maryland:

This is rightly the day dedicated to Lord Baltimore and to the men and women who sailed under his banners just three centuries ago. They sought at the outset a priceless possession and they sought it not for themselves alone but for all others, even for those who disagreed with them. I think it is hard in all history to find a better example of hearty, determined cooperation, of the will to do for others in order that we may do the best for ourselves. It is a spirit which we praise. It existed three hundred years ago, but it is a spirit that we ought to match in 1933. When, in 1633, the expedition set out of Cowes, England, from that very waterfront where the American Ambassador stood just now as he and Lord Fairfax made their remarks, that expedition, while later than others, was very much in advance of them in one respect. Lord Baltimore and his colonists sought in their charter liberty not alone for the members of the expedition, but for all later comers as well. It is a good thing to demand liberty for ourselves and for those who agree with us, but it is a better thing and rarer thing to give liberty to others who do not agree with us. We would do less than our duty to Lord Baltimore if on such an anniversary we paid no tribute to this, his greatest contribution to America, a free America. May we, in our own fights for things which we know to be right, fight as ably and as successfully as he did 300 years ago. For we have our own fights to wage not against the same foe which he beat down, but against other foes just as obstinate and just as powerful and just as intolerant of things we fight for today.
And so, my friends, I hope that this 300-year anniversary of the founding of Maryland which will go on from now through the year 1934 will be a success not only for those who partake in it, but also will be a reminder to people throughout the United States of the great fight that Lord Baltimore made three centuries ago for religious freedom in America.
Franklin D. Roosevelt, Radio Address on Maryland Tercentenary Celebration. Online by Gerhard Peters and John T. Woolley, The American Presidency Project https://www.presidency.ucsb.edu/node/207837