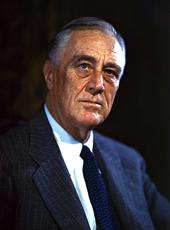 Radio Address for the Mobilization for Human Needs. Washington, D.C.
Chairman Taft, Community Chest Workers, Friends of Human Needs:
I am happy again to greet the faithful workers assembled for their annual meeting in behalf of this national Mobilization for Human Needs. It is significant that this year marks the twenty fifth anniversary of Community Chests and Councils—the rounding out of a full quarter of a century of united approach by the private social agencies to the problems which they face throughout the Nation.
Twenty-five years ago the proposal that an entire community should pool its efforts in a single drive to finance all welfare agencies, regardless of race or creed, was as radical as it was farsighted. So I am glad to greet you descendants of that radical group. The birth of the Community Chest was an important milestone in the evolution of our present viewpoint regarding aid to the unfortunate.
A natural development of this evolution is this Mobilization for Human Needs in which leaders and organizations of nationwide repute add their voices and influence to those of the local leaders. I have been glad to speak nationally in behalf of your local campaigns.
Let me state plainly that I do not feel any of our governmental efforts can ever be substituted for the distinctive, voluntary expression of personal interest in human suffering which manifests itself through the Community Chest.
The founders of the Community Chest did not—they could not'-envision the problem of mass unemployment among able bodied and willing men and women which has resulted from our complex industrial system. This evolution created an entirely new problem. Previous efforts had been made to make maladjusted individuals fit into society, and of course this broad field of effort still exists. But when, in 1933, we faced the fact that nearly one out of every three able-bodied workers in America had no job, we had to face the added fact that it was the system which was out of gear.
Here is one difference between direct relief and work relief. Direct relief is aimed at many problems of human misfortune-adjusting maladjusted families, taking care of the sick, tiding over a great number of kinds of crises in family life. Work relief is aimed at the problem of getting jobs for normal people who can give useful work to the country, and seeking adjustment of a maladjusted society rather than an adjustment of maladjusted individuals.
The importance of these employable millions may be more fully understood, perhaps, when it is realized that approximately one-third of them are under twenty-five years of age and will be either assets or liabilities for many years to come, depending upon public policies toward them. If we do not give them a chance at something like normal living, it is inevitable that they will become millions of individual problems. For these able bodied unemployed, I am definitely committed to the giving of jobs instead of relief.
Except in supplementing certain Social Security laws as passed by the States, the Federal government has left the care of unemployables-the problem of maladjusted individuals-to the states and localities, the field which is the natural sphere of the Community Chests. The Federal government has chosen to confine itself to the normal victims of the maladjusted economy, to create work for the employable unemployed. It is true that the national economy does not today permit the Federal government to give useful work to all the employable needy unemployed, but the Federal government is doing so in the great majority of cases.
The able-bodied unemployed need work and should have it. But equally the economic system needs that they should have it. A Federal works program not only serves the unemployed, it saves the jobs of those who have jobs. Our industrial production cannot progress, as it must, unless our masses have income with which to buy its products. That, in brief, is an aspect of the relief problem—and a most important aspect—which I commend to the thoughtful consideration of all who are enlisted in this splendid Mobilization for Human Needs. Only in jobs and more jobs, at good pay, shall we find national stability and individual security.
Meanwhile, encouraged and inspired by a quarter of a century of practical activity, which has seen the base of charitable giving steadily spread, I hope you will widen your appeal until every citizen with a competence—great or little—extends the helping hand to his less favored brother. That is an ambitious goal, but I believe it can be reached.
Here is a work in which diverse creeds and classes can unite for the common good. Let us strive to bring into every community practical exemplification of the ideal of being a good neighbor. In that spirit I appeal to the American people to present a united front in the 1938 Mobilization for Human Needs.
Franklin D. Roosevelt, Radio Address for the Mobilization for Human Needs. Washington, D.C. Online by Gerhard Peters and John T. Woolley, The American Presidency Project https://www.presidency.ucsb.edu/node/209512