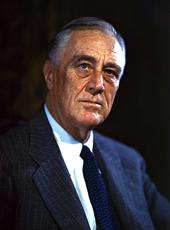 Radio Address for the Birthday Ball for Crippled Children.
MY HEARTY GREETINGS to all the nation.
I wish that everybody within sound of my voice could capture something of the joy I feel on this birthday. It is a joy, the keenness of which is enhanced because in the larger sense these far flung celebrations are wholly impersonal. At least, that is the way I like to view them. A recent writer has put it this way:
It is an expression of our greatest political asset-the enormous fund of tolerance, good will, good humor and simple human kindliness which underlie our public life.
Here is no trace of partisanship, no taint of social disunity, of economic controversy. There is not any, has never been, the slightest attempt to play politics with the various efforts-the March of Dimes, the Birthday Balls—to raise money for a worthy national purpose . . . so the effect of this great celebration is to keep political discussion and partisan passion within the bounds of that neighborly good temper, which is still the chief quality that distinguishes the American electorate from the political masses of the Old World.
In sending a dime . . . and in dancing that others may walk, We the People are striking a powerful blow in defense of American freedom and human decency. For the answer to class hatred, race hatred, religious hatred, is not repression, criticism or opposition. The answer is the free expression of the love of our fellow men, which is the real thing we celebrate on January 30, 1940.
This morning a very old friend of mine, a distinguished Justice, sent me a note of congratulation which embodied a new and a very useful thought for us grown-ups.
He said: "The compassionate purpose to which our national tradition now dedicates this day has a profound symbolism. For in a way we are all crippled children. And we are the more poignant in our disabilities than the immediate beneficiaries because we think we are grown-up and big and strong, and yet are so often unhumorously immature and unequal to the tasks our times impose on us."
That is a nice thought because if as we grow older we realize our inability to meet perfection, the happier we can and should be in everything that we do to make life a little better-to use the vehicles of science and cooperation to improve the lot of those who need it most.
Today I think the nation as a whole is aware of and awake to the scourge of infantile paralysis. To minimize its effects, to drive it out entirely in the long run, is, as you know, our primary purpose today.
But as the years go on I hope that these annual celebrations will extend that task to the care of all crippled children, no matter what the cause of their crippling.
What a magnificent task this is! More than twenty-five thousand parties are being held today and tonight—hundreds of thousands of devoted volunteer workers in State, county, city and hamlet. To all of them, of all ages and representing all callings, I tender my heartfelt thanks for what they have done.
To all who have helped through The March of Dimes and otherwise with generous donations, I am likewise grateful. Nor can I overlook the thousands of affectionate birthday cards and birthday messages which have so gladdened my heart today.
I think I am safe in saying that no nation in the whole world has ever in all history put a larger volunteer army into the field on any given date than the army of Americans which tonight is taking part in the defense of American childhood.
During the World War we had nearly five million American men under arms. It is safe to estimate that at least four or five times as many Americans, men, women and children, are enrolled in this new army which has joined the march to save life and not to take it.
It is in that magnificent spirit and with the definite knowledge that we are making sure and steady progress that I say to each and every one of you tonight—"Thank you, and God bless you."
Franklin D. Roosevelt, Radio Address for the Birthday Ball for Crippled Children. Online by Gerhard Peters and John T. Woolley, The American Presidency Project https://www.presidency.ucsb.edu/node/209184