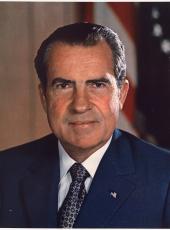 Radio Address on Crime and Drug Abuse
Good afternoon:
Four years ago, at the close of a turbulent decade which had seen our Nation engulfed by a rising tide of disorder and permissiveness, I campaigned for President with a pledge to restore respect for law, order, and justice in America. I am pleased to be able to report to you today that we have made significant progress in that effort.
During the 8 years from the end of the Eisenhower Administration until we took office in 1969, serious crime in the United States had skyrocketed by 122 percent, and there were predictions that it would double once again during the following 4 years.
Those predictions have not come true. Instead, we have fought the frightening trend of crime and anarchy to a standstill. The campuses which erupted in riots so often in the late 1960's have become serious centers of learning once again. The cities which we saw in flames summer after summer a few years ago are now pursuing constructive change.
The FBI crime index showed an increase of only one percent during the first half of this year. That is the closest we have come to registering an actual decrease since these quarterly statistics began 12 years ago. And in 72 of our largest cities, we have already begun to see a decrease in crime this year as compared to last.
We have moved off the defensive and onto the offensive in our all-out battle against the criminal forces in America. We are going to stay on the offensive until we put every category of crime on a downward trend in every American community.
To reach this goal we must continue to fight the battle on all fronts.
In our courts, we need judges who will help to strengthen the peace forces as against the criminal forces in this country. I have applied this principle in making appointments to the Supreme Court and to other Federal courts. As a result, our Constitution today is more secure; our freedoms are better protected.
The two men who have served me as Attorney General, John Mitchell and Richard Kleindienst, have brought real backbone to our national law enforcement effort. Each has demonstrated his determination to see justice done to the overwhelming majority of law-abiding citizens, as well as to those who break the law. Neither has fallen for the naive theory that society is to blame for an individual's wrongdoing.
Tomorrow, Attorney General Kleindienst will make public the first comprehensive report ever compiled on Federal law enforcement and criminal justice assistance activities.1 I commend this report to the attention of every American who is concerned with the rule of law. It documents the truly massive Federal commitment to crime reduction.
The Federal role, however, is only a supportive one. As J. Edgar Hoover often used to tell me, it is our local police forces who are the real frontline soldiers in the war against crime. As President over the past 4 years, I have given all-out backing to our peace officers in their dedicated efforts to make all of us safer on the streets and more secure in our homes, and I shall continue to do so.
In 3 years we have provided States and localities with law enforcement assistance grants totaling $1.5 billion. That compares with only $22 million in grants during the final 3 years of the previous Administration.
In a single year, 1970, the Congress passed four landmark anticrime bills which this Administration had recommended and fought for--an omnibus crime bill, a bill providing new tools to fight organized crime, a comprehensive reform of the drug abuse statutes, and a new charter for courts and criminal procedures in the Nation's Capital.
The city of Washington had become the crime capital of the United States during the 1960's, but during our term of office we have cut the D.C. crime rate in half.
Let me turn now to the subject of drug abuse--America's public enemy number one.
The period 1965 to 1969, when drugs were widely glamorized and when government was responding only feebly to this menace, brought America's narcotics problem to the epidemic stage. In that 4-year period alone, the number of drug addicts doubled nationwide.
To turn this situation around, I declared total war against heroin and other illicit drugs. I personally shook up the bureaucracy and took steps to create two new Federal agencies to deal with narcotics-related crime and with addict treatment. The antidrug funding which I have requested in the current budget is 11 times as great as the 1969 level.
We are winning this war. The raging heroin epidemic of the late 1960's has been stemmed.
Our domestic law enforcement operation has arrested twice as many pushers and has seized illicit drugs at four times the rate of the previous Administration. Our rehabilitation and treatment programs have created more federally funded drug treatment capacity in the last 12 months than in the 50 years before that.
Our international narcotics control work in 59 countries has achieved a doubling of global heroin and morphine base seizures in 1972 alone.
But the job is far from finished. A short time before Christmas last year, I received a heart-rending letter from a teenage boy in the Midwest. He told me in his letter how his brother, a college student of exceptional promise, after slipping deeper and deeper into drug experimentation, had gone off into the woods with a gun one day, completely without warning, and taken his own life.
Listen to the boy's letter: "If we can stop just one boy from doing what my brother did, his whole life will have been worthwhile....You can beat that drug, Mr. Nixon; you can destroy it before it destroys any more lives."
This is my answer to this letter: I cannot beat this problem by myself, but if all of us work together, we can and we will beat it.
To do so, we will need more clinics to treat addicts who need help. That is why I asked the Congress for speedy approval of funds to support additional drug treatment facilities.
We will need better cooperation abroad in apprehending the criminals who produce and smuggle heroin. That is why I shall insist on the strictest compliance with the statute which requires a suspension of United States military and economic aid to countries which protect or participate in the movement of illegal drugs to this country.
We will need absolute assurance that convicted drug peddlers will go to jail and not back to the streets. The dangerous trend of light or suspended sentences meted out to convicted pushers by permissive judges must be halted. That is why I shall ask the next Congress to require stiff mandatory sentences for heroin traffickers, and to amend other Federal statutes so as to keep these peddlers of death off our streets after their arrest.
Wherever more money, more manpower, or more teeth in the law are needed to maintain our momentum in the war against drugs and crime, I will do everything in my power to provide them.
My intention for 1973 and beyond is to continue and to expand our massive Federal funding for helping to improve our local law enforcement.
I will propose to the new Congress a thorough-going revision of the entire Federal criminal code, aimed at better protection of life and property, human fights, and the domestic peace.
I will move ahead with my comprehensive 10-year reform program for the Federal prison system, which we launched in 1969.
I will continue to apply the criteria of strict constructionism and regard for the public safety in making appointments to the Supreme Court and other Federal courts.
I will ask the new Congress to move swiftly in enacting my proposals for law enforcement special revenue sharing, to give States and cities greater decisionmaking power in meeting their own needs.
And I will work unceasingly to halt the erosion of moral fiber in American life, and the denial of individual accountability for individual actions.
The increasingly urbanized, technological, crowded, pluralistic, affluent, leisure oriented society which America has become in these final decades of the 20th century poses complex new dangers to our traditional concepts of personal safety, human dignity, moral values.
Questions which were once the sole concern of novelists now intrude upon public policy. The endlessly drugged "Brave New World" which Huxley described could conceivably become our world a few years in the future.
Remote as such possibilities may seem, we cannot ignore them. We must shape our own vision for the seventies and the years ahead, a vision bright and clear and sharp, or one of the darker visions may begin to impose itself by default.
Government alone cannot determine the legal and moral tone of America's third century. Much depends on the character we build in our homes, our schools, and our churches. Much depends on the values we exalt in our art, our literature, our culture.
Yet government has an essential role, a role it must never abdicate. Government must never become so preoccupied with catering to the way-out wants of those who reject all respect for moral and legal values that it forgets the citizen's first civil right: the right to be free from domestic violence.
Government must never mistake license for liberty, amorality for tolerance, indulgence for charity, or weakness for compassion.
Above all, government must maintain that structure of ordered freedom within which alone the human spirit can thrive and flourish.
The work of keeping the structure of freedom strong in the years ahead will not be easy, and the price may sometimes be terribly high. It was terribly high for a young Federal narcotics agent in New York named Frank Tummillo.
I met Frank Tummillo last February when he and other agents came to the White House along with a group of professional athletes who have joined the fight against drugs. He was a fine young man--alert, dedicated, selfless. Just 3 nights ago--last Thursday--he was murdered by two hoodlums in the line of his duty, trying to break up a huge cocaine transaction.
He was only 25. He lived at home with his parents. The invitations recently went out for his wedding next month. Instead of that wedding, his funeral will be held tomorrow.
We cannot bring Frank Tummillo back again, any more than we can bring back the American soldiers who have given their lives in Vietnam. But in our war against crime and drugs, as in our war against aggression in Southeast Asia, we can resolve to redeem with honor the ultimate sacrifice which these brave men have made.
Together, and in their name, let us work to end the violence and the lawlessness against which they fought. Let us make the next 4 years a period of new respect for law, order, and justice in America, a time of new hope in a land free of fear and a world at peace.
Thank you and good afternoon.
1 The report is entitled "Attorney General's First Annual Report--Federal Law Enforcement and Criminal Justice Assistance Activities" (Government Printing Office, 542 pp.).
Note: The President spoke at 5:07 p.m. from Camp David, Md. The address was broadcast live on nationwide radio. Time for the broadcast was purchased by the Committee for the Re-Election of the President.
The President spoke from a prepared text. An advance text of his address was released on the same day.
Richard Nixon, Radio Address on Crime and Drug Abuse Online by Gerhard Peters and John T. Woolley, The American Presidency Project https://www.presidency.ucsb.edu/node/255210