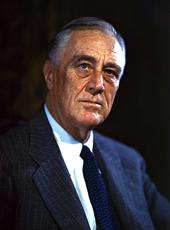 Radio Address to Anniversary Farm Dinners.
As I LISTENED to the remarks of Henry Wallace and Jim Farley just now, and in my mind's eye saw the hundreds of groups of farmers and their friends meeting throughout the country, my memory went back to scenes of other years.
I remembered the day in September, 1932, when, at Topeka, Kansas, under the very hot sun that beat down on the steps of the State Capitol, I talked with an audience of farmers about the farm problem. I gave them my pledge that, if I were called to serve in the White House, I would take the lead in action to reverse the process of agricultural decay which had been eating at our national foundations for many years.
I have sought consistently and constantly to keep that pledge. Four days after I took office in 1933—while the banks of the country were still closed and we were sternly wrestling with the question of how to get them open again—I called the conference of farmers and leaders of farm organizations to which Secretary Wallace has referred. Seven years ago tonight, March 8, 1933, the call went out to farm leaders by wire and by telephone to convene here in Washington on March tenth.
Well do I remember that historic conference at the White House that followed. In that grave emergency, past disagreements were forgotten and all the farm groups quickly united on a new farm plan.
The adoption of that plan in its essential outlines by the Congress marked a far-reaching decision in our national life. We stopped asking agriculture to pay the bill for industry's high tariff. We decided that as a nation we would no longer promote commerce and industry at the expense of agriculture. We decided that as a nation we would abandon the policy of rural neglect.
That old policy of neglect had brought ten years of depression on our farms and had contributed greatly to depression in the cities as well. It had hastened the bank panic which in February and early March of 1933 had paralyzed industry and farming itself all over the United States.
In the seven years that have elapsed since that time, the national farm program has properly undergone a continual evolution. That first piece of legislation—the Agricultural Adjustment Act of 1933—was a long step forward, but it was not perfect. As the years went by, weather conditions changed, market conditions changed—yes, and even court conditions changed. So the provisions of the farm program have been correspondingly changed to keep the program more up-to-date.
We have learned from experience, and have gradually adapted the program more and more closely to the needs of the individual farmer, to the needs of the nation, and to the needs of the land itself. We realized that we had reached our last frontier of new lands—and that we had no choice but to conserve and rebuild our existing soil.
All through these seven years, one fundamental feature has run like a thread through the successive adjustment and conservation and ever-normal granary programs. That is the essential policy of localized control, with the program run by committees of farmers elected by farmers—and that goes for farmers regardless of what party they happen to be enrolled in.
Experience has amply borne out the wisdom of the safeguards with which those county associations and committees were surrounded. In three thousand counties—practically all the counties of the nation that are not occupied wholly by cities—they win respect and they deserve respect. None but those farmer committeemen themselves will ever know how they have sweated over details of the program, how they have sacrificed their own personal interests and their leisure as they spent thousands of hours and drove thousands of miles to make the program succeed.
Back of these committeemen, helping them in their work, giving support to the program, have been some of the great general farm organizations. Not only in the farm communities, but right here in Washington, these organizations have helped to shape and perfect the successive farm laws.
When we launched the national farm program seven years ago, we hoped that recovery in the United States would be accompanied by a great revival of our trade with other countries.
I wish I could tell you tonight that the whole world had been restored to prosperity and friendly commerce. I wish I could tell you that the markets which your fathers and grandfathers once enjoyed were again open to receive more of your wheat, your pork, your lard, your cotton, your tobacco, your fruit.
I can tell you this—that we have done many things that have helped the situation. Through our reciprocal trade program, we have tried to spread our good-neighbor philosophy through many nations of the world. I always prefer understate. ment to overstatement, and so I can properly say that. That program has brought results—results not only in better markets for our industrial goods but also in better markets for our farm goods—results which are mathematically proved in terms of pounds and bushels and dollars and cents. If Congress consents, we shall continue that useful work.
But in spite of all we have done to help preserve and restore peace in the world, the bitter truth is that the world is not at peace. As I speak to you tonight, guns are thundering on the battlefields of Europe and of Asia. Ships that ply the seas are exposed to the hazards of bomb and torpedo.
In the midst of a world at war, we find that the foreign commerce we had managed to achieve is rudely disturbed. Some people may say, What of that? Does not our domestic trade comprise 90 per cent of all our business? Yes, that is true for the nation as a whole. But, for some industries export trade accounts for considerably more than 10 per cent of all sales. In agriculture, for example, that is true of cotton, tobacco, apples, lard, wheat and many other products. All agriculture is certain to be seriously affected if our export markets disappear.
So it is more than ever important for farmers to have a Government in Washington that is looking out for their interests not just by uttering glittering generalities but by specific policies and concrete action. It is more than ever important to maintain a national farm program that can be adapted to meet whatever emergencies arise—whether they are emergencies of drought or of lost markets overseas. It is more than ever important to have a Government in Washington that can act to protect the interests of our farmers as well as our business men when foreign trade conditions are upset.
In Europe economic failure has led in some lands to dictatorship. In America we are using the tools of democracy to make our economic system efficient, to preserve our freedom, and to keep away even from any talk of dictatorship. The national farm program is American democracy's response to agricultural distress. Any unprejudiced person who knows anything about the subject not only admits but proclaims the fact that our national farm program was democratically conceived and is being democratically conducted with the active help of our farmers themselves.
Furthermore, they proclaim what they know—that their Federal Government counts on farm aid and farm advice to improve that program through the process of actual experience as the need arises. That, I call a truly democratic process of Government.
These are troubled times we of this generation are living through. Some of us, I know, are tempted to give way to doubt and tear, even to despair.
But when we are beleaguered by thoughts like these, let us remember how the nation has come through its dark hours of the past, and take courage. Think of Adams and Jefferson and Madison, as they guided the nation through the confusion of the wars of the Napoleonic period, with ships rotting at the docks and millions of dollars of farm products stored on the wharves of the Atlantic seaboard. Think of Lincoln as year after war-torn year he sheltered in his great heart the truest aspirations of a country rent in twain.
We believe our beloved United States will come through all its trials and tribulations of the present. Ever since 1929, the people of the United States have demonstrated pretty well the stuff of which they are made.
One of the reasons we know we shall win through is the national farm program, the inception of which you are commemorating tonight. The farm program is a splendid example of what 6,000,000 American families can do, when they have the will and the leadership to do it.
The farmers have had a long, hard struggle to get laws and programs which give them an opportunity to obtain economic and social justice, to make it possible for them to conserve the good earth which, next to our people and our tradition of freedom, is our greatest heritage.
I am happy in the thought that American farmers have gone part way along that road to economic and social justice, even though they have not reached the goal. I am happy in the thought that the American farmers understand full well that other great groups, such as industrial and retail groups in the cities, great and small, such as the small business men of the nation, have not yet attained the goal of social and economic justice even though in these seven years they have made undisputed progress toward it.
Many years ago I was told by men of experience in State and national affairs that American farmers could never agree on a program. I did not share that pessimistic belief. My friends and I went out to disprove it and the farmers of America showed clearly that we were right. To them go the honor and the glory.
In the spirit of progressive action that has animated and now animates these American farm families, all of us tonight can face with confidence whatever difficulties the future may hold.
Franklin D. Roosevelt, Radio Address to Anniversary Farm Dinners. Online by Gerhard Peters and John T. Woolley, The American Presidency Project https://www.presidency.ucsb.edu/node/209426