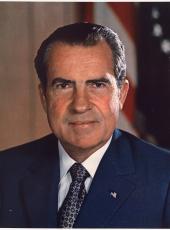 Radio Address About the Nation's Economy.
Good afternoon:
Eighteen days ago, I ordered a freeze on prices and announced that this freeze would be followed by a new and stronger set of controls to check inflation.
Today I want to report to you on some of the progress we have made and some of the problems we face.
First, I am pleased to be able to report that Americans generally are cooperating in making the freeze a success. Prices are being held. We are determined that prices will continue to be held.
In terms of long-range stability, however, what is important is not the freeze itself, but what follows it. We might look at the measures we take as being short-term, medium-term, and long-term.
The freeze is a short-term measure. Phase IV is a medium-term measure. The more fundamental adjustments and disciplines we are undertaking are long-term measures.
During these past 2 1/2 weeks, we have been putting the freeze machinery in place and, at the same time, holding an intensive series of consultations with persons both inside and outside the Government on the design of Phase IV.
By the arbitrariness of its nature, a freeze is bound to create certain inequities. It can also add to the problems of scarcity. We have seen this, for example, in the fact that some broiler producers have had to kill off baby chicks because they could not afford to pay the high feed prices and still sell the broilers at their ceiling prices.
For this reason, we have been determined from the outset to keep the freeze as short as possible. For this reason, also, the Cost of Living Council is taking a hard and continuing look at the problems created by the freeze. These are being monitored closely by teams from the Department of Agriculture and the Department of Commerce. We want to make sure that the freeze is not administered in such a way as to be counter-productive, while recognizing that to be successful it must be rigorous.
Some have asked why we needed the freeze, why, with all the experience we have had with Phase II and Phase III, we could not simply have announced the new rules for Phase IV and put them into effect immediately.
One reason for the freeze was to stop what were becoming runaway price rises in a number of basic items, which in turn were beginning to create inflationary expectations that could have undermined our whole effort to stabilize the price structure.
Beyond this, however, it was vital that we have genuine consultation with a wide range of interested parties before launching Phase IV. Economic conditions are very different today from those of the earlier periods; the rules of Phase IV will, therefore, have to be different. If these consultations had gone forward without a freeze, it would have been an open invitation to push prices up in anticipation of the new rules.
The freeze provides time in which we can hold these consultations, as part of designing a new Phase IV that will be comprehensive and realistic, that will command the support needed to make it a success, and that will provide a basis for returning to free markets.
In recent days, my consumer affairs adviser, Virginia Knauer, has been meeting with the consumer groups; the Council of Economic Advisers has been meeting with professional economists; and we have been in continuing discussion with business and labor leaders. Tomorrow, the Director of the Cost of Living Council, Dr. John Dunlop, will meet in San Francisco with key executives of the food, paper, electronics, and other industries from the west coast, and also with consumer representatives. Similar meetings will be held in other regional centers.
Meanwhile, at my instruction, a profit and price check is being run on all companies with annual sales of more than $50 million--a total of 3,100 companies. Any whose price increases since January cannot be justified by cost increases will be required to roll back their prices. The information developed in this "profit sweep" is also providing valuable data for use in designing Phase IV.
Gasoline prices are among those that have caused the greatest concern. A special check by the Cost of Living Council has identified more than 1,000 gas stations that have raised their prices above the levels permitted, and those prices have been rolled back. Holding down the price of gasoline and other fuels requires insuring adequate supplies.
Last Friday I announced a number of major additional steps to help meet our energy needs:
--I appointed Governor John Love head of a new high-level White House energy office;
--I asked the Congress to create a new Cabinet department devoted to energy and natural resources and a new independent Energy Research and Development Administration;
--I announced a new $10 billion program of energy research and development to extend over the next 5 years; and,
--I ordered a 7 percent reduction in energy consumption by the Federal Government over the next 12 months.
I have already submitted to the Congress a number of essential proposals to help increase energy supplies and thereby keep prices down. These include the Alaska pipeline, competitive pricing of natural gas, licensing of deepwater ports, streamlining of power plant siting, and a rational framework for controls over surface mining. I again urge quick action by the Congress on these proposals.
For several years now there has been a rapid rate of inflation throughout the Western World. For the year ended in April, consumer prices in the United States rose substantially less than they did in Great Britain, France, West Germany, Canada, or Japan. With expanding international trade, these inflationary pressures abroad contribute to the inflationary pressures at home. When prices elsewhere rise, scarce goods chase more profitable markets abroad, rather than being offered in the United States.
Within the past year, our agricultural exports alone have increased by 50 percent, from less than $8 billion to nearly $12 billion. At the same time, the Nation's farmers were suffering in 1972 from some of the worst weather for crops and livestock that America has ever experienced. Output is now rising; prospects for this year are generally good.
For example, the wheat crop this year is expected to be the biggest ever. The many measures we have taken to increase the supply of farm commodities--including the release of more than 40 million additional acres for farm production-will eventually bring more farm products to the market and will provide relief against high food prices. But meanwhile, we are paying in higher food prices for the combination of limited supply and greater worldwide demand.
Therefore, another key element of the package I announced on June 13 was a request to the Congress for new and more flexible authority to impose export controls on goods that are in short supply in the United States, so that we will not price these out of the American market by sending them abroad in search of higher prices caused by shortages and inflation in other countries.
Acting under existing authority, I have imposed controls on exports of soybean products, which are especially critical to the solution of the feed grain shortage and, therefore, to bringing down the price of meat and dairy products. Prices of soybean products have already dropped in response to this action. However, the more flexible authority I have requested from the Congress is still necessary. I again urge swift and urgent action by the Congress to provide this authority.
The problems of scarcity that make these export controls necessary are temporary problems. Therefore, I am confident that the need for export controls on agricultural products will also be only temporary. When this year's crops become available in the fall, we expect to be able to restore international access to these products. During the brief period when controls are necessary, we shall do all that we can to ensure that our traditional customers suffer as little as possible, and we shall keep before us our continuing goal of progress toward more international trade, rather than less.
There is one point this afternoon more than any other that I want to emphasize: Controls can help in the short run, but in the long run, dependence on controls would destroy the economy and demolish our prosperity.
In the long run, the one thing--and the only thing that will keep prices down is sufficient supply to meet the demand, coupled with responsible fiscal and monetary policies. Controls will not give us that supply; neither will they substitute for fiscal and monetary discipline.
That is why we have taken vigorous measures to encourage an increase in the supply of key commodities. We have been trying to turn farm policies around turn them from the old way of keeping farm incomes up by restricting supply and raising prices--to a new policy of keeping farm incomes up, but by increasing supply and expanding markets. We have been trying to sell unnecessary stockpiles of industrial materials more rapidly. We have initiated a trade policy which would enable us to import more of the things others produce most efficiently, while exporting more of the things we produce most efficiently. And we are taking measures to raise productivity.
But whatever we do to increase supplies can be overwhelmed unless we also keep the expansion of demand within sustainable limits. That is why we must sternly resist not only wasteful Government spending but even worthwhile Government spending that we cannot afford. The battle against higher prices begins with the battle of the Federal budget. I will, therefore, continue to support every move to maintain fiscal responsibility and to resist every move to abandon it.
The Federal Reserve's policy of monetary restraint is also essential in checking inflation. In the short run, this policy may have the effect of raising interest rates. But it is better to have higher interest rates for a while than it would be to have more inflation and, as a consequence, to have higher interest rates forever.
The object of our policies is not simply to have low prices. We could have low prices and nothing to buy at those prices. The object is to have reasonable prices and also an abundant supply of goods we can buy. The object is to maintain a stable prosperity at a sustainable rate of growth, so that we can enjoy an increasing abundance with job security. The object is to manage the price and wage control system forcefully, but with the goal of getting out of the controls business, rather than getting permanently enmeshed in it.
The road to full prosperity, without war and without inflation--something that we have not had in the United States since President Eisenhower was President--is not easy. All of us who have lived through the past 10 years know this very well. But I believe that the American people are determined to reach that goal. And I am determined to use all the means of government to help us get there.

Thank you and good afternoon.
Note: The address was recorded at the Western White House, San Clemente, Calif., for broadcast at 12 noon on nationwide radio.
Richard Nixon, Radio Address About the Nation's Economy. Online by Gerhard Peters and John T. Woolley, The American Presidency Project https://www.presidency.ucsb.edu/node/255600