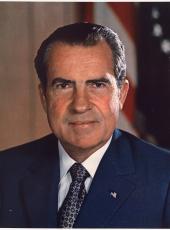 Radio Address About the National Energy Crisis.
Good afternoon:
Ten weeks ago, I reported to the Nation on the energy crisis. I asked all Americans to accept some sacrifices in comfort and convenience so that no American would have to suffer real hardship.
Today, I want to report to you on our progress and answer the basic questions that many Americans have asked about this crisis.
On the positive side, I am glad to be able to report that we are making solid progress in facing up to this challenge. There are several reasons for this:
Far more important than anything else is what every American has done voluntarily. It is your response--the actions you take to save energy on a personal, voluntary, day-in, day-out basis--that is now the single most important reason for our success so far.
For the past 7 weeks, we have observed "gasless Sundays" across the country. Your cooperation with this program helped to make it possible for me to announce today that during the month of December, the total consumption of gasoline in the United States was nearly 9 percent below expectations.
Americans are also responding to the call for lower temperatures at home and at work. A recent report from New England shows that 19,000 homes surveyed there have reduced heating oil consumption by more than 16 percent under last year, and that is after making adjustments for warmer weather.
Utilities are reporting that the consumption of natural gas across the country has been reduced by approximately 6 percent over last year, while the consumption of electricity--in homes, offices, factories, and elsewhere--is down by about 10 percent.
Beyond the progress we have made because of voluntary conservation, we have also been fortunate because the weather in the last quarter of 1973 was warmer than usual, so we did not consume so much for fuel for heating as we expected. Even though the oil embargo continues in the Middle East, we have also received some oil we did not expect at the time the embargo was imposed.
Finally, let me tell you what your Government has been doing to meet this crisis.
A fuel allocation program has been set up so that no area of the Nation is being subjected to undue hardship. We have begun the process of converting oil-burning utilities to the use of coal wherever possible, freeing some 200,000 barrels of oil a day for use in other areas.
At my request, laws governing energy conservation, such as year-round daylight savings time, have been enacted by the Congress and are now in effect. Teams of Federal inspectors have been sent to investigate fuel prices at gasoline stations and truck stops. Where price gouging is discovered, it is being stopped.
Within the Government, where we have a special obligation to set an example, I first directed that energy consumption be cut by at least 7 percent. That goal has now been met, and it has been exceeded. Consumption of energy by the Federal Government has been cut by more than 20 percent under anticipated demands.
These are just some of the steps we have taken to meet the problem head-on, and you can expect more in the future.
Nothing which the Federal Government might do could be successful, however, without the full cooperation of the American people. It is your sacrifice that is making the difference. You deserve the credit.
If this voluntary cooperation continues, I can say confidently to you today that we can prevent hardships this winter and that we can avoid gas rationing this spring. Your Government has a responsibility to prepare for the worst, so that we shall be ready to ration gas is necessary.

But with continued cooperation by everyone, we all have good reason today to hope for the best, and you can be sure that with your help I will do everything in my power to achieve the goal of avoiding gas rationing.
Now let me turn directly to the tough questions which are now being asked by millions of concerned Americans.
First, will the big oil companies be allowed to make huge profits from the shortage? Will they reap the benefits of your personal sacrifices?
My feelings on this question could not be stronger. The sacrifices made by the American people in the energy crisis must be for the benefit of all the people and not just for the benefit of big business.
Your sacrifices must mean that jobs can be preserved, that schools can stay open, that homes will be heated. They must not mean that a few get rich at the expense and sacrifice of the many.
I recognize, as you do, that the prices of gasoline, heating oil, other petroleum products are rising. Now, these prices are going up because the costs of foreign oil are going up. The nations from which we still import oil have increased their prices from some $4 billion ($4) a barrel 5 months ago to as much as $12 a barrel today. This tripling in costs is passing on to you, the consumer, and that is why prices are rising.
I will do everything I can to hold down the price of foreign oil. Scare stories that the American people will soon be paying a dollar for a gallon of gas are just as ridiculous as the stories that will say that we will be paying a dollar for a loaf of bread. The American people cannot afford to pay such prices, and I can assure you that we will not have to pay them.

At the same time, I pledge to you that I shall do everything in my power to prevent the big oil companies and other major energy producers from making an unconscionable profit out of this crisis. Too many Americans have sacrificed too much to allow that to happen.
That is why I shall urge the Congress, when it reconvenes on Monday, to act immediately on the windfall profits tax that I requested last month. This tax would require that windfall profits either be turned over to the Government or be invested in the development of new supplies, supplies that will be vitally needed in the years ahead.
Private profiteering at the expense of public sacrifice must never be tolerated in a free country.
Another question many people are asking, to put it bluntly, is whether there is really an energy shortage at all. If so, how serious is it? I am just as interested as you are in getting at the truth in this matter. That is why, when the Congress returns, I will propose legislation requiring the oil companies to provide a full and constant accounting of their inventories, their production, their costs, and their reserves.
This legislation will make it possible for the Federal Government to monitor these supplies independently.
In the meantime, to be sure that the information I am getting is accurate and complete, I have directed the Federal Energy Office to conduct a thorough audit of the records of all the major domestic oil companies. They will have several hundred inspectors in the field. If more inspectors are needed, they will be provided. If the reports are not satisfactory, I shall ask the heads of the major oil companies to meet with me personally in Washington so that I can get the facts I need to make decisions that are right and that are best for all Americans.
I assure you that I shall not allow the American people to be the victims of a "snow job" in a crisis which affects the jobs, the comfort, and the very way of life of millions of Americans.
I have also directed that an immediate review be made of the international tax structure to ensure that American companies which are developing energy resources abroad are not permitted to avail themselves of special tax advantages abroad. I have also ordered a review of other tax laws affecting companies that produce energy.
Based on the best information I have been able to get, this is my analysis of the energy crisis at this time:
The shortages are genuine, they may become more severe, and they are potentially, therefore, dangerous.
Last year, the United States consumed roughly 18 million barrels of petroleum, in one form or another, every day.
We produce over 11 million barrels a day from our own resources here in this country.
The differences must be made up by imports from foreign producers.
Because of the Mideast oil embargo, however, my chief adviser, Mr. William Simon, in the energy area, now advises that during the first 3 months of 1974, our imports will fall short of our normal demands by 2.7 million barrels a day. That shortfall is the heart of the current emergency.
The economic stress now felt by the United States is having an even stronger impact upon Western Europe, Japan, and many developing countries because they lack the domestic resources we have in this country.

In the long run, the producing nations will also suffer. We are, therefore, approaching a point where the oil embargo and the increase in prices on the international market is self-defeating for everyone. Clearly, we must have a cooperative, international accommodation on both supplies and prices.
In pursuit of that goal, I have invited the leaders of major energy-consuming nations to send representatives to the United States to discuss these matters. They will convene here in Washington on February 11 to discuss the pricing problem and other matters relating to the current emergency.
But regardless of the success we have in increasing petroleum imports and in stabilizing prices through diplomatic means, we must continue to move forward toward achieving a capacity for self-sufficiency in energy right here at home.
America is a rich, a strong, and a good country. We must set for ourselves this goal: We must never again be caught in a foreign-made crisis where the United States is dependent on any other country, friendly or unfriendly, for the energy we need to produce our jobs, to heat our homes, to furnish our transportation for wherever we want to go.
Late last year, I announced the beginning of Project Independence, a full-scale effort to provide the capacity to meet American energy needs with American energy resources by 1980. As an important part of that project, the head of the Federal Energy Office, William Simon, will mount a major effort this year to accelerate the development of new energy supplies for the future.
Most of the money and the work for Project Independence must come from private enterprise. But the Federal Government also has a vital role to play. It must be a catalyst for industrial initiative. It must clear away the red tape that lies in the way of expanding our supplies, and it must provide the seed money for research and development.
Many of these Federal responsibilities can only be met with new legislation. That is why, over the next few weeks, I shall submit to the Congress a broad legislative package of energy initiatives and urge it to place these requests at the very top of the Congressional agenda for 1974. If we are to be successful in dealing with our long-term energy needs, the Congress must play its part, and I believe that the Congress, after returning from their districts over the Christmas holidays, will agree that the people want them to play their part along with the Administration.
The burden of energy conservation, of cutbacks and inconvenience, of occasional discomfort, continued concern is not, I can assure you, an artificial one. It is real. During the Second World War, Winston Churchill was once asked why England was fighting Hitler. He answered, "If we stop, you will find out."
If we should choose to believe that our efforts in fighting the energy crisis are unnecessary, if we permit ourselves to slacken our efforts and slide back into the wasteful consumption of energy, then the full force of the energy crisis will be brought home to America in a most devastating fashion, and there will be no longer any question in anyone's mind about the reality of the crisis.
The distance between the winter of 1974 and the springtime of energy independence for the United States remains great. We must proceed with confidence in our ability to do the job. Far more importantly, we must act now, as one people, to do the job that must be done.
With the proud dedication we Americans have always displayed when confronted with great challenges, we can and we will achieve the great goal of Project Independence. Where energy is concerned, we, the American people, shall be the sole masters of our fate.
Note: The President spoke at 12:06 p.m. from a room adjoining the Oval Office at the White House. The address was broadcast live on nationwide radio.
Richard Nixon, Radio Address About the National Energy Crisis. Online by Gerhard Peters and John T. Woolley, The American Presidency Project https://www.presidency.ucsb.edu/node/256566