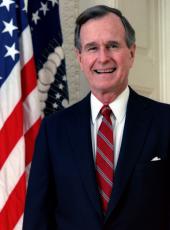 Question-and-Answer Session With Reporters Following Discussions With President Vaclav Havel in Prague, Czechoslovakia
President Havel. Dear friends, let me welcome you to this brief meeting with our honored guest, President Bush, and myself. We are ready to answer your questions. But before doing so, perhaps I should briefly explain what President Bush and I have been discussing.
We have touched up on a number of different matters, but we focused primarily on the following subjects. We have presented our information on the present situation in Czechoslovakia, and possibilities of a possible assistance or cooperation on the part of the United States have been discussed. Secondly, we have dwelled upon the future of Europe in the light of the forthcoming CSCE summit in Paris and upon the future of the Helsinki process. And on that score, we have found that our views there are very close to each other, if not even identical. And sadly, we have talked at some length about the situation in the Persian Gulf.
You can ask us questions that shall be answered alternately by President Bush and myself, with me being the one to answer the first question.
U.S. Assistance for Czechoslovakia
Q. President Havel, are you satisfied with the assistance you're getting? You seem to not be saying that your views are identical on that subject with the President.
President Havel. President Bush shows a lot of understanding for our problems, and he has already pledged certain forms of assistance in the statement he delivered in the Federal Assembly, which you have suddenly had.
Q. President Bush, even though you did outline some assistance today in your speech, proportionately it's fairly miniscule compared to what Czechoslovakia needs. Are you prepared to consider further direct U.S. assistance?
President Bush. Well, I think we've spelled out what we can do in terms of direct assistance right now. The thing that is of most import to Czechoslovakia is increased support from the IMF and the World Bank. And I made clear to President Havel that we will be very supportive in that connection.
In addition, the thing that would be of most benefit to Czechoslovakia and to the United States would be increased investment and increased private-sector help. And that we've discussed; and then that, I think we both agree, would be the best answer -- certainly long-range answer -- for the vitality and growth of Czechoslovakia.
President Havel. I think we should give an opportunity, also, to the Czechoslovak media.
Q. Mr. President Bush, have you spoken to Mr. Havel about American assistance in the science and technology fields and especially in education of the people? Would you be more concrete?
President Bush. We didn't discuss S&T as much. We did talk about educational exchanges, but we did not dwell on the science and technology. Certainly, I would say we would be ready to cooperate in every way in that field, however.
Soviet Union and Eastern Europe
Q. President Havel, can I ask you about the situation in the Soviet Union, as you watch it -- the tensions that we see that Mr. Gorbachev is facing? What concerns do you have about the breakup of the Soviet Union and how that would affect Central European countries?
President Havel. The fact that the Soviet Union is currently undergoing the most sweeping, the most far-reaching changes in its entire history is more than evident, but it is not yet clear what the future arrangement of the Soviet Union will be. But it is our firm belief that the changes may be accomplished in a rapid and peaceful way without any bloodshed and that they may give the individual Republics and the peoples of the Soviet Union the measure of autonomy which they desire.
Q. President Bush, what's your opinion on the plan of economic help to U.S.S.R. through Eastern Europe which was proposed by Minister Dienstbier [Foreign Minister of Czechoslovakia] in his speech at Harvard University earlier this year? And was this topic on the program of your talks in Czechoslovakia?
President Bush. I'm sorry, I didn't hear the first part.
We didn't discuss that in great detail, but I am convinced that the United States -- and I tried to say this in our speech to the joint session -- has an enormous stake. We do not want to see Czechoslovakia, Poland, and Hungary off in some kind of no man's land. And thus, we did discuss future security arrangements. It is my view -- and I would let the Czechoslovakian Government speak for itself -- that some more active role in the CSCE process will contribute to the stability of Europe and fully include Czechoslovakia in the decisions that lie ahead for Europe.
Persian Gulf Crisis
Q. President Bush, in your speech in Parliament, you said we Czechoslovaks understand better than any other nation the Kuwaiti situation. Suppose that something similar happens in our part of the world. What attitude U.S. would adopt since we have no oil here?
President Bush. I'm glad you raised that, because one thing that is very clear to me is that what Saddam Hussein has done in taking over Kuwait is devastating to the economies of eastern Europe, say nothing of the economies of the West and every other part of the world. This naked aggression against Kuwait has clearly had an adverse effect on the economies of every single country because of the disproportionate amount of the GNP that is assigned to energy. And so, I am very clear that it is not simply the United States and other countries in the West that are getting hurt by Saddam Hussein's aggression and what that means in terms of higher oil prices but every country as well. Clearly, this is true in Eastern Europe.
Your question, other than that, is too hypothetical for me to say what we might do under some hypothetical situation. But I can guarantee you, we are going to continue to stand against this aggression and do our level-best to see that the United Nations resolutions are fully implemented -- hopefully, in a peaceful manner. But Saddam Hussein has got to withdraw from Kuwait without condition, and the legitimate leaders have to be restored, and the hostages -- and Czechoslovakia has some, and so does the United States -- must be freed. This inhumane treatment of hostages is unacceptable. And then there must be a stable order in the Gulf.
So, these objectives will be fulfilled. And my little few hours I've had here on this visit convinced me that it's everybody that's being hurt by this aggression.
Q. President Havel, do you agree with President Bush's views on the Gulf, and do you believe the United States is acting responsibly in the Gulf?
President Havel. Czechoslovakia has made it very clear on a number of occasions that it is necessary to resist evil, that it is necessary to resist aggression, because our own history has taught us ample lessons about the consequences of appeasement.
Dear friends, unless you want the winds to carry us away, you have to accept the situation that there is room for one more question only. [Laughter]
Q. President Havel, do you fear that the Gulf situation is taking too much money away from the kind of problems that it could solve in Eastern Europe?
President Bush. -- -- talking about oil prices?
President Havel. It is my opinion that all the resources that are expended on resisting aggression anywhere in the world finally turned to the good of all humankind.
President Bush. Thank you very much. You heard our host.
President Havel. Thank you all for your attention.
Q. President Bush, there is some feeling that you are too much in a hurry. What do you think of a moratorium that's being called for, in terms of hostilities in the Gulf, by Mubarak and other leaders?
President Bush. Mr. Mubarak and I see eye to eye on this situation in the Gulf.
Note: President Havel spoke at 2:48 p.m. in the Music Room at Hradcany Castle, his residence and the seat of the national government. He spoke in Czech, and his remarks were translated by an interpreter. In his remarks, President Bush referred to President Saddam Hussein of Iraq and President Mohammed Hosni Mubarak of Egypt. Following the question-and-answer session, President Bush met with Cardinal Tomasek at the Archbishop's Palace.
George Bush, Question-and-Answer Session With Reporters Following Discussions With President Vaclav Havel in Prague, Czechoslovakia Online by Gerhard Peters and John T. Woolley, The American Presidency Project https://www.presidency.ucsb.edu/node/264905