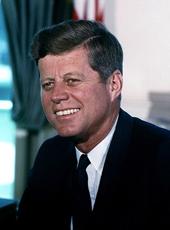 Question and Answer Period Following Speech of Senator John F. Kennedy, Fair Grounds, Louisville, KY
QUESTION. Dr. David Greeley, Harlan, Ky. Senator Kennedy, as you have indicated, thousands of people in eastern Kentucky and in the United States are unemployed, but those in eastern Kentucky have no prospect of employment, even with a total healthy economy. What do you propose to do, Senator, to help these people to help themselves?
Senator KENNEDY. Well, in eastern Kentucky the problem is comparable to the problem in West Virginia and the other States, where coal has brought in new machinery and automation has taken the jobs of men. I believe that the best program that we can put forward, as I suggested in my speech, was the so-called area redevelopment bill, which provides loans to small business, which provides loans and grants to communities to provide fresh water, which provides assistance for vocational retraining to train men for new jobs, loans for small businessmen at low rates of interest, supplemental unemployment compensation.
The second program that I think would be useful is to restore defense manpower policy No.4, which provides that defense contracts shall be steered into those areas which have chronic amounts of surplus labor. The figure prior to this was 8 percent, which had 8 percent over a period of a year or 18 months. I believe that that program could be useful in using defense contracts most of which are not by bid but which are negotiated, to put those in areas where it is possible, where there is chronic unemployment and little hope for new industry.
I would feel both of those, plus the coal research bill, plus the national fuels policy, I believe all of those would be of assistance in eastern Kentucky and these other hard-hit areas. I would use also my surplus foods far more imaginatively in the meanwhile. [Applause.]
QUESTION. Senator Kennedy, my name is Kenneth Hopkins from Franklin, Ky. I want to know when you are elected President, will your religion interfere in any way while you are President?
Senator KENNEDY. The question was whether if I am elected President my religious afliliation would interfere with my being the President. I think quite obviously the answer is "No." The United States believes in the separation of church and state. I believe in it strongly. The Constitution of the United States, article 1, the first amendment provides for a separation of church and state. The President of the United States, in fact, could be impeached if he permitted improper pressures to be brought to bear upon him from any source, including a particular religious group.
Now, I don't think there is any doubt that there would not be those pressures. Americans have been on the Supreme Court. We have had two members of my faith who were Chief Justices of the Supreme Court. One was from Louisiana, who fought in the Confederacy in the war and who became Chief Justice - I believe Cleveland appointed him - and served with great distinction, Justice White, and of course, the man that Andrew Jackson nominated to the Supreme Court, Justice Tanney, who was also the same faith as I am. General de Gaulle, Adenauer, and three Prime Ministers of Canada are. I believe the record is clear that Americans of my faith are just as anxious to maintain the Constitution whether as President or as citizens as any other member of the community. [Applause.]
QUESTION. Senator Kennedy, my name is Ben Mann. I am from the eastern Kentucky mountains. When I formulated my little question, I did not dare dream that my own personal little quandary would invite the attention of the next President of the United States. [Applause.] However, the question is this: As a Kentuckian, I married a Massachusetts girl. Can you state as evasively as Nixon would under the circumstances, which State, Kentucky or Massachusetts, produces the most beautiful women? [Laughter and applause.]
Senator KENNEDY. Taking a leaf out of the Vice President's book, my wife comes from New York, and, therefore, I would say that New York produces the most beautiful women. [Laughter and applause.]
QUESTION. Senator Kennedy, I am Mrs. Agnes Elkins of La Grange, Ky., and being a farmer's daughter, I would like to know what you plan to do for the farmers and will you promote their program?
Senator KENNEDY. In the place of the program which I suggested that Mr. Nixon had clearly advocated, which was to tie the support price for agricultural commodities to the average market price, to 90 percent of the average market price for the 3 preceding years, which as I suggested as the market price steadily drops, so would the support price, my own judgment is that, by effective controls, which would go not only to the acre but to the unit per acre, we should bring agricultural production into balance with demand. The Secretary of Agriculture would make a determination of how much we could consume of a commodity, and then provide that much production, plus that production which we would need for reserves, plus our own surplus distribution to our own citizens, plus the food for peace program, plus the distribution of food through the United Nations. But if the balance can be brought between supply and demand, if necessary if that still does not maintain an increasing price with a higher support price as in the case of tobacco, I believe that that would bring far greater relief to the farmer and also really more relief to the taxpayer. Tobacco, I think, shows the way for other agricultural commodities. What has happened in recent years, of course we have had dropping support price, limited controls, and therefore we have had more and more production per acre as the support prices dropped and we have had these tremendous surpluses.
Effective controls, a balance between supply and demand, if necessary a support price that will maintain the farmers' income at a higher level. [Applause.]
Senator Kennedy, I am Leon Page, from Franklin, Ky. I understand that you do definitely favor Federal aid to education. My question is, Are you in favor of such aid being administered by the local and State boards of education?
Senator KENNEDY. Yes. Under the bill which passed the U.S. Senate, the money is given to the States to distribute. Each State receives the amount based on a formula, based on their per capita income, plus the number of children of school age, and the money is then distributed by the States and by the State board of education, under control of the local group and the State body. I would be opposed to the Federal Government assigning the money directly to the board of education in each community. But I believe that in this way we do get a supplemental assistance with appropriate tax overburden, and we still maintain local control of education, and I believe that this kind of program 15 in the public interest. The United States as a free society needs the best educated citizens in the world. All of us are at the mercy of the good judgment of a majority of the citizens. Whatever they decide binds us all. Therefore we want that majority to be as well educated as it possibly can be. Therefore, as a citizen of the State of Massachusetts, where Plymouth, Mass., developed the first public school system, I believe strongly in the maintenance of an effective public education system. [Applause.]
John F. Kennedy, Question and Answer Period Following Speech of Senator John F. Kennedy, Fair Grounds, Louisville, KY Online by Gerhard Peters and John T. Woolley, The American Presidency Project https://www.presidency.ucsb.edu/node/274405